When Dreams Become History-Making Reality: 18-Year-Old Emma Raducanu Wins the 2021 US Open
Emma Raducanu, 18, and Leylah Fernandez, 19, met on Sept. 11 for a historical women's singles final at the 2021 US Open. The excitement kept spectators at the edges of their seats as they witnessed Great Britain's Raducanu best Canada's Fernandez by a score of 6-4, 6-3.
Emma Raducanu Makes History
This match marked many significant milestones: Emma Raducanu is the first-ever qualifier to reach a major final (meaning she had to play in the US Open qualifying rounds to secure her place in the main draw). She's also the first qualifier, then, to win a Grand Slam title. And, ESPN reports that she is the youngest women's Grand Slam champion since 2004.
As if those stats weren't impressive enough, Raducanu is also the first British woman to make — and win — a major final since 1977, when Virginia Wade claimed victory at Wimbledon. Fernandez became just the fourth Canadian player, man or woman, to reach a major final. What's more, the match was the first major men's or women's tennis final in the Open era to feature two unseeded players. It was also the first Grand Slam final between two teens since 1999, when Serena Williams, then 17, competed at the US Open against Swiss player Martina Hingis, 18.
The Long Road to the Finals
British teen Raducanu went into the tournament ranked 150th in women's singles, while Fernandez was ranked 73rd. Fernandez impressed the tennis community by beating US Open singles defending champ and world No. 3 Naomi Osaka, 2016 US Open winner Angelique Kerber from Germany, as well as Ukraine's Elina Svitolina and Belarus's Aryna Sabalenka, currently ranked No. 5 and No. 2 respectively. Fernandez and Raducanu last met in Round 2 of the girls singles championships at 2018 Wimbledon. Raducanu prevailed, winning in straight sets, 6-2, 6-4, as seen in this throwback highlight reel.
Through the energy-packed atmosphere of Arthur Ashe Stadium, the two battled it out for points, trading sharp shots and bringing the pressure. Both fought until the end, but the match concluded with Raducanu edging out Fernandez and falling to the court in celebration. The Brit only made her major debut this year at Wimbledon as a wild card, where she retired in the fourth round, and this marks her very first Grand Slam victory to date. What makes Raducanu's win even more remarkable is that she didn't drop a single set during the entire US Open.
In her own words…
Raducanu congratulated Fernandez during the trophy ceremony, saying that her opponent showcased incredible tennis and has "beaten some of the top players in the world," adding that she aspires to play Fernandez in major finals to come.
The future of women's tennis and just the depth of the game right now is so great. I think every single player in the women's draw definitely has a shot at winning any tournament, so I hope that the next generation can follow in the steps of some of the greatest legends. — Emma Raducanu
Relive the magic from this gasp-inducing nail-biter of a match — this photo gallery says it all.
Don't Miss Out on Your Chance to Play in a Delray Beach ATP Event
Any tennis player's dream of playing against professionals can be a reality at the 2022 Delray Beach Open by VITACOST.com.
Two qualifying wild cards are up for grabs during the ATP Tour event's Survivor Series pre-qualifying tournaments – one in November, one in January – that will feature players ranging from aspiring juniors to local club champions who will battle it out to earn their shot to compete against ATP pros in February.
The winner of each pre-qualifying event will be granted a wild card into the Delray Beach Open by VITACOST.com qualifying tournament, which will be held Feb. 12-13, 2022. Four players from the two-round qualifying event will advance to the tournament's main draw, which will take place Feb. 14-20.
The first pre-qualifying tournament is a USTA Men's Open event scheduled for Nov. 13-16 at the Delray Beach Swim & Tennis Center. The second opportunity to earn a wild card will come at a UTR tournament scheduled for Jan. 1-4 at Pro World Tennis Academy. Both events will be a single elimination singles draw with no-ad scoring for two tiebreak sets and a 7-point match tiebreaker if needed.
All participants receive two complimentary tickets to the 2022 Delray Beach Open by VITACOST.com and a 20% off discount on individual tickets beyond that (tickets must be purchased by Dec. 31, 2021).
Qualifiers have a history of success at the Delray Beach Open. Three winners of the ATP Tour 250 event first came through qualifying – Ernests Gulbis (2013), Kei Nishikori (2008) and Andrew Ilie (1998). On several other occasions, a qualifier finished as the runner-up or reached the semifinals; at the 2021 edition of the event, American Christian Harrison coasted to three wins to reach the semifinals.
Online registration for the Nov. 13-16 USTA pre-qualifying event must be completed by midnight on Nov. 10.
Online registration for the Jan. 1-4 UTR event must be completed by Dec. 27 at 5 p.m. EST.
For more information about participating in these survivor series pre-qualifying events, visit www.yellowtennisball.com/survivor.
The post Don't Miss Out on Your Chance to Play in a Delray Beach ATP Event appeared first on USTA Florida.
10 Tennis-Specific Training Exercises That You Can do at Home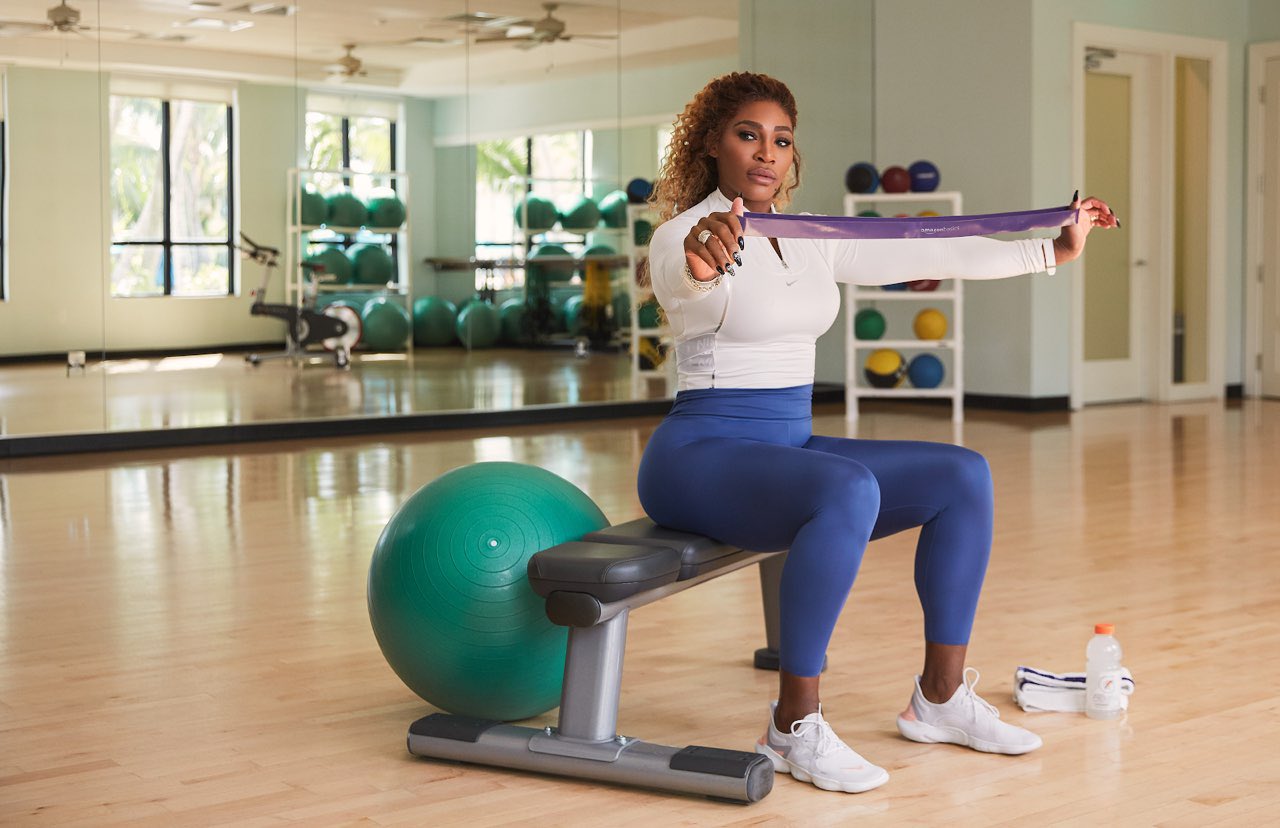 At Tennis Life Magazine, we love a fun and friendly game of tennis. In fact, we love a fun and friendly game of just about any sport! From our many attempts on the court (or sometimes on the couch, watching the pro's do it better than we could ever dream) you quickly discover how physically demanding the game is, and how important preparation is – even for a rookie 😉
If you are considering hitting the courts any time soon, we suggest you start incorporating some particular exercises into your gym sessions to give yourself the best possible chance against your opponent and to minimize the possibility of injury and post-tennis match muscle soreness.
So, whether you are a seasoned tennis player or a total noob, these ten exercises will prepare your body for the physical demands this sport requires.
# 1 Warm Up
When warming up for a game of tennis, in addition to your usual steady cardio, such as a light jog, and some bodyweight exercises, i.e. body-weight squats, press-ups and some stretches, incorporating some mobility movements are a great idea before hitting the court. Some mobility exercises you may want to include are:
 Wrist rotations, 30 seconds on each wrist, rotating both clockwise and anticlockwise.
 Shoulder rotations, 30 seconds on each arm rotating both clockwise and anticlockwise.
 Elbow rotations, 30 seconds on each arm rotating both clockwise and anticlockwise.
#2 Overhead Med Ball Slams
If you have ever watched a game of tennis, seeing Rodger Federer nail his opponent with a slam dunk is AMAZING, and overhead med ball slams are a great way train for this powerful move.
To do an Overhead Med Ball Slam, ensure you have your core braced the whole time, as this will help strengthen your abs, as well as support your back at the same time. Holding the medicine ball, lift it up over your head, then forcefully throw it to the ground. When picking the ball back up, make sure you bend your knees.
Repeat this exercise for 10 reps, for 3 sets. Start with a 5 to 8-pound medicine ball and when you get stronger, move up to a 10-12 pound medicine ball.
#3 Single Leg Squats
Single leg squats are an AWESOME exercise for tennis players, as not only does it help strengthen your legs, you will also see an improvement in your balance and stability.
Now a single leg squat is an advanced move, so below we have two options you can do to build your way up. And the great thing is that you can do this one at home!
Assisted Single Leg Squat: Shift your weight to one leg, while keeping your other leg just resting on the ground to assist with balance and stability. Sink your hips back and down into a squat position, ensuring your knee is tracking over your toes. Repeat this move for 10 reps, 3 sets each leg.
Single Leg Squat with Training Band: Holding onto your training band straps, lean back slightly so there is tension on the straps. Leveraging your weight on the straps, lower your self down into a squat, with one leg. When coming back up, drive up through your heel, activating your glutes and core. Repeat this move for 10 reps on each leg, three sets. As you start to get stronger, try and rely less on the straps until you can do a FULL single leg squat using just your body weight.
Full single-leg squats: Once you have progressed your way through the above options, it is time to try a FULL single leg. There are a couple of ways you can perform this move, here, keeping your chest up, have one foot firmly on the ground, with your other leg bent with your foot behind you. Brace your core, lower yourself down into a squat position. On the upward phase, drive through your heel, activating your glutes all the way to the top. Repeat as many as you can (up to 10 reps) on each leg.
#4 Cable Chest Press
In order to have a STRONG swing in tennis, you need to be able to recruit your chest, for maximum power. A great exercise to build strength in this area, while performing an exercise that has a similar range of motion, is the cable chest press.
Ensuring the weight selected on the cable machine is even on both sides, grab a hold of each handle and lean forward to add tension to the cables. Then, while squeezing through your chest, drive the handles across your body, while keeping your core engaged. Slowly release the tension back to your starting position. Repeat for 10 reps and 3 sets.
FYI – You don't need a gym for this move, just some inexpensive resistance bands like these.
#5 Squat Jumps
Being able to jump and reach for those high shots, requires powerful quads, and what better exercise to increase strengthen these bad boys than the squat jump.
Starting with your feet positioned just outside of your hips, sink your hips back and down into a squat, then drive up strong through your heels, using your arms for momentum, before landing softly back on the ground. Repeat this move for 15 reps and 3 sets.
#6 Skaters
Keeping your chest up, drive out from the ball of your foot vertically, landing softly, with your knee tracking over your toes, then skate back in the other direction. This move Is great for improving your agility and cardiovascular fitness. Repeat this for 20 reps, 3 sets.
#7 Sprints
Being able to explode and sprint to one side of the court and back again is vital in tennis. To train for this, set up cones about 60 feet apart, and count how many laps you can sprint in 30 seconds. Have a 30-second break, and then repeat and aim to better your score. Do this 5 times through.
#8 Plyometric Lunges
Plyometric lunges are another great exercise to increase strength and power in your legs. Jump and land with your legs in a split stance, keeping your upper body upright, and your core engaged. Lower your back knee towards the floor, then drive back up through your heels and switch your legs. Repeat this exercise for 20 reps, 3 sets.
#9 Vertical Jump
Using a piece or chalk or a marker of some sort, stand close to a wall, and jump as high as you can reaching tall, marking your vertical jump at the top, before landing softly on the ground. Repeat this 4 times, aiming to get higher each time.
#10 Cool Down
Just like your warm-up, while bringing your heart rate down, include the same mobility exercises to free up any tight areas that you did in the warm up.
9 Young Writers Named 2021 NJTL Essay Contest Section Winners
Nine young writers from National Junior Tennis and Learning (NJTL) chapters across Florida have been named NJTL Essay Contest Florida section winners for 2021.
Sponsored by the USTA Foundation, the national charitable organization of the United States Tennis Association, the 23rd annual NJTL Essay Contest was open to students age 18 and under who participate in National Junior Tennis and Learning chapters nationwide.
To apply, students were asked to answer the following prompt in fewer than 350 words: "Robert Ryland was an accomplished tennis player and coach. He was known for seeing the possibilities in those he coached and within himself. Mr. Ryland was the first African-American professional tennis player and the first African-American to play in the NCAA National Championships. What facts about his story inspire you to break boundaries and excel in school, sports, and to follow your dreams? What are your possibilities?"
The full list of section essay winners is as follows:
Girls 10 & Under: Paisley Ferguson, DerbyShire
Boys 10 & Under: Matheus Clarke, Delray Beach Youth Tennis Foundation
[singlepic id=3358 w=450 h=300] [singlepic id=3357 w=450 h=300]
Girls 11-12: Seleisha Brutus, Frontline Outreach Center
Boys 11-12: Alexander Montague, Delray Beach Youth Tennis Foundation
[singlepic id=3354 w=450 h=300] [singlepic id=3355 w=450 h=300]
Girls 13-14: Emaney Hicks, Aces in Motion
Boys 13-14: Kameron Owens, Delray Beach Youth Tennis Foundation
[singlepic id=3350 w=450 h=300] [singlepic id=3356 w=450 h=300]
Girls 15-16: Carlasia Collins, Aces in Motion
Boys 15-16: Jeremiah Zidman, Aces in Motion
[singlepic id=3351 w=450 h=400] [singlepic id=3353 w=450 h=400]
Boys 17-18: Jaquan Daniels, Aces in Motion
[singlepic id=3352 w=450 h=300]
The section winners were selected from a pool of 32 submissions by USTA Florida's Essay Contest Review Committee. All section winners will receive a plaque that recognizes the accomplishment.
"This year's essay reflected each child's personal goal by learning that it takes perseverance and dedication to reach their dream," said Peg Perez, Executive Director of the Delray Beach Youth Tennis Foundation. "Thank you to Deloitte and USTA Foundation for sponsoring the National Essay Contest."
"We were honored to take part again in this year's USTA Foundation's NJTL Essay Contest and especially excited for our chapter's winners," added Addison Staples, Executive Director of Aces in Motion. "We are impressed and proud of their essays and are grateful for their recognition by the USTA Florida Section."
The National Junior Tennis and Learning network is a nationwide network of community tennis organizations seeking to develop the character of young people through tennis and education. NJTLs are unique because they offer a variety of on-court programming as well as educational and life skill components designed to enhance a child's overall development.
Founded in 1969, the growing network of tennis providers shares similar values, ideals and goals by reaching out to those who may not otherwise have the opportunity to play tennis, instilling in youngsters the values of leadership and academic excellence, and by giving all kids the opportunity to fully develop their tennis skills so they can derive a lifetime of enjoyment from the sport.
For more information, please visit www.USTAFoundation.com.
The post 9 Young Writers Named 2021 NJTL Essay Contest Section Winners appeared first on USTA Florida.