Phil Jurkovec, Boston College QB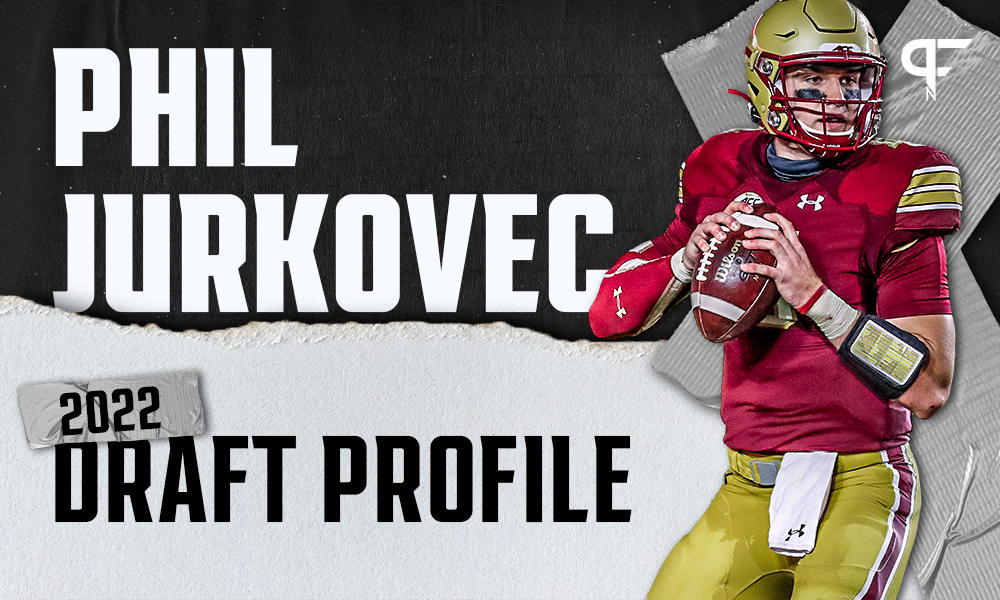 Frustrated, disillusioned, and contemplating a position change just one year ago, being a quarterback prospect in the 2022 NFL Draft was probably not a thought for Phil Jurkovec. However, just 12 months later, things have changed significantly. As the unquenchable thirst to find the next breakout QB dominates the NFL Draft conversation, could the Boston College signal-caller emerge as an early-round contender? Let's break down Jurkovec's scouting report to find out!
Phil Jurkovec NFL Draft Profile
Position: Quarterback

School: Boston College

Current Year: Redshirt Junior

Height: 6'5″

Weight: 226 pounds
Phil Jurkovec Scouting Report
After last year's impressive quarterback class, the 2022 NFL Draft landscape at the position is less clear. North Carolina's Sam Howell and Oklahoma's Spencer Rattler are widely regarded as the top of the class. However, behind them is a myriad of passers with a season of action to help elevate their stock.
Jurkovec is one of them who is in a situation that should help him succeed. Let's begin his scouting report with the attributes that make him a desirable NFL Draft prospect.
Firstly, Jurkovec possesses NFL size. Of course, this is somewhat of a myth, as smaller quarterbacks have found success in the league. However, at 6'5″ and nearly 230 pounds, the Boston College QB has a prototypical frame for the position. Unsurprisingly, since he was raised in Pittsburgh, he has often drawn physical comparisons to Ben Roethlisberger (despite weighing in at almost 25 pounds less than the Steelers signal-caller) coming out of high school.
Jurkovec also possesses NFL-caliber arm strength. Although there are some inconsistencies with his deep ball accuracy, there's no denying he can sling the ball downfield. There were some beautiful examples of him putting it in the bucket in the deep third during the games studied.
Arm talent, mobility, and toughness 
The Boston College quarterback also displays arm talent on short-to-intermediate throws. He routinely puts the ball in position for his receiver to succeed, demonstrating good ball placement and throwing with anticipation. His throwing motion isn't always the most majestic thing to watch, but he's successful regardless.
As the NFL evolves, being a statue in the pocket won't get the job done. The league values mobility and quarterbacks who can extend the play with their legs. Jurkovec will never be mistaken for Lamar Jackson or Russell Wilson, but he can get the job done on the ground when required. Furthermore, he regularly uses his mobility to evade pressure in the pocket.
As you'd expect from a player of his build, Jurkovec is blessed with toughness. That presents itself in many forms. The Boston College product can take a hit, dust himself off, and get back after it. Additionally, he puts his size and toughness to good use in short-yardage situations.
Areas for improvement
Although Jurkovec has some desirable attributes as an NFL Draft prospect, there are some areas for improvement on his scouting report.
Despite showing impressive mobility to maneuver in the pocket, the Boston College QB needs to demonstrate increased pocket awareness this fall. There were too many examples where he didn't sense pressure and took unnecessary hits.
This lack of awareness is also apparent when he takes off to run. If he is to be deemed a true dual-threat, he needs to develop better vision as a ball carrier. There were several plays where he ran straight into defenders.
By his admission, Jurkovec's footwork regressed during his time at Notre Dame. This is something he'll need to work on this season if he is to elevate his NFL Draft stock.
Phil Jurkovec Player Profile
Although Jurkovec could be considered an under-the-radar prospect in the 2022 NFL Draft, his early football career was far from it. A product of Pine-Richland High School in Pittsburgh, the Pennsylvanian passer was a prolific performer.
Despite losing half of his sophomore season to a thumb injury, Jurkovec put up phenomenal numbers. In 30 months of high school football, he threw for 8,202 yards and 71 touchdowns. Furthermore, Jurkovec superbly demonstrated his prowess as a dual-threat quarterback with 2,942 rushing yards. Jurkovec's 11,144 all-purpose yards were the second most in WPIA league history.
Meanwhile, he became only the second QB in league history to throw 3,000+ yards while rushing for 1,000+ yards during a senior season where Pine-Richmond went undefeated and captured a PIAA Class 6A state title. In addition to earning a place in the 2018 US Army All-American Game, Jurkovec was named the 2017 Pittsburgh Post-Gazette Player of the Year.
Naturally, Jurkovec was highly sought-after by college football programs. He was a four-star recruit and the fourth-ranked dual-threat quarterback in the 2018 class. As the No. 2-ranked player in Pennsylvania, he attracted offers from Pittsburgh and Penn State. However, his reputation spread far and wide, with offers coming from heavy hitters like Alabama, Ohio State, and Clemson.
Despite the interest, his heart resided in South Bend. Notre Dame had offered in November 2015, and Jurkovec committed in May 2016, making several visits to the program through his junior and senior seasons.
"It's just the right fit for me," the quarterback said at the time of his commitment. "The whole university and everything that it offers. I just fell in love with it."
Over the next two years, the love affair between Jurkovec and Notre Dame would turn sour. It's more common than not that a freshman quarterback sees limited time in their first season. That was the case for Jurkovec in 2018, sitting behind Ian Book and Brandon Wimbush.
He took snaps against Wake Forest and Florida State but ultimately redshirted his first season with the program.
His second year didn't fare much better. With Book entrenched as the starter, Jurkovec played in six games but only made 16 throws. He secured his first touchdown pass against Bowling Green while adding another in defeat to Michigan.
Jurkovec tallied just 222 passing yards in two seasons, with an additional 139 yards on the ground. With Book opting to return for the 2020 college football season, the opportunity to start at quarterback for Notre Dame vanished. A competitor, not a quitter, he considered making a position change to see more playing time.
Jurkovec parts ways with Notre Dame following his second season in South Bend
However, with the love that had guided him to Notre Dame gone, only one option really remained.
"I had to leave," Jurkovec told Mike White at the Pittsburgh Post-Gazette. "And after I decided to leave it was very hard. You understand you're leaving your dream school. But, I didn't really know what Notre Dame was like. I committed to the dream and not everything else."
Jurkovec entered the transfer portal following the 2019 college football season. There was plenty of interest and opportunity, including to return home to the University of Pittsburgh. However, Jurkovec transferred to Boston College, with the chance to make the starting job his own despite initial reservations.
"Honestly, I never watched Boston College in my life. I never rooted for them and I did not give one crap about Boston College. My first reaction was no. Nothing about it was appealing."
The opinion was understandable given the Eagles' power-run offensive history. Yet, the quarterback wasn't the only new piece in town. The arrival of Jeff Haffley and Frank Cignetti revolutionized the Boston College offense.
Subsequently, it kick-started Jurkovec's career
In his 10 starts during the 2020 college football season, he threw for 2,558 passing yards with 17 touchdowns to just 5 interceptions. Of his 5 interceptions, 4 came within the opening five games, with 2 in one game against Virginia Tech. The dual-threat quarterback also added 150 rushing yards and 3 touchdowns.
Due to the run-first nature of the Eagles' offense in recent history, Jurkovec also set program milestones. He became the first quarterback in program history to have four 300+ yard games in his first five games. Furthermore, the landmark was the most at the program since Matt Ryan in 2007.
Jurkovec also set the most completions by a sophomore quarterback for the Eagles while equalling a program record for single-game completions that had stood since 1968. Although he set that mark against North Carolina, the Boston College QB set his career-high passing yard total with 358 yards against Pittsburgh.
After his performances last fall, Jurkovec is a contender to be the 2022 NFL Draft equivalent of Joe Burrow or Zach Wilson. He has the big-arm talent to wow evaluators. Jurkovec will also be playing behind one of the best offensive lines in the nation this season. Moreover, Zay Flowers leads a wide receiver room that is stacked with talent.
Emulating Matt Ryan's No. 3 pick in the 2008 NFL Draft may be out of the question, but Jurkovec should be the program's first quarterback selected in 14 years.
Oliver Hodgkinson is an NFL Draft Analyst for Pro Football Network. You can follow him on Twitter at @ojhodgkinson.
Saints vs. Seahawks prediction, pick, odds, and how to watch the Week 7 game
This New Orleans Saints vs. Seattle Seahawks matchup is a little bit less intriguing than the NFL had originally planned, with Seattle rolling with Geno Smith under center while Russell Wilson is injured. With Seattle hanging onto a thread in the NFC West, will a home game against Jameis Winston be enough to save their season? Here are the TV channels and ways to listen, the current NFL odds, and our pick and prediction for the Saints vs. Seahawks game.
New Orleans Saints vs. Seattle Seahawks prediction and odds | Week 7
Spread: Saints -5
Moneyline: Saints -226, Seahawks +188
Over/Under: 43.5 (Over -110, Under -110)
Odds from DraftKings sportsbook
Saints vs. Seahawks prediction
For the past several years, a Saints vs. Seahawks game would have been a marquee matchup of future Hall of Fame quarterbacks Drew Brees and Russell Wilson. That is far from what we are going to get in this one. Brees retired this offseason, and Wilson is out until at least Week 10 with a finger injury. So instead, we will be getting Geno Smith and Jameis Winston.
After stepping in for Wilson after the injury, Smith looked good and almost led the team to a comeback victory against the Rams. Unfortunately, the next week they lost to the Steelers in overtime. It was a good effort, but the Seahawks are now below .500.
The Saints, meanwhile, have been up and down all year. During their tour of the NFC East, they lost to the lowly New York Giants but then followed that up with a win against the Washington Football Team. You just never know which version of Winston you are going to get.
Injuries clouding the picture for both Seattle and New Orleans
It's not only Wilson out for Seattle — there are also question marks surrounding their running back corps. Chris Carson is on IR with a neck injury, and his replacement Alex Collins, who played well last week, will also miss this matchup. That means Rashaad Penny will likely get the bulk of the carries for the Seahawks.
Things are not much better for New Orleans. Their injury report includes offensive linemen Erik McCoy and Terron Armstead, defensive end Marcus Davenport, linebacker Kwon Alexander, and others.
With both teams beat up, I think the play is to the under 43.5. Both offenses will struggle, and I have little faith that Smith will be able to accomplish much this time around.
Saints vs. Seahawks Prediction: Saints 17, Seattle 10
How to watch and listen to Saints vs. Seahawks this week
Start time: 8:15 PM ET
Channel: ESPN
Live stream:

Hulu + Live TV
fuboTV
YouTube TV
DirecTV NFL Sunday Ticket
NFL Mobile App
NFL GamePass

Listen:

Local Seattle: 710 ESPN Seattle, KIRO Radio 97.3, & Westwood One
Local New Orleans: WWL 870 AM/105.3 FM
TuneIn Radio
Sirius XM Radio
Colts vs. 49ers prediction, pick, odds, and how to watch the Week 7 game
The Colts vs. 49ers is a battle between two very different teams. On one side, you have the Colts, who are coming off a dominant performance against the Texans. On the other, you have the 49ers, who still have questions at the QB position and are now coming off a bye. Here's the channel for the Week 7 contest, the current NFL odds, and a pick and prediction.
Indianapolis Colts vs. San Francisco 49ers prediction and odds | Week 7
Spread: San Francisco 49ers -3.5
Moneyline: 49ers -210, Colts +175
Over/Under: 45 (Over -110, Under -110)
Odds from DraftKings sportsbook.
The Indianapolis Colts come into this game looking to build off their 31-3 win over the Houston Texans last week. They are still a long way from the top of the AFC South at 2-4, but a somewhat easy schedule in the coming weeks could put them back in contention.
Carson Wentz has thrown for 1,545 yards, 9 touchdowns, and an interception on 64.2% passing so far this year, and he looks more and more comfortable in the Indianapolis' offense as the season progresses. Meanwhile, Jonathan Taylor has rushed for a team-high 472 yards and 4 touchdowns. His game against Houston was his best of the year, and he is finally falling into the RB1 role that everyone imagined for him.
The 49ers are coming off a bye but suffered a tough 17-10 loss to the Cardinals the week before. They played Arizona well, and in hindsight, a one-TD loss to the only undefeated team in the NFL is not a bad thing. The bigger problem is that they're dealing with two banged-up QBs in Jimmy Garoppolo and Trey Lance and a mess at the RB position. It still isn't clear who their lead back will be in this contest.
Colts vs. 49ers prediction
If you had asked me this question at the beginning of the season, I never would have thought of predicting a possible upset for the Colts on the road against San Francisco. However, here we are. Indianapolis is 7-2 ATS in their last nine road games and 4-1 ATS in their last five contests overall. Wentz is playing like the best QB in this matchup, and as great as the 49ers' coaching staff is, they have their hands tied behind their backs due to injuries.
Colts vs. 49ers prediction: Colts 24, 49ers 21
How to watch and listen to Colts vs. 49ers this week
Start time: 8:20 PM ET
Channel: NBC
Live stream: 

Sling
NBC App
Hulu + Live TV
fuboTV
YouTube TV
DirecTV NFL Sunday Ticket

Listen:

Local Indianapolis: Indianapolis on 93.5 & 107.5 The Fan and 97.1 HANK FM.
Local San Francisco: KGO 810 AM and KSAN 107.7 FM The Bone
TuneIn Radio
Sirius XM Radio
Ryan Gosling is the Chief Written Content Officer for Pro Football Network. Follow him on Twitter @ryangoslingPFN.
Do the Carolina Panthers favor Deshaun Watson over Sam Darnold?
The Carolina Panthers are sitting at 3-3 on the season, fresh off of three straight losses. A key factor in those games? Sam Darnold throwing 6 interceptions. After starting the year on fire with his new team, he has cooled off. Do the Panthers have buyer's remorse? According to what sources tell PFN Insider Tony Pauline, the Panthers may be eyeing Deshaun Watson as a potential replacement if things don't turn around.
Could the Panthers be in on a trade for Deshaun Watson?
After defeating the Jets, Saints, and Texans in the first three weeks of the season, the Panthers have since lost to the Cowboys, Eagles, and Vikings. Darnold has looked particularly bad in the last two games. At home against the Eagles, he completed 56.8% of his passes for 177 yards, 1 touchdown, and 3 interceptions. He wasn't any better when the Vikings traveled to Carolina the very next week. Darnold connected on just 41.5% of his attempts for 207 yards, 1 TD, and 1 INT.
Carolina's next two games before the November 2 trade deadline are road trips against the Atlanta Falcons (2-3) and New York Giants (1-5). If Darnold cannot right the ship against two flailing franchises, the Panthers might move on.
Although the Houston Texans finished 4-12 in 2020, Watson was lights out. He led the league in passing yards (4,823) and yards per attempt (8.9), was third in completion rate (70.2%), and threw 33 TDs to just 7 INTs.
Are the Panthers sold on Sam Darnold as their future?
Pauline was the first to break the news that Carolina owner David Tepper wanted to pursue Watson via trade prior to the allegations against the Texans QB coming to the forefront. At the time, Pauline stated:
"Now, the big noise I have heard over the past 24 hours comes from the Carolina Panthers. I spoke with someone last night, and we spoke about Deshaun Watson. This is a person in the know, and they told me that the Panthers will do anything they can to acquire Watson, and they will pay any price to acquire Deshaun Watson."
Sources tell Pauline that if Darnold continues his poor play of the past three weeks, the Panthers could make a move for Watson. Tepper bought the team in 2018, and he is not one to sit around while his team underperforms. In fact, while everyone expected Matt Rhule to be the next head coach of the New York Giants in 2020, Tepper had other ideas.
Sources also tell Pauline that if Carolina were to get involved in the Watson sweepstakes, it would likely be just before the trade deadline.
Understanding this, Houston Texans general manager Nick Caserio may opt to wait another week or two to see if the Panthers do enter the bidding war in order to drive up compensation. This, of course, makes sense, considering the Dolphins may be looking at a trade for Watson as well.
According to reports throughout the offseason, the Texans are looking for around three first-round picks for Watson, if not more. A three-time Pro Bowler at the most important position in sports may just be worth such compensation.
Still, his 22 sexual assault lawsuits weigh heavily. Nevertheless, the Panthers don't have an excess of draft capital to make a move. In fact, in 2022, they are without their second and third-round picks due to prior trades. Other than that, they have the usual allotment of picks in future years.