Best Boxing Gloves Review – UPDATED 2021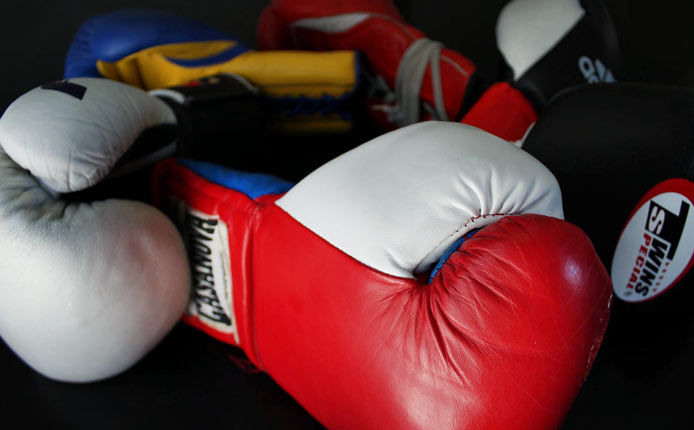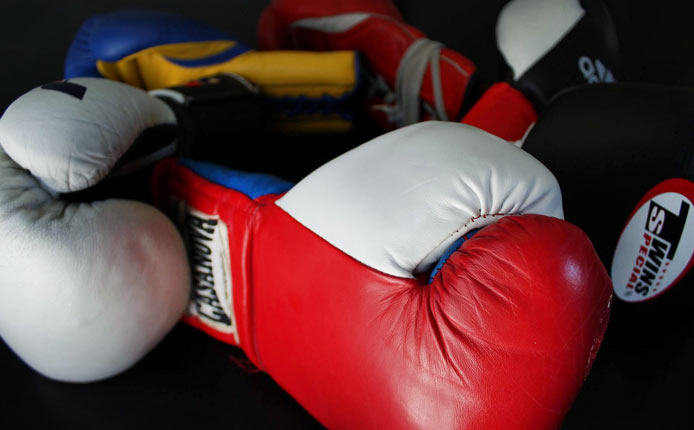 The ultimate boxing glove review – from 10+ years experience!
I review over 60 brands, and hundreds of different gloves…explaining everything from materials, padding, and stitching to shape, comfort, and protection. I also cover the history of different brands and how they evolved or even copied one another over the years. 
Of the hundreds of "boxing glove reviews" out there, most are either a vomit of self-serving Amazon links or sponsored reviews advertisements hyping up gimmicky features. Even the honest reviews are written by guys who've tried only a few brands and never worn out a single glove in their entire life. I'll say this…
The best glove reviews should compare the best gloves!
Discover the best boxing gloves for: serious fighters, women, beginners, and low budget!
I've got 10+ years of punching in boxing gloves
Some of you guys know my story. I've been boxing since 2004. Way back in 2008, I wrote a popular guide called the Boxing Gloves Buyer's Review that circled the web a hundred times, spawning copycat review guides ripping off everything I said. Well…a lot has changed since then.
The current market for boxing/MMA/fighting gear is more confusing than ever for consumers. There used to be only a few brands to choose from and it was easy to tell who made the good stuff. But nowadays, you have more brands and more choices (design, color, price-range) with all claiming to be the highest quality. You hear conflicting reviews and you don't know what's good anymore.
My verdict is this:
99% of the gloves out there are overpriced junk.
I've tried out MANY gloves and seen them new, used, completely torn apart. I can look at a glove and tell you how it's going to feel and how it's going to fall apart later. I can tell you if the glove will harden quickly, be hot and sweaty, be hard to make a fist, where it will tear, those kinds of things.
This experience comes from being in a serious boxing gym—with dozens of champions training inside at any moment. I got to try out many different gloves and see what everyone else uses. I also get free gloves regularly because of my website. I've seen many brands and how they've changed over the years.
I hope to shine some light on the boxing glove industry (instead of confusing you with more pretty pictures and BS features). I'll tell you how boxing gloves are made, which qualities are most important, and which ones to buy. I'll also give you the background and history of many companies and how their gloves have risen or fallen in favor with boxers.
I will probably make enemies out of the boxing glove industry but here goes…
Let's us begin the ULTIMATE BOXING GLOVE REVIEW GUIDE!
NOTE: I have affiliate links for many gloves below. Whatever you buy may earn me a small commission. I only promote gloves that I would personally use and NEVER because of commissions (although many companies have tried). In a sport like this, integrity IS safety.
Skip ahead if you're too busy to read the entire article. Read the whole thing to see detailed glove reviews, company write-ups, and get a stronger understanding of how quality gloves are made.
Johnny's favorite gloves (for training/fighting):
Top 5 Boxing Gloves for Training/Sparring/Bagwork (16oz)
Top 5 Boxing Gloves for Low Budget (16oz)
Top 5 Boxing Gloves for Professional Fighting (8-10oz)
Top 5 Boxing Gloves for Women (12-14oz)

Learn about glove construction:
Boxing Glove Buyer's Guide
– Different types of boxing gloves
– Boxing glove review criteria
– Brand rankings

Skip to a specific brand:
1v1 Fight Gear
Adidas / pro line
Amber Sports
AMMO Boxing
BAD BOY
Boon
Booster
Boxeo
Campeon
Corti
Casanova / compared with other Mexican brands
Century
Chaos
Charlie
Classics
Cleto Reyes
Clinch
Combat Sports International (CSI)
Crest
Demix
Di Nardo
Ediroc
Everlast / pro line
Fairtex
Fighting Sports
Fly
G&S Fight Supply
GIL (formerly Zepol)
Grant
Green Hill
Hayabusa
Infinitude
JC Pacheco
John Golomb
King Professional
LECO
Leone
Lonsdale
Machina
Morales
Necalli
No Boxing No Life
ONYX Sports
Paffen Sport
Palomares
Phenom
Pro Boxing Supples (PBS)
Pro-Box
Promex
Punch Equipment
RDX
Revgear
Ring to Cage
Ringside
Rival
Sabas
Sandee
Seyer
Sting
ThaiSmai
TITLE Boxing
TKO
TM – Torres Medina
Top King
TOP TEN
TopBoxer
TUF-WEAR
Ultimatum
Unified
Triumph United
Twins
UMA
Venum
Windy
Winning
Zepol
THE WINNERS – Johnny's Favorite Boxing Gloves (for training and fighting)
What MOST boxers use
Most pros (and amateurs) prefer Winning gloves for training because they have the best protection. Even if you don't have a lot of money, it is still worth it to save up the $300 for Winning—they are THAT good! Older fighters or those with hand problems practically have no choice but to use Winning. An alternative to Winning is Grant but it's only used by pros or rich kids (who can appreciate the customization) since it costs so much.
Fighters that like Winning/Grant gloves but can't afford them will default to Rival or one of the Mexican glove brands (Reyes, Casanova), which are still very high quality but more affordable. Those wanting customization or flashy styling will go with customized Mexican gloves; ones with bigger budget will do Grant or Adidas MyGloves. Boxers on average budget will default to Ring2Cage C17's. Those on a tighter budget will get either Fighting Sports or Ringside IMF sparring gloves (which go on sale often). MMA guys or boxers venturing outside the traditional boxing brands will go for Hayabusa (which I don't like), Ring 2 Cage's C17 model (a respectable Winning clone) or one of the Thai brands (Fairtex, Twins, etc). The most budget conscious will go for Title, really cheap but functional.
First-timers, beginners, and especially MMA guys are known to walk into the gym with cheap Everlast, Fairtex, Hayabusa, or even Venum (whichever they find first at sporting stores)—many of which are not on my top 5 lists because of poor quality or overpriced. Some people will be lucky enough to have found Title, Fighting Sports, or Ringside, which go on sale often. Generally, MMA guys prefer the extreme-styling and high-tech look of Hayabusa/Rival whereas pure boxers prefer the classic old-school look of Mexican or Winning gloves.
In countries outside of the US, local brands are more common…such as Rival in Canada, TOP TEN in UK, Winning in Japan, Twins in Thailand, Mexican gloves in Mexico, etc. And then Winning is worn as the "status brand" to show off regardless of any country. Mexican gloves are also shown off outside of Mexico as "exotic gloves" (like in Europe) and fun to wear since they look different from typical Pakistan gloves and very hard to get or rarely seen.
Top criteria for training gloves are quality-of-construction and protection, then comfort. Gloves made for bagwork have denser cushion to last longer and also prevent you from punching through the padding. Gloves made for sparring have softer cushion to minimize power transfer and protect sparring partners. There are also gloves that are made for both; ideally, they use multiple layers of foam of different densities. Because every hand is different, some gloves will fit and protect you better than others.
BAG gloves protect you.
SPARRING gloves protect your partner.
TRAINING gloves should protect both.
Serious fighters will have at least 2 pairs of gloves (both 16oz):
SOFT pair of lace-up gloves for sparring.
DENSE pair of velcro gloves for bagwork.
Some fighters go lighter (14oz) for speed, or heavier (18oz) for protection/bagwork or conditiong.
Bigger fighters spar with 18oz, 20oz, or even heavier for more protection.
Some fighters spar in 14oz or 12oz to practice fighting in lower weight gloves closer to the actual competition weight (they don't punch with full power, of course).
Having several pairs of gloves helps to preserve your soft sparring gloves, since they don't last long when used on the heavy bag. The dense cushion in bag gloves can last a lot longer; but you can't shouldn't use them on sparring partners.
If you could only buy one glove (16oz):
Pick SOFT if you do more sparring, and DENSE if you do more bagwork.
Those on a budget might buy only a soft pair for sparring, and then use community gloves for bagwork.
Or you can buy a dense pair for bagwork, and then use community gloves for sparring.
If you're not sparring too hard, you can do what I do which is VELCRO gloves for sparring (more convenience), and LACE-UP gloves for bagwork (more support).
Those with hand injuries may prefer softer/bigger gloves for bagwork.

If you don't know which weight you should get, pick the 16oz.
16oz is the standard for male boxers. Females will be 14oz.
SOFT gloves for sparring, DENSE gloves for bagwork.
LACE-UP gloves for support, VELCRO for convenience.
My personal preferences (FYI: I'm 140lbs):
Don't use any glove under $150.

Winning, Casanova, and Rival

are my favorite stock gloves. TopBoxer and Mexican gloves are my favorite custom gloves. Di Nardo is my guilty splurge.

16oz pair

for sparring, and 16oz pair for training (bagwork/mitts).
Quality

all-leather exterior

over cheap leather or fake leather – more durable, more comfortable, breathes better, looks better.

Handmade gloves

 (better quality) over Pakistan factory clone-mold.

Foam padding

over gel padding.

Simpler design

with less seams, preferably with double-stitching (more durability).

Laces

over velcro – more support and authentic boxing look.

Boxing brands

over MMA/Thai glove brands – better shape and quality.
Top 5 Boxing Gloves for Training (Bagwork & Sparring)
Winning MS-600 16oz Boxing Training Gloves ($290-450) – best choice, proven quality
Di Nardo 16oz Boxing Training Gloves ($830) – best new glove on the market, premium luxury
TopBoxer custom gloves ($150-250) – quality & customization
Rival RS1-Pro Sparring Gloves 16oz ($139) or Rival RB10-Intelli-Shock Bag Gloves ($160) – quality & comfort
Casanova Sparring/Training Boxing Gloves 16oz ($150) – support & comfort
Other Mexicans like Reyes, Grant, etc ($100-600) – quality, support, customization
Ring2Cage C17 Japanese-Style Training Boxing Gloves 2.0 ($100-130) – nice cushy padding, many colors
1. Winning – the "Japanese Pillows" ($290-450)
Winning – the #1 brand, best cushion and comfort.
Also great build quality with perfect stitching.
The #1 brand for the past decade if not longer. Winning is the most protective glove ever created, with the best padding cushion (most pillow-ey) thanks to the marvel of Japanese engineering. Top quality materials and perfect construction. Don't be tempted by lesser brands, these gloves look and feel great! Comes with an expensive price tag to live up to and yet not a single person has ever called them over-priced. Many pros and amateurs refuse to wear anything else. An absolute must for fighters with sensitive/injured hands. Due to its success, Winning's glove design is the most imitated glove on the market today with every copycat claiming to be ALMOST as protective as the real thing. (See full brand review.)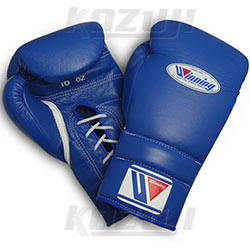 Winning MS-600 16oz Boxing Training Gloves ($395-430)
Great for sparring and bagwork. The laces version has more support, also more popular (like 20- to-1). Their velcro glove, while not as supportive as the laces, is also the best velcro glove on the market! Quality leather, buttery smooth inner lining, perfect thumb position, protective pillow-ey padding, and total comfort all around! Standard A-level gear used by everyone. (See full brand review.)
PURCHASE LINKS: LACES   VELCRO
2. Di Nardo – the "Ferrari of boxing gloves" ($830)
Di Nardo (custom-made from Italy) – best leather, best quality and craftsmanship, best support, best style, and VERY UNIQUE FEEL. Premium pricing for a premium glove. Yes, they are absolutely worth the price.
This glove sets the new standard for me in boxing gloves; they are far beyond anything I've ever seen. I want to call them the future of boxing gloves but I also know the industry will never catch up to this guy's madness. Filippo Di Nardo De Leccese (the sole-owner and maker) has combined his family's heritage in leather-craftsmanship with his self-devoted passion for boxing. They are like nothing you've ever seen in a boxing glove. A completely redesigned glove from inside-out, and truly a piece of art! The only reason why I don't have them as #1 is because of the pricing and also that I've only had them for 2 years (they still look and function great, btw). Some of you may still prefer the softer Winnings but there is no dispute, these are by far the better-made glove. (See full brand review.)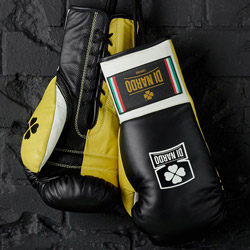 Di Nardo Boxing Training Gloves 16oz $830
Great for sparring and bagwork. Highest quality gloves ever; unrivaled materials and craftmanship! Padding options are either TUTELALA (bagwork) or CAESTUS (slightly softer for bagwork & sparring). Customization available. Padding replacement options available!
PURCHASE LINKS: LACES or VELCRO
3. TopBoxer – the "Custom Champ" from Pakistan ($150-250)
TopBoxer – great quality and service, unlimited customization options.
Many unique features available.
An amazing boutique glovemaker with limitless customization options and expert craftsmanship. First, create the ultimate glove design that looks exactly the way you imagined it, then pick the right padding combination to get the perfect protection and comfort for your hand. He takes your hand measurements and walks you through every step of the process to create a truly customized glove. You can model yours after existing brands like Winning and Grant and add your own adjustments, or come up with a completely new design that hasn't been done before. Explore rare colors, exotic leathers, and unique padding specs. The limit is your imagination. He's done custom work for many top fighters in boxing and MMA. (See full brand review.)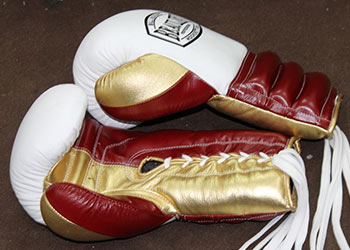 Custom Gloves Only ($150-250)
Great for sparring and bagwork. Many customizations available.
PURCHASE LINKS: CUSTOM ORDERS   STOCK GLOVES
4. Rival – "the Canadian Techie" ($160-190)
Rival – high tech styling with amazing ergonomic comfort, wrist support, and hand protection.
A quality high tech brand—actually made in China—but with great padding, comfort, and durability. Rival is most known for their stylish aesthetic, innovative cuff designs (comfort), and d3o padding (shock absorption). Unlike other companies that hype empty gimmicky features, Rival fans can actually feel the difference in comfort and support from their unique glove designs. As a testament to their ingenuity, their designs have also been imitated by other brands. It's no surprise this Canadian brand has grown to be a worldwide favorite. I love that Rival separates their gloves into sparring models and bag models; I recommend people buying only a SINGLE PAIR of all-purpose training gloves to pick their sparring models. (See full brand review.)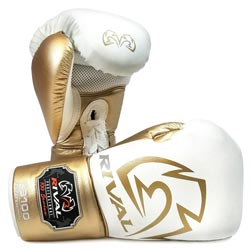 Rival RS100 Professional Sparring Gloves 16oz ($189)
Perfect for sparring, and occasional bagwork. A great choice if you love Rival's ergonomic wrist design. An incredible upgrade to the old-school favorite RS1-Pro (laces version) or RS2v-Pro (velcro version) which are still available at $149.
PURCHASE LINKS: LACES

Rival RB10-Intelli-Shock Bag Gloves ($169)
Only intended as a bag glove, NOT for sparring, but very high quality. (I recommend size LARGE or XL.)
PURCHASE LINK: VELCRO
5. Necalli (formerly Casanova) – the "Forgotten Mexican" ($150)
Necalli (like other Mexican brands) – great leather, padding, wrist support, comfort and craftsmanship. Also fair pricing and old-school styling.
A trusted glove hailing from a long tradition of boxing and excellent glove craftsmanship. "Hecho en Mexico" gloves authentically handmade in Mexico with quality leather and materials. Necalli gloves are known for their old-school aesthetic (UGLY), wide hand compartment, great knuckle padding, great wrist protection, and comfortable hand shape (although slightly rough inner lining). They feel amazing and support my wrists like no other brand. A little-known trait of Mexican gloves is that the way they're shaped helps you throw punches correctly. I've fallen in love with my Necalli's and am now a convert for old-school Mexican brands. Diehards appreciate their no-nonsense design, fair pricing, and the way they smell! Unfortunately, Mexican gloves are hard to get outside of Mexico. (See full brand review.)
SPECIAL MENTION: Boxeo is another great Mexican brand with long-lasting durability, amazing protection and comfort (and also beautifully-ugly). Campeon and Classics are also similar quality. Or go with Zepol for customization (but slightly lower quality).

Necalli Sparring/Training Boxing Gloves 16oz $149.99
Good for sparring and bagwork. Great wrist protection. Boxy Mexican glove shape makes punches land very flat (it's a good thing). Beautiful nolstagic old school vibe. Mexican leather is much better than usual cheap Pakistan leather.
PURCHASE LINKS: LACES   VELCRO   HYBRID
HONORABLE MENTIONS: the "Classic Mexicans" (Reyes, Grant)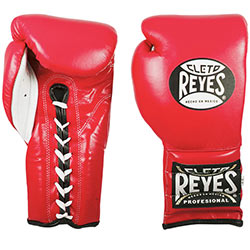 Reyes Traditional Training Gloves 16oz ($169)
A great glove and well-liked but some fighters may prefer more hand cushion.
PURCHASE LINKS: LACES   VELCRO   HYBRID   EXTRA-PADDED
Cleto Reyes is the best-known, highest craftsmanship, and best leather of all the Mexican brands. They make excellent quality gloves but aren't recommended for training because they're known as "puncher's gloves"—designed for maximum power transfer rather than cushioning and hand protection. With that said, they are still favored by many fighters, especially competing fighters, and now offer models with extra padding. (See full brand review.)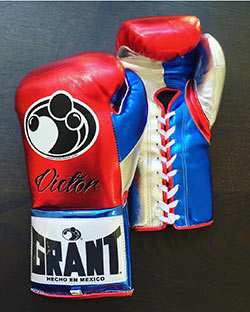 Grant Custom Boxing Gloves ($500-1000)
Nice glove but over-priced, and issues with quality control lately. Many complaints from people saying they aren't worth the price.
CUSTOM ORDERS
Grant, alongside Winning and Reyes, is considered as one of the top 3 brands in boxing (especially amongst professional boxers). Their gloves offer great power transfer like Reyes gloves but are also protective somewhat like Winning. They're handmade in Mexico with great quality and offer customization options. For many years, custom-made Grant gloves were the most stylish and most premium quality boxing gloves anybody could have.
Unfortunately, that's no longer the case. There are many complaints about inconsistent quality (especially with stitching). And adding further to the brand's turnoff, their pricing has shot up dramatically and now costs a ridiculous amount at $500-1000 (when a superior Winning glove only costs $300). Their last unique feature was offering customization but new brands like Sabas offer the same features for a much lower price point. What was once amazing and unique about Grant has been successfully imitated and even exceeded by other brands. However, Grant still remains a household name (synonymous with pro boxing), due to its sponsorship of many top boxers in the sport. (See full brand review.)
Top 5 Boxing Gloves for Beginners or Low Budget ($100 & under)
Of all the low-budget gloves, I would personally only use the RingtoCage C17 gloves or TOP TEN Superfight 3000 gloves for serious training. But that's because I've got sensitive hands after boxing for so many years. A beginner or anybody else could probably make do with other gloves. If you feel you may need better protection, GO SAVE UP AND BUY IT. Or do what the pros do—go lighter on the heavy bag!
1. Ring to Cage C-17 Japanese Style Training Gloves 2.0 16oz ($99-119)

The closest you can get to a Winning glove, and the smartest buy at $100. Lots of cushion and protection (I love to use mine!). Seriously, it's shocking how good these are. Most $150 gloves don't even come close to this! It's functional and comfortable. Great for sparring and bagwork. I also like that it's a uniquely-designed glove (even if it was a copycat). The velcro version costs more. Tons of fun colors, too. My only annoyance was that the inner lining could be smoother. This arguably could have been #5 on the top five boxing gloves list.
PURCHASE LINK: LACES or VELCRO
2. TOP TEN Superfight 3000 Boxing Gloves ($99)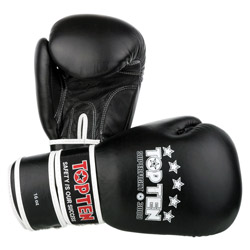 Very unique shape unlike any other boxing glove but surprisingly comfortable and protective. The foam feels really thick and about above-average density. Protects your hands well on the heavy bag and almost soft-enough for sparring (although I prefer softer, maybe these can be worn down). I love the dual wrist straps; better support for different wrist sizes. It's a bargain glove at $100 and should serve you well.
PURCHASE LINK: VELCRO
3. Twins Special BGLL1 Boxing Gloves 16oz ($65-85)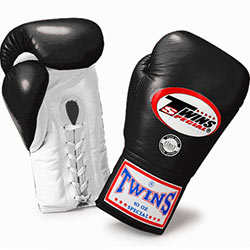 Quality glove at a great price (especially when on sale). This model (unlike their others) most closely matches the shape of a boxing glove. Good leather and good cushion suitable for sparring and bagwork. If you want a velcro model, you can get the BGVL3 which has better padding but some complain that it's too bulky (like traditional Thai glove shape).
PURCHASE LINKS: LACES   VELCRO
4. Ringside IMF Tech Hook & Loop Sparring Boxing Gloves 16oz ($51-69)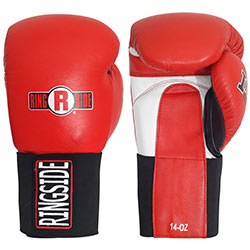 The older model from mid-2000's was much better but this version is still quite functional for the price. (Some colors are cheaper!) Good sparring glove, and occasional bagwork. Don't be tempted by the more expensive Ringside models—they aren't much better! In case you wanted to save more money: the R2C clone may be cheaper (but may or may not be the same quality).
PURCHASE LINK: VELCRO
5. TITLE Classic Leather Training Gloves 16oz ($39)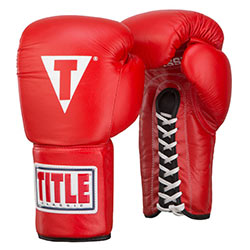 Probably the only functional boxing glove under $50. Can be used for sparring and bagwork. The VELCRO version has a cheap elastic strap that I think won't last as long.
PURCHASE LINKS: LACES   VELCRO
TOP 5 Boxing Gloves for Professional Fights (8oz/10oz)
Professional fight gloves are designed for maximum power (good wrist support but minimal cushioning) and compact design (to squeeze past opponent defenses). They're meant to be used for only a single fight so comfort matters more than durability, and they come with very little padding (the gloves weigh only 8oz or 10oz). Many of them are also padded with horsehair which only lasts up to 30 rounds. Some brands sell a foam version of their pro fight model in case you want to train in smaller gloves to get used to their weight/timing. There are also MMA fighters who like to use professional boxing gloves (foam version) for their training, since MMA usually wears lighter gloves. But generally, you SHOULD NOT use fighting gloves for regular training!
Professional fight gloves (8oz, 10oz) are usually worn for professional boxing fights, specific boxing training, or by MMA fighters in training.
Most fighters (especially power punchers) will choose Reyes by default and Grant as an alternative. Some will use Everlast MX if they can't use Reyes for whatever reason (not comfortable, not sponsored by them, opponent negotiations won't allow for Reyes). Those with hand problems but still want to punch hard will use Grant. Grant is more common in the US, Adidas is more common in Europe, Rival is more common in Canada. All of these gloves are good for transferring power. Winning is the most protective but unfortunately transfers the least amount of power to your opponent. You only see it used by fighters with serious hand problems or who either don't have (or don't care for) punching power.
1. Cleto Reyes Official Professional Boxing Gloves 8oz/10oz ($139-169)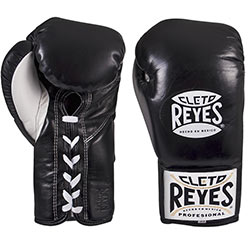 The #1 "puncher's glove" in the market. Horsehair model is used in pro fights for maximum power transfer.
The training version of this glove uses Safetec foam which lasts longer (3000 rounds instead of 20-30).
PURCHASE LINK: HORSEHAIR   FOAM MODEL
2. Grant Custom Boxing Glove 8oz/10oz ($500-1000)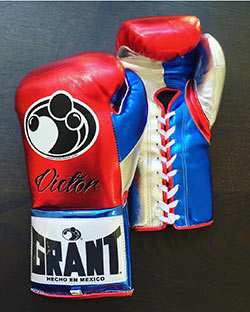 Another popular "puncher's glove". Good power transfer AND protection (more than Reyes). Offers horse hair model, as well as an "orthopedic model" for those with hand problems.
CUSTOMER ORDERS
3. Rival RFX Guerrero Pro Fight Gloves 8oz/10oz ($149)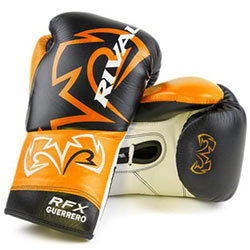 Rival's version of the "puncher's glove". Another favorite among pros for its great power transfer and comfort.
They also sell a foam version (on their website) of these gloves for bagwork.
PURCHASE LINKS: 8OZ   10OZ
4. Everlast MX Pro Fight Boxing Gloves 8oz/10oz ($149)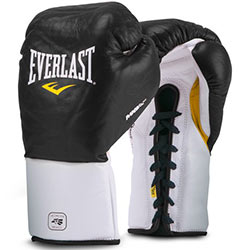 Everlast version of the "puncher's glove", hand-made in Mexico and filled with a horsehair/foam blend that has great power transfer. There's also a 10oz XL model for big hands.
PURCHASE LINKS: 8OZ   10OZ   10OZ XL
5. Winning Boxing Gloves 8oz/10oz ($230-260)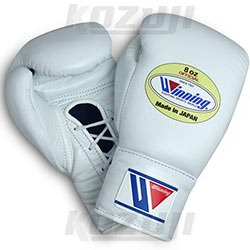 Popular with pro fighters because of it's protection (rather than power transfer).
Filled with foam instead of horsehair. Many MMA guys use this for training.
PURCHASE LINKS: 8OZ   10OZ
HONORABLE MENTION: other "pro gloves" (Adidas, Di Nardo, Title)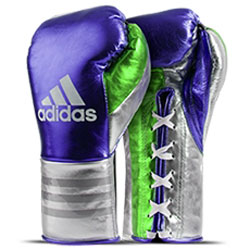 Adidas pro fight gloves 8oz/10oz ($99-500)
Adidas deserves a special shoutout because their pro glove line has grown a lot lately. I do see them used a lot in Europe (especially Germany) but they're now aggressively tackling the US market as well. They've been signing many big name fighters like Amir Khan and young up-and-comers like Ryan Garcia. Back then, their pro gloves were 50/50 for me. The "Glory Pro Fight" gloves felt way too flimsy whereas the "Dynamic Pro Fight" gloves felt fantastic! I was able to punch 100% full force on the heavy bag with no issues.
Now, they have a new line of gloves called "Adidas MyGloves" which are custom models with many colors and customization options, Made in the USA for around $500. These new custom models have been said to be exceptionally high-quality and made to rival Winning, Grant, Rival, and Reyes. I have yet to try them so we'll see where it goes.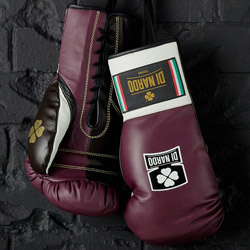 Di Nardo Boxing Pro Fight Gloves 8oz/10oz ($750 & up)
I don't know how much longer this brand will be sleeping under people's noses. Di Nardo is the real deal. Absolute works of art in the form of boxing gloves. These are such beautiful gloves, you have to see them in person to really appreciate. Most other high-end gloves are simply standard boxing gloves but with better materials and craftsmanship. Di Nardo gloves however are a completely revamped take on boxing gloves, re-imagined and improved in everyway. They are structurally superior to anything on the market and far more beautiful aesthetically. What else do you expect from an Italian craftsman?
PURCHASE LINKS: LACES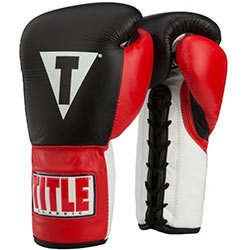 Title Pro Fight Gloves 8oz/10oz ($50-80)
Title offers some adequate gloves for professional fighting at affordable rates. Probably not the best quality but much cheaper than the big names. Some are filled with foam; some have a horsehair blend. They go up to 12oz and can also be found on sale for less! (Some parents buy these cheaper pro fight gloves for their small kids instead of the much lower-quality "youth gloves" being sold.)
PURCHASE LINKS: CORRUPT   PRO MEX   GREAT   ENFORCER   PLATINUM   FIGHTING
Top 5 Boxing Gloves for Women
Females have smaller hands/wrists and less power, so they prefer a tighter fit rather than cushioning. Inside a bigger glove designed for men, their hands would be floating around with less wrist support and/or they wouldn't be able to make a fist as easily. It should come as no surprise that many of the smaller-fit and less padded puncher's gloves and Asian brands rank highly as women's favorites. Generally speaking: I recommend 12oz or 14oz for women since their hands are smaller, upper-body not as strong as men's, they don't hit as hard, and do not require as much cushion. Bigger females (170lb & up) will spar in 16oz. For bagwork, many women do prefer to train in lighter gloves, like 12oz. Women below 105lbs are probably better with 12oz gloves.
I was hoping to support new brands like Machina and Society Nine for making boxing gloves specifically designed for women. Although I love their designs, I can't help notice they're all the usual cheap Pakistan clone gloves (better suited for fitness than actual serious training).
14oz is the standard for many women boxers.
Some will prefer to train in 12oz for bagwork.
Bigger females (170lb & up) will train in 16oz.
1. Cleto Reyes Women's Training Gloves 14oz ($149-259)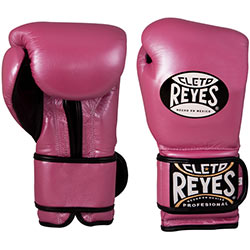 Top-rated glove for women. Reyes is a top quality brand, already known for its smaller fit. They make great gloves for women and with several "feminine" color schemes to choose from.
PURCHASE LINK
2. Winning MS-500 Boxing Gloves 14oz ($260-300)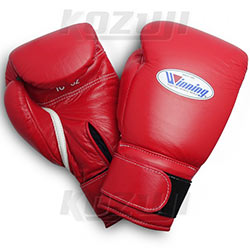 And of course, the top-padded brand in boxing. Most comfortable and still a good fit for women (since Winning naturally fits tighter). Feel free to go lighter if you prefer; a 12oz Winning glove offers better protection than many of the 16oz gloves out there. Laces has more support.
PURCHASE LINKS: LACES   VELCRO
3. Rival RS2V-W Women Sparring Gloves Velcro 12oz ($119)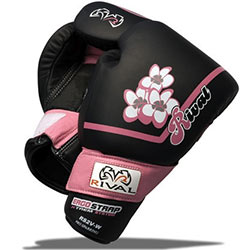 The amazing fit, comfort, and quality of Rival re-shaped into the perfect women's boxing glove. A great price, and possibly the best glove for women if you don't like the way Reyes and Winning fits your hands. Although it's a sparring model, the glove works perfectly fine for bagwork as well.
PURCHASE LINK
4. Grant Custom Boxing Gloves 14oz ($500-1000)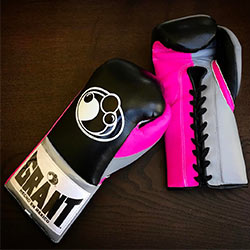 A top favorite for PROFESSIONAL women boxers. Way over-priced but high quality, with tighter fit and beautiful custom colors. I would honestly recommend another brand (like Ring2Cage C17) but Grant is up here because many pro females are using them.
CUSTOM ORDERS
5. Ringside IMF Tech Hook & Loop Sparring Boxing Gloves 14oz ($51-69)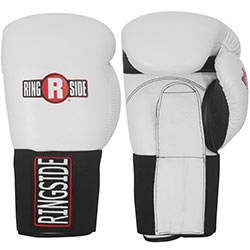 This ultimate bargain glove is a favorite for female boxers as well. This model can actually be just fine for many females, especially since they don't hit as hard as males. You can spar and hit the bag in this. (Some colors are cheaper!)
PURCHASE LINK
HONORABLE MENTIONS: Di Nardo, Title, Twins
Di Nardo – the "Ferrari of boxing gloves" 14oz ($830)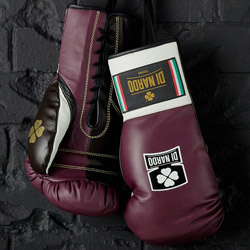 Ladies, if you love splurging on boxing gear like you do on your bags/shoes, here are your dream gloves! Nice gloves, good quality with a custom fit. Highly recommended for women. Di Nardo is wayyyyy better than Grant. Only it isn't as well known but this should change soon.
PURCHASE LINK
Twins Special BGLL1 Boxing Gloves 14oz ($65-85)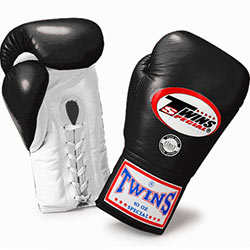 Quality glove at a great price. Good quality leather and good cushion for sparring and bagwork. Many women like Twins for their smaller hand fit. If you want a velcro model, get the BGVL3 which is padded better but some complain that it's more of a traditional Thai glove shape and too bulky.
PURCHASE LINKS: LACES, VELCRO
TITLE Classic Leather Training Gloves 14oz ($39)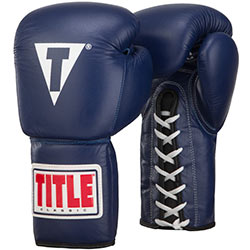 A functional starting glove for women, beginners, or anybody on a budget. I personally prefer the laces model since you can tie the glove tighter around your wrist, and also because the velcro model uses an elastic strap that doesn't look like it'll last long.
PURCHASE LINKS: LACES   VELCRO
Boxing Glove Buyer's Guide
Current Landscape of the Boxing Glove Market
There was probably more variety when I started boxing back in 2004. You had only two dozen different boxing brands (hardly any MMA brands at the time), but each made their own unique glove design and catered mostly to their local market. The quality was a lot higher and prices a lot lower. $50-60 would pay for a solid name-brand training glove. $85 would get you a premium name-brand training glove. And $160-200 would get you the world's best handmade training gloves.
Nowadays, it's just an illusion of choice. You might have a hundred more brands now (thanks to the rising popularity of MMA) and hundreds of different flashy colors and designs. But the reality is 99.99% of them outsource their manufacturing to Pakistan and use the exact same glove molds. It's the same crap glove with the same crappy materials, except with different surface-design. The ubiquitous $85 glove you see nowadays is pretty much only a modernized aesthetic-improvement of the $50-glove you saw ten years ago. And any glove around $65 and under that you see today is the bottom-level $30-40 glove that you saw you ten years ago. It's designed to be as cheaply-produced as possible (to maximize profit) and not recommended for serious training.
With so many cheap gloves proliferating in the market nowadays, it seems all new brands are trying to establish themselves as "THE NEW PREMIUM BRAND". This caused many brands to strategically price themselves higher in hopes of raising consumer appeal. Meanwhile other brands, afraid of offending their loyal fanbase, kept their prices the same which only adds to the current price confusion. Not so surprisingly, it's much harder nowadays to find quality brands at logical prices!
Ever since boxing fell out as the mainstream "every man's sport", it seems nobody knows how to tell a quality glove anymore.
And it seems very few "boxers" nowadays even need one. Back in your grandpa's days, when someone said they "boxed a bit" it meant they actually trained twice a week for 6 months and maybe had 5 fights. Today, when someone says they "boxed a bit" it means they saw some Youtube videos and hit their friend's heavy bag in the basement a few times.
The TOP 5 COUNTRIES for boxing gloves (and why)
The best boxing gloves are created by skilled craftsmen, who are found in 5 countries: America, Japan, Mexico, Pakistan, and Thailand. There are a handful in Europe and other countries as well but I'll leave those details out to keep this brief. America and Mexico are the most obvious for their rich boxing tradition. American and Mexican boxing companies were typically started by former fighters or trainers and so they had the actual fighting experience to know how gloves should be made, and how to improve them. Thailand has this advantage too, but more specialized for Muay Thai kickboxing rather than boxing.
American boxing companies fell out of favor because all of them eventually prioritized profits over quality. Their glove production was outsourced to Pakistan and no longer made by hand craftsmen in-house, but by machine or low-level factory workers. Again, "profit over quality" was the main driving force…and the results reflected that. "Made in America" would never be heard again for boxing gloves, just like 99.99% of products you see today. The best American gloves from the old days were made by true craftsman who spent an entire day making one pair, preparing the leather and padding in the most precise ways, and creating each glove with pride. Knowledge of the fight game was their greatest asset. Old-school American gloves were made to last. But to pay a premium price today for quality leather and precise handicraft just to give boxing a try? No, the average kid just wants some cheap gloves with cool graphics to hit the bags with, and that's exactly who the American brands cater to.
Mexico in the meanwhile, stayed cheap enough to produce their products locally. Their brands retained more of their original quality, passing on the knowledge of glove-making from one generation to the next. Mexico's assets were not only knowledge of the fight game and access to cheaper hand labor, they also had higher quality leather and fighters that could push their gear to the limit. You can trust all reputable Mexican brands to be tested by the toughest and most aggressive boxing style on the planet. The REAL SECRET, I think is in the shape of their gloves. Unlike other brands catering to the casual demographic with pretty designs, Mexican gloves are often ugly (and old-looking) but extremely functional. Their glove shape supports your hand and wrist in a way that other gloves do not. I think their original methods of designs, stitching, padding, and glove-crafting have remained more intact than other countries over the years. Unfortunately for consumers, their traditional way of hand-working and demand for quality meant a less industrialized process and smaller production runs. Many of Mexico's top boxing brands never globalized or grew beyond their local markets. They do not have the marketing or capacity to handle the masses, nor do they have a glove to cater to that demographic.
Japan has not only a rich boxing tradition but also a culture for perfection and advanced technology. Not surprisingly, the most well-known Japanese boxing company (Winning) has the BEST boxing glove on the market, with THE MOST ADVANCED padding, and the highest price. Expensive high-tech gloves from an expensive high-tech country—of course! Their special foam has been unmatched by anybody out there and believe me, many have tried. It's the best cushion you can get for your hands. Their glove is beautifully designed in a no-nonsense traditional aesthetic respective of boxing's rich history. It doesn't try to be anything more than a modernized take on the already quite-perfect boxing glove design. It feels like machine-made perfection rather than handmade craft. The overall construction and stitching look perfect; there is NEVER a bad model. Their padding alone and pride in perfect engineering is the reason why Winning is by far the #1 choice for fighters in training. Their marketing is also very humble, no bragging promotions or gimmicky features; the product speaks for itself.
Thailand, like Mexico, produces their gloves at home and also has a rich culture in fighting (Muay Thai & boxing) to stringently test their brands for quality. They too, have been able to pass down the art of glove-making from one generation to the next. But I think Thailand has 2 drawbacks. One is that their gloves are more often designed for Muay Thai kickboxing rather than boxing (using different padding distribution for clinching and blocking kicks). The other drawback is because I think their country is generally poorer and has less demand for premium products. Their gloves are made cheaper in general and sold at lower price-points. When comparing gloves selling at lower price-points, those made in Thailand are a great deal especially if you can find one specifically designed for boxing rather than kickboxing. You can expect Thai boxing gloves to be reasonably priced and at least built well-enough for their local fighting community.
Pakistan, is the newcomer to the boxing glove market quickly replacing China as the default outsourcee of choice. The main reason is that its leather industry exploded in the past 30 years, benefitting from lower costs (materials/labor) as well as an expertise in leather. The other reasons (I think) are because there's more English speakers in Pakistan than China (easier to do business with via email), and they don't yet have the same stigma of being such inferior quality (like Chinese products). Nowadays, Pakistan is the preferred choice for manufacturing cheap leather products. While they do have the advantage of a robust leather industry and extremely cheap labor, they lack a boxing culture and almost never use quality leather. All their glove designs were given to them or copied from others. I feel their gloves for the most part will always lack soul. The worst manufacturers will always invent ways to make a cheap glove even cheaper. And the best ones can only add more stitches or even use higher quality materials, but they'll never know how to actually innovate a better glove.
Can you use MMA/Muay-Thai kickboxing gloves for boxing?
Yes, and no. I say "yes" because it'll work just fine for many beginners and they won't even notice the difference. I say "no" because I wouldn't do it myself. I don't like how MMA/kickboxing gloves are padded differently from Western boxing gloves. There's more wrist flexibility (for clinching purposes) and also more padding on the back of the glove (for blocking kicks). This means less wrist support for punching and less padding on the palm side of the glove for blocking/parrying punches. Muay Thai gloves are also shorter (I'm guessing for elbow attacks) and their thumb can stick out more (maybe for clinching purposes). And then their knuckle cushion is also too soft or too hard at times. I personally don't like these differences but if you like how these gloves feel, that's all that matters, right?
I also feel that MMA brands are Pakistan clones and Muay Thai brands are Thailand clones. Their quality is usually no better and no different from the clone-brands in boxing. If anything, I feel MMA brands charge more for the same product simply because their sport caters to a more affluent demographic (middle-class whites vs urban ghetto).
Some videos comparing Muay Thai gloves to boxing gloves:
What if you didn't see a brand in my review?
Real simple, compare their glove designs to the other brands I review. See if it's a Pakistan clone design and go from there. Most gloves nowadays are copying Winning, Grant, Title or Hayabusa. If it's not a clone design, then start comparing the quality and materials with other gloves. There are so many brands I have never heard of and never tried (especially brands from other countries). Despite not having tried them all, I can say without a doubt many of them are clone designs cheaply made in Pakistan.
Glove buying tips
I think you should always get a second opinion. Boxing (or fighting) is a serious sport and can permanently injure your hands no matter how good your gloves are, or how perfect your technique. There is also a  good chance that the model you're seeing may not be the same model I or others have reviewed.
Here are some places where you can get some opinions on boxing gear:
VISIT a real boxing gym – Find a boxing gym with REAL fighters, competing amateurs and competing pros. See what they use. Check out their community gloves so you can see different brands and how they hold up. How's the padding? Is the outside leather or inside lining tearing apart? Does the closure strap still work? If you see gloves with a faded logo and beat-up leather and yet the cushion is still good, that's probably a good brand right there. Ask the pros what they think of different brands.
GOOGLE search – type in "[pro fighter name] sparring" or "[pro fighter name] heavy bag" on Google images or Youtube and see what brand they use in training. Many pro boxers deal with the same hand issues you have (big hands/wrists, hand injuries, etc). If you're from another country, try searching up a local boxer from your country. Beware that many famous boxers are sponsored (PAID) to wear certain brands.
SHERDOG forums – popular MMA website forum where you can read discussions on many different brands and models of gloves. I think Sherdog reviews are great to compare first impressions of quality, fit, and cushioning. But I would be cautious of grandiose claims about performance and durability. I don't think anybody is truly qualified to review boxing gloves until they've PERSONALLY worn out a few pairs of standard boxing brands like Winning, Grant, Reyes, Rival, Ringside, and Title.
BE CAUTIOUS of glove review articles – they're often written by guys who haven't trained seriously for long, don't focus on boxing (e.g. MMA, Muay Thai), and have never worn out any of the gloves they review. I also think many of them are written purely for commissions or freebies. They receive free gear or payment from companies in exchange for writing glowing reviews. I especially do not trust the articles that say "Top 10 Boxing Gloves", list a few gimmicky highlights for each glove, and then vomit Amazon links all over the page.
Be CAUTIOUS of popular Amazon reviews – I've seen enough horrible gloves with 5-star reviews to know the majority of them don't know what they're talking about. Many of them are total beginners who just started and can't tell a good glove from a bad glove. 5-star reviews are sometimes a reflection of good marketing (to easily-appeased casual users) rather than actual product quality. Also, many merchants also give freebies in exchange for a positive review.
Different Types of Boxing Gloves
Quick overview of the 7 main types of boxing gloves out there:
"Light" bag gloves
An outdated invention from the old days of boxing, nowadays included in cheap boxing "play kits" at toy stores. Super thin and only protects you from tearing your skin during bagwork. Nobody uses these in training anymore (I've never seen it). They're great if you like training with the "bare-knuckle" feeling.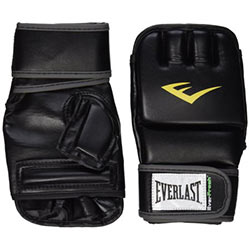 "Heavy" bag gloves
This is the standard "bag glove" nowadays. They look like regular boxing gloves but with higher density foam to protect your hands against dense objects like the heavy bag and mitts. The denser padding however makes them too stiff for sparring.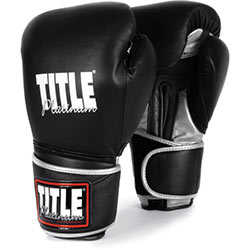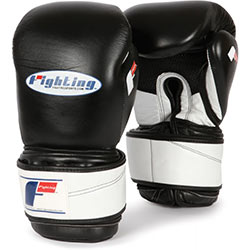 Sparring gloves
Typically padded with a thicker softer cushion to minimize damage inflicted on sparring partners. The softer cushion isn't meant to be used on the heavy bag as that wears down the padding quickly.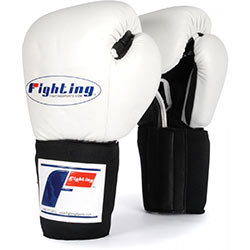 Training gloves
Intended to be all-purpose everyday gloves for bagwork, sparring, mitts, etc. They're great for those who don't want to buy separate pairs of gloves for bagwork and sparring. Beware of dense bag gloves being sold as "all-purpose training gloves"; they will hurt your sparring partners!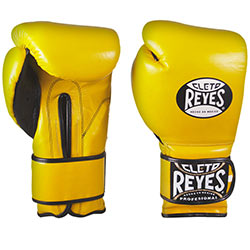 Amateur fight competition gloves
These gloves have a white knuckle area for scoring points. They are typically made by the local brand, such as Reyes (in Mexico), Everlast/Title (in the US), or Adidas (in Europe). They're lighter than training gloves and have bigger/softer cushion. You'll never have to buy it because competitions will provide gloves to ensure a standard of safety and fair-play. However, some gyms will have them so you can practice fighting in lighter gloves.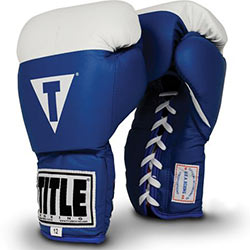 Professional fight competition gloves
The smallest gloves you'll ever see, much smaller than training gloves (and even amateur competition gloves). Made with less padding and only used in professional fights. Having less padding increases power transfer at the cost of hand protection.
Many are padded with horsehair which breaks down very quickly—which is perfect for when you want the commission to approve the padding in your gloves, but have the padding wear out quickly during the fight. Horsehair-padded gloves don't last very long at all, usually only 1 fight plus a few warm-up rounds at the most.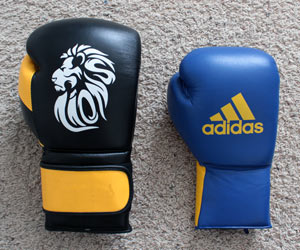 Coach spar gloves
A mix between punching glove and a focus mitt so your trainer can "practice spar" with you, developing your offense and defense at the same time.
Also called "trainer spar mitts" or other similar labels.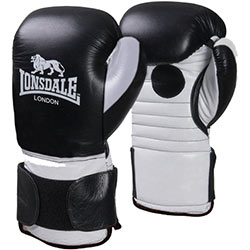 History of Boxing Gloves:
Boxing Glove Review Criteria
My hands are more sensitive now.
Being around the sport of boxing for 15 years now, I've developed hand problems from the constant punching. It hurts to throw the same punches that years ago felt like nothing. You cannot punch dense objects year after year and think nothing will happen to your hands. It doesn't matter how well-conditioned or incredible your genetics are, wear-and-tear is inevitable in a grueling sport like this. It's made me sensitive to different boxing gloves and able to perceive differences in padding whereas I couldn't before. This is why pros don't mess around. Many of them have hand damage and can't afford to use lesser quality gloves that may shorten their career.
So what do I care about the most? HAND PROTECTION and QUALITY. The worst gloves offer little hand protection and break down quickly. The best gloves offer incredible protection and seem to last forever. There's also the security that only a quality pair of gloves can give you. If you've ever hurt your hand before throwing a punch, it will scare you from throwing hard punches again—yes, PUNCHER'S TRAUMA. But with a quality glove, you have all the confidence in the world and get to enjoy punching hard again.
Hand pain isn't something most beginners are even aware of because:
they don't have the technique to punch that hard anyways.
they lack the conditioning to have long-enough training sessions.
they are too excited (adrenaline) to notice the damage.
Looking back now in hindsight…I'd like to warn all potential fighters of the following things:
You are not invincible. All young bodies will eventually deteriorate. If you take care of yourself, you get to last longer.
Once you hurt your hands, they're prone to getting hurt again. You may feel hand pain or hand weakness in everything else that you do in life.
Don't buy cheap gloves. They don't last long and end up costing you more if you have to keep buying new gloves.
Back when I first started boxing, I thought $50 gloves were ok. Now, I don't. Spend the best you can afford and save your hands for the rest of your life. Even if the $50 gloves feel fine to you, please get something better.
Quality gloves protect your hands,
not only in boxing but for the rest of your life.
How boxing gloves are made
The process of making a boxing glove can be simplified into a few materials and a few steps. First, the outer materials are cut from hopefully high quality leather (more durable than cheap leather or synthetic materials), and then designs are printed or embroidered on while the material is still flat. Next the glove shape is formed by stitching the outer pieces together; meshes and grip bars are also stitched in during this step. The padding is cut from foam or molded with a machine. The foam padding is then stuffed into the glove at the back of hand and knuckle areas, and another foam or even cotton in the wrist and palm areas. Finally, the glove is finished by punching out the holes for laces or stitching on a velcro strap.
The quality of leather, foam design, precision of stitching, and shape of the glove will ultimately affect how the glove fits, cushions, and performs over time for you.
The 4 most important aspects of a boxing glove:
glove fit, padding design, closure type, and quality of construction.
Glove Fit
In theory, you would be able to just buy any quality glove out there and that would be the end of that, right? (If it only it were that easy!) Boxing gloves come in many different shapes and designs that can affect how you feel, attack and defend in a fight. After all, you can't feel comfortable in the ring if you can't feel comfortable in your gloves.
The right glove fit allows your hand
to feel secure when throwing punches.
Hand fit & comfort
Some gloves will fit better for those with bigger hands/wrists, others fit more snug and secure for smaller hands/wrists. Too wide and your hand has all this space to wiggle around, making your wrist less secure. Too narrow, and it's choking the blood circulation in your hands. Gloves that are too big or too small can be difficult to make a tight fist.
Gloves can also fit differently on longer fingers vs shorter fingers. Ideally, your fingers fit comfortably (not too long or too short) and the glove curls easily with your hand when you make a fist. A glove not curling properly with your hand can impact the back of your fingers or even your middle knuckles while punching (painful and awkward feeling).
There's also the matter of stiffness. Some fighters prefer a soft feel that molds to your hand. Others like a stiff shape that feels more structurally supportive. It's personal preference.
Thumb attachment
Some gloves have a thumb that sticks out more whereas others have the thumb hidden and out of the way. Most fighters prefer a straight-thumb design like Winning (more comfortable) over the curved-thumb design like Reyes (known for many complaints). Most thumb design problems are when the thumb is too small, curves uncomfortably, too stiff (trapped feeling), or doesn't let you make a comfortable fist.
You should also beware of glove models that don't have an attached thumb, it's easier to injure your thumb or poke an opponent's eye out using them. Unattached thumbs are not common anymore but do exist in some old-school models or MMA/kickboxing gloves (for clinching purposes).
A little background on boxing glove thumb design:
Hand control (ease of opening and closing the hand)
Being able to close your hand easily is important for making a tight fist (for solid punches). Being able to open your hand easily is useful for relaxing the hand, blocking or parrying punches, or clinching (MMA/kickboxing). Stiff-padded gloves tend to lock you into one position (fully closed or semi-closed) whereas softer-padded gloves let you open and close effortlessly. The glove's design and also breaking in the glove can help with this.
The grip bar design can also affect how you make a fist. A perfectly-placed grab bar will be the right size (not too thick or too thin), and lets you make a tight fist with that solid "roll-of-quarters" feeling inside. It's annoying when the bar is non-existent, too soft, or too close to your fingertips.
Padding design
The boxing glove's most important function—which is to protect your hand—will be most supported by the glove padding. Proper knuckle padding protects your hands from injury when punching dense objects (like heavy bag or opponent's skull). The backside and palm-side padding helps you defend against attacks when blocking or parrying. You'll find out soon enough that the padding design not only gives you protection but also affects your fighting style.
The padding can also act as a training aid or handicap. Two fighters of equal weight will choose lighter gloves for a faster sparring match, and heavier gloves for a harder-punching sparring match. Two fighters of uneven weight or uneven skill may offset their disparity with differently-weighted gloves. Alone on the heavy bag, a fighter can use lighter gloves to work on speed or heavier gloves for more protection and/or to condition his arms.
A properly padded glove allows you
to punch hard without hurting your hands.
Padding distribution
Most boxing gloves will fit somewhere within the 3 common shapes: LARGE, LONG, and COMPACT.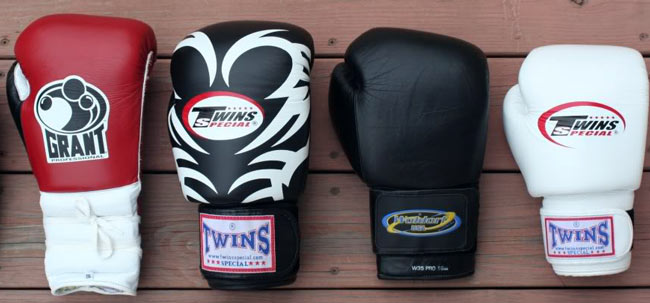 LARGE-shape – more padding everywhere (knuckles/hand/wrist) for punch cushioning and blocking.
LONG-shape – streamlined for harder and straighter punches, more wrist support and vision.
COMPACT-shape – more padding on the back, and less around the wrist (for clinching and blocking kicks).
LARGE-SHAPE (American, European, some Mexican and MMA/Thai brands.) – has more padding for cushioning punches and larger shield area to block punches. Having more padding everywhere (knuckles/wrist/forearm) simply feels more supportive and for that reason, it's the standard shape for training gloves. Other fighters don't like large-shape gloves because they feel heavier, make their punchers easier to see and block, and also cover their vision when they're blocking.
LONG-SHAPE (usually Mexican gloves) – feels thinner, lighter, and more streamlined for punching. The longer design distributes the weight more along the arm, making the glove feel less bulky. Many fighters feel long gloves make a smaller/tighter fist, penetrate an opponent's defense easier, help throw straighter punches, and also don't obstruct their vision as much when they hold their hands up. Longer-tighter gloves actually offer better wrist support since there's less room for your wrist to wiggle around inside. Some fighters don't like the long-shape because they feel it's not padded enough and their hands hurt when they punch.
COMPACT-SHAPE (mostly Muay Thai and some MMA gloves) – feels smaller and can squeeze through defenses easier. In boxing gloves, a compact shape is created by using denser cushion and packing everything in tighter (usually bag gloves). In Muay Thai and MMA gloves, a compact shape is created by having less padding around the wrist and more on the back of the hand which offers more wrist mobility and back-padding for blocking kicks. As expected, traditional boxers may not like this design because of the "top-heavy" feel, less wrist support, and less palm padding (for blocking/parrying punches). Some fighters don't like compact gloves in general because they feel too small to offer enough blocking coverage.
Velcro gloves are usually larger.
Lace-up gloves are usually longer.
Some popular labels today are "Mexican gloves" or "puncher's gloves". They are both long-shape, streamlined with great wrist support and usually less padding around the fist area. The difference is that "puncher's gloves" are padded in a way that's meant to do damage (expect less hand protection), whereas a Mexican-style training glove can have long-shape but be padded in a way still protects the hands well.
Mexican boxers are known to fight in a more exciting fan-friendly style because of their high aggression and ability to throw as well as take hard punches. It's a stark contrast to boxing styles from other countries where you see fighters thinking, running around more, and being more defensive-minded overall. And not surprisingly, pretty much all the "puncher's gloves" that you see nowadays are made in Mexico or "Mexican-style" (long shape).
Padding type
Boxing gloves nowadays are filled with either foam, gel, horsehair or even a special blend of foam/horsehair. Training gloves use foam (or sometimes gel), pro fight gloves use horsehair or blend. Each come with their advantages and disadvantages. Just know that foam is the standard and even within that distinction, there are many different types of foam out there.
Horsehair was the standard type of padding used several decades ago. Nowadays, it's only used in professional fighting gloves because it transfers the most power. It's the least protective padding out there and breaks down quickly, making it impractical for everyday training. Some brands use a combination of horsehair and foam to make their pro gloves more protective.
Foam, specifically latex foam, is the standard type of padding for 99.99% of the boxing gloves made today. There are different kinds of foam used and the way it's cut and layered inside your glove greatly affects your glove's performance and durability. Good foam feels great and last a long time. Bad foam hurts your hands and goes flat or falls apart quickly.
Gel padding is the same type of "gel" that you see in shoe inserts or computer wrist support pads. I personally don't like it at all and think it's a crime that it's being sold as this supportive long-lasting "new padding technology". The gel maintains the glove shape/padding for longer but feels un-supportive when you punch with it.
I think the problem is that gel doesn't compress when you put pressure on it. It simply wiggles around and doesn't secure your fist upon impact. When I punch with a foam-padded glove, it feels like the foam compresses in place, solidifying my punch into one place giving better support and power transfer during impact. When I punch with a gel-padded glove, it feels like the gel wiggles or squeezes around during impact, causing my fist to move slightly and de-stabilize (WHICH ACTUALLY HURTS MY WRIST). If you want another visual: imagine you had a wall covered with foam and another wall covered with gel. If you hit the foam wall, your hand hits one place solidly. If you punch the gel wall, your hand wiggles during impact and causes wrist pain. I'm not 100% sure this is what's going on but it's my best scientific guess.
Other complaints you may hear about gel gloves from others is that the gel doesn't flatten (the fist area stays round) causing your wrist to bend during impact. Also, that gel gloves are heavy and 16oz gel gloves end up weighing 20oz (I agree with this one).
Some helpful forum discussions here:
Punch Cushion
By "punch cushion", I am referring to the amount of PERCEIVED knuckle protection. Some gloves appear to have lots of knuckle padding but feel stiff as hell and it hurts to punch. Also vice versa, some gloves seem slim from the outside but feel like pillows when you punch. Your glove's punch-cushioning qualities have a lot to do with the glove's construction and foam design.
Most punch cushioning issues result from the knuckle padding being made of only a single-layer foam (single density). The gloves will likely either be too soft or too hard. Soft foam hurts because it doesn't stop your knuckles from impacting the target and also wears out the quickest (especially when used for bagwork). Dense foam hurts because it don't mold to your knuckles when you punch. You might think dense foam will wear in and soften a little but it often goes straight from SUPER STIFF to SUPER SOFT. One cheap solution is to use soft foam but A LOT of it. However, this makes the gloves too bulky and also not ideal for bagwork because you can't feel the impact (no feedback) when you punch. Another cheap solution is to use a medium-density foam that is just barely dense enough for the heavy bag and almost soft enough for sparring. Single-layer foam gloves are at best, only suitable for one purpose (either sparring or bagwork).
The ideal cushion feeling is created using multi-layer foam of different densities, combining the cushioning of soft foam with the responsiveness of dense foam. There is also the addition of "orthopedic foam" a.k.a. memory foam which molds to you better than latex or EVA foam (which holds its shape). A multi-layer bag glove will probably have a soft foam (or orthopedic foam) on the inside and dense foam on the outside. A multi-layer training or sparring glove will add another soft layer on the outside to protect your sparring partner. The best brands have their own special foam "formulas" and use anywhere from 3-5 layers of foam.
The best punch cushioning (for training gloves)
feels soft on your hands but gives you solid feedback.
I like to call it a "dense softness". The foam inside should cushion your knuckles, but the foam outside lets you feel the power transfer. You should be able to transfer power and feel the strength of your punch without pain in your hands. Basically: good power transfer, good impact feedback, and zero pain.
From what I know about the punch foam: aside from differences in quality, durability, and how they react under different conditions, they come in varying degrees of hardness and softness. Hard foam is good for absorbing impact and soft foam is good for feeling good. Hard foam for example is great for bag gloves and absorbing the impact of hard punches however the punches would still feel hard to you as well as the target (bag/mitts/person). Soft foam would be great for sparring gloves because the punches feel soft to your opponent's face however your knuckles might actually go through the glove (hurting you as well as the target). To make a more well-rounded glove, boxing glove manufacturers will use multiple layers of hard and soft foam so that the glove absorbs the impact AND feels soft your hands as well as your target. The tricky part is not only to protect your hand, but to also make a glove that gives some feedback (so you feel like you're hitting hard/solidly), as well as to make it long-lasting.
The thickness of the padding can also bother some people. Thicker gloves will feel like you're punching into a pillow and not give you that nice impact feedback. You might hear that gloves with thinner padding hit with a nice pop and gloves with thicker padding hit a thud.
I'm guessing the padding, as well as the labor and leather, are the most expensive parts of the glove as I noticed lighter weight gloves will cost a lot less in higher-end models. For example, a Winning 8oz glove costs $200 compared to $300 for a 16oz version. That's some expensive padding right there!
Power transfer
Power transfer is more important when fighting a live opponent. In sparring, you'll want less power transfer to protect your sparring partner. But in competition, you'll want as much as possible to cause maximum damage! On the heavy bag or mitts, it's a matter of preference. Many fighters enjoy having more power transfer because it feels great but some fighters (like me) prefer maximum hand protection. Generally, gloves with more protection transfer less power.
Closure type (laces vs velcro)
There are 2 common types of closures for boxing gloves, and a few variations of them:
LACES

– old-school style, the best fit and most supportive, and most common in the best gloves.

VELCRO

– also called "hook and look", convenient, less supportive than laces, common in cheap gloves and bag gloves (since you're training alone).

HYBRID

– has both laces and velcro, so you can choose one or use both. Theoretically could be more supportive than laces. Very uncommon and only available with certain brands (usually Mexican).

ELASTIC VELCRO

– this is a cheaper version of velcro using a stretchy fabric for the strap instead of leather. Doesn't last long (tears easily) and not as supportive. Can sometimes be more annoying than usual velcro strap.

ELASTIC LACES

– also called "speed laces", not as supportive as laces or velcro, and can be more annoying than velcro.

DOUBLE VELCRO

– using two velcro straps instead of one. In some instances, it adds support and comfort. Other times, it doubles the annoyance of velcro (catching onto your handwraps) and you might still need a person to help you with it.
NOTE: many people feel the lace-up version of gloves are usually made with higher quality than the velcro version.
Velcro straps are convenient, and easier to use (when alone).
Laces provide more support and better fit for your hand/wrist/forearm.
Ease-of-Use
Velcro gloves can be put on and off in 10 seconds by yourself without any help. Great for training alone or when you use the bathroom, check your phone, or do anything that requires fingers. Just BEWARE of super-thin velcro straps that are really hard to peel off (often found in cheap gloves).
Lace-up gloves can be a hassle. They fit so much better for your wrists (more support) but take 5 minutes to put on and you always need help. And then there's that annoying distraction in sparring when your laces get loose and you have to stop the action to re-tie. However, laces are great when you have friends or want to make some in the gym. You can ask other fighters or trainers to tie you up and even get a few tips in the process.
If you're training alone with lace-up gloves, tie them loose enough to shove your hands into the gloves by yourself. It's less support but doable for light sparring or light bagwork. For better support: buy Lace N Loop converters (only $20), tape your laces, or use lace converters.
Wrist support & mobility
Most boxers like their wrists secured in a straight position for more support and punching power (also reducing chance of hand/wrist injury). But some fighters like a little wrist freedom because of how it feels, to bend their wrist (slightly) for hooks, or for clinching (MMA/Muay Thai). Beware of gloves that force your wrist into an angled position! (Some angle your wrist slightly forwards or backwards upon impact).
Boxing gloves hold the wrist straight (maximum support).
MMA/Muay Thai gloves allow more wrist mobility (for clinching).

Aside from the glove's intended use (boxing vs MMA/Muay Thai), much of the wrist support and mobility is affected by how it's built and the closure strap. A well-built LONG-shape glove using laces, is better than a poorly constructed SHORT-shape glove using velcro. A tightly-secured wrist area is more beneficial than just having more wrist padding. Velcro straps can decrease wrist support when they're too long, too thin, too flimsy, or too far away from the wrist. Fighters with small wrists will get much better support with lace-up gloves than velcro gloves. The last thing you want is your wrist wriggling around in open space when you punch.
Many fighters (usually pros) will even put tape around their wrist directly on the skin itself as well as around the glove (after they tie up) for extra wrist support. You can do this if you want even more support (power) than what the glove and hand-wraps provide.
Breathability
Breathable gloves are far more comfortable when your hands get hot and sweaty in training. They'll smell better and also last longer since your acidic sweat dries faster instead of breaking down the padding. Breathability has to do with the materials used (outer & inner) and how the palm area is designed. Leather outer is far more breathable than synthetic leather (plastic) gloves. Having a nice hole in the palm and a few holes around the fingers will ventilate better than a completely sealed-up glove.
Don't be fooled by synthetic gloves with mesh or "mesh ventilation technology"; they're low quality and still not very breathable! Some people feel mesh is actually HOTTER; it's because manufacturers put a lining to protect the mesh which defeats the purpose of mesh breathability anyway.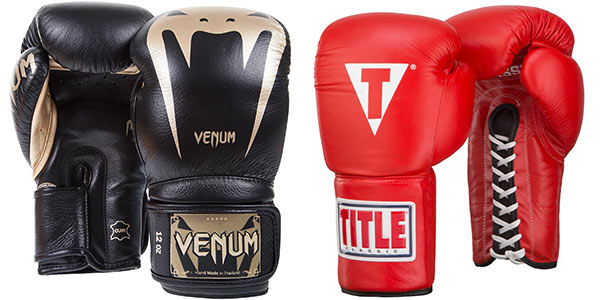 gloves on the left have no holes in the hand area (it'll get hot and sweaty)
gloves on the right look like they'll breathe better
Quality of construction
It's sad that I even have to talk about this but it's the current reality of most boxing equipment. Tons of crappy products and a very uninformed public too easily impressed by high-tech looking designs and flashy colors. The weakest link in boxing glove construction could be anywhere. It could be the exterior tearing apart, cushion going flat quickly, stitching coming undone (exposing the padding), or inside lining falling apart (allowing fingernails and sweat to break down the padding).
Leather exterior
Natural high-quality leather is the most ideal outer material because it's strong, durable, breathable, and looks good. What you don't want is vinyl, polyurethane, plastic, or any other synthetic materials.Those materials are non-breatheable (hands get hot and sweaty), and leave your acidic sweat longer inside the glove (breaking it down faster). Non-leather also smells much worse than leather, probably because of chemicals.
Back in the days, all gloves were made of leather. But thanks to technology and unscrupulous brands trying to fool the public, all that has changed now. Many brands use fancy designs to hide the fact that it isn't real leather. They'll even list "features" of fake leather material to make it sound as if it's better than leather. Their gloves may appear more high-tech and innovative but they really aren't. ALL LEATHER is still the best!
It's also best if the glove is made using as few pieces of leather as possible. This creates fewer seams and fewer places for your glove to tear apart from over time. So why would manufacturers use many pieces? One reason is to make use of smaller pieces of leather (like scrap leather leftover from other projects), saving money because there's less waste. Another reason is to mix materials, using only a little bit of real leather and the rest is cheaper materials (vinyl, plastic, mesh). And lastly, using many pieces allows them to create a fancier-looking glove to sell for a higher price.
The problems with mesh, plastic, or other pretend leather:
doesn't breathe, less comfortable
hotter, sweatier, smells awful
extra seams in places where it will eventually tear apart
weaker, less support, less durable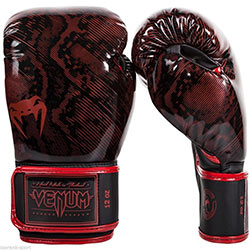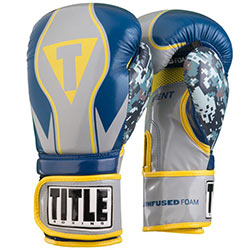 Now leather does vary greatly in quality. The best leather is "full grain leather", with the next best being "top grain leather"—both made from the outer layers. Anything that isn't any of those 2 options is probably going to be far inferior/weaker. The outer layers of leather will have denser/stronger fibers and the outermost layer has the rich leather texture (the "patina"). Generally, textured leather will be stronger than smooth leather. Suede or any fuzzy/nappy texture is actually created from the weaker inside layer and sanded to create its surface.
Don't be fooled by misleading terms like "GENUINE LEATHER", "HIGH QUALITY LEATHER", "COWHIDE LEATHER", "SPLIT LEATHER", or "SYNTHETIC LEATHER". Also beware of the description, "made with full grain leather" which usually means only part of the glove is full-grain leather while the rest is made of cheaper material. There's more to leather than just being "full grain", such as how they tan it, but this isn't the place for that explanation right now.
"Genuine leather" IS real leather, but it's probably the weakest layer of the layer. "Bonded leather" is even weaker than that, made from discarded scraps of leather glued together. Bonded leather is similar in concept to "particle board" which is made up of small wood scraps and tiny chips and vastly inferior to "solid wood". Bonded leather is the weakest leather (lowest grade) and often painted over and textured to look like higher grade leather. "Nappa leather" is a silly industry term used to imply soft/supple leather but the term is ambiguous and doesn't actually have any distinction from just plain leather.
More about gloves and leather materials:
Stitching
Stitching is often the weakest link, with many gloves coming apart at the seams (as opposed to the leather). I suspect many companies take shortcuts in the stitching because it saves labor costs and hardly anyone notices the difference. I'm no expert, either. All I know is: nylon thread is better than cotton thread, cotton thread better than polyester thread, thick thread is better than thin thread, double-stitching is better than single-stitching, and welted seams are better than non-welted seams. I've also heard of sneaky tricks in leather products such as using thick thread on the outside but thin thread on the inside where you can't see it. Tight-stitching is better than having big gaps.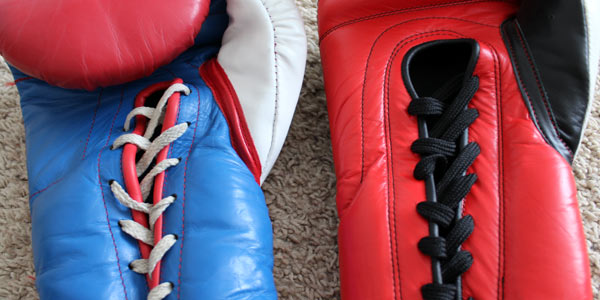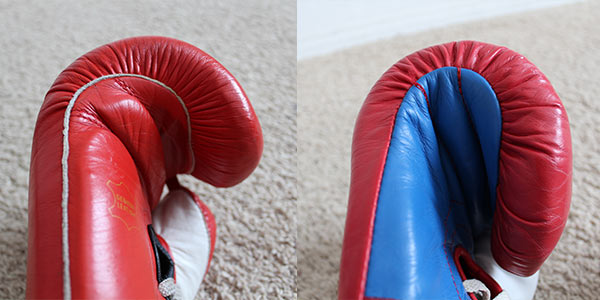 You can inspect a glove's stitching in these key areas: palm, wrist, thumb, back of the hand, and velcro strap (if it has one). Beware of protruding seams, loose stitching, and excess material around the velcro strap. These things can cut or scrape a fighter's face in sparring. (It happens even with headgear!) It's especially common when the stitching comes apart around the palm, wrist, and velcro areas. I especially hate when companies print their logo on a plastic material instead of using a fabric label (like Mexican gloves).
Another detail of stitching is how neat it is. Whenever you have double-stitching, you can look closely at the two rows of stitching to see if they maintain the same distance from each other. Usually when it's done by hand, you will see them not look so even and slightly messy. Whereas a machine obviously will look perfect. You can take machine-stitching as a pro or a con. It can be a pro because it looks good. But can be a con if you wanted something more "hand-made". There are many arguments among manufacturers that these machines are so expensive and if your gloves are made that way, it's probably being made by a big factory doing mass production.
Inner lining
The inside lining is one of the most important and yet most overlooked aspects of a boxing glove. It's greatly responsible for the glove's comfort and durability.
Good lining:
Prevents your sweat from reaching the padding (breaking it down faster).
The lining should also stay in place and not flop around inside the glove. It's especially annoying it feels like a loose plastic bag inside your glove.
Feels comfortable – smooth and not too grippy (which can cause blisters). This can also be a matter of personal taste. Some like smooth thin inside lining that isn't noticeable. Others prefer a little more texture to have more "grip" inside the glove.
Easy to slide the hand in – some annoying lining (partly due to both material and glove design) makes you have to really loosen the glove to get your hand in/out or else they always catch on your handwraps and push the knuckle padding out of place.
Color
Should glove color even matter? It's all fun and games to me. Sometimes you want to stand out and be noticeable. Other times, you want to scout your competition or train at another gym without drawing attention. I used to swear that certain colors made it harder to see punches. I do feel like it's harder to see black gloves in a dark-lit gym at night.
In the US, I'd say the most common colors I see in the gym are in this order: black (70%), red (20%), blue (5%), white (2%), green (1%), yellow (1%), other (1%). And then for legit fighters only…it's probably something like: blue (30%), black (15%), red (15%), green (15%), white/silver (15%), gold/yellow (5%), orange (2%), other (3%). And then for pro fighters…you can in throw pink and neon colors. Pros have a stronger sense of identity, pride and self-expression, so it's more common to see fancy colors on them. Amateurs are usually broke kids or college students so you won't see as many fancy colors (unless TitleBoxing has a sale, haha).
Brand Rankings
The Current State of Boxing Glove Manufacturing
Almost all boxing gloves you see today are made in Pakistan; probably like 90% of them. The rest are made in Mexico, Japan, Thailand, and even China. Now, if you're in a gym with many high level pro fighters, you'll probably see a distribution more like: Pakistan (25%), Mexico (25%), Japan (25%), all others (25%). This isn't to say that Mexico and Japan produce higher quality gloves and other countries do not, it's just that the better brands (and the ones chosen by pro boxers) tend to come from these countries.
Back in the day, all companies did their own manufacturing. But now almost all of them outsource to Pakistan or China for cheaper labor and material costs. Boxing as a sport has also experienced a decline in popularity as well as average skill. Most "boxers" you see in the gym today are a bunch of young guys trying to be tough or older men trying to get back in shape. Without as many serious fighters around anymore, it's more profitable to sell cheap gloves (albeit fancy-looking) than it is to sell high quality gloves. Many of these casual boxers don't last that long enough in the sport to notice the difference, anyway. Most people quit boxing within 6 months (if not less).
Quality gloves used to be $50-80 and would last at least 2-3 years of serious abuse. For $125-150, you could get a really nice pair that would easily last more than 5 years. Nowadays, a $150 glove might not even last 6 months of regular training.
The average boxing glove will outlast the average "boxer".
I will do my best to share my thoughts on the gloves but the only way for you to REALLY know what works for you is to try it out yourself. What one fighter likes may be different from what another fighter likes.
BUT OF COURSE, I RECOMMEND ONLY THE BRANDS THAT I LIKE AND REVIEW FAVORABLY!
F – "the Pakistan clones"
The worst boxing gloves you'll ever see will probably come from Pakistan (or China). Pakistan is one of their poorest countries in the world with a minimum wage of $0.60 an hour and their 2nd largest export is leather goods. It's the perfect climate for hundreds of cheap boxing manufacturers out there. They spam me with emails every month offering to make gloves for super low prices. Now they really do produce functional boxing gloves at the lowest cost compared to anywhere else in the world. For the price of $5-25/pair depending on the quantity that you buy, you can have the exact same glove sold here in America for $85-150. So yes, you can cut out the middleman and get it directly from the factory. I guess I should be grateful that they exist.
The only problem is that their gear isn't trying to be quality. They're usually not made well, not the best materials or best labor. They break down quickly under serious use. The padding is either too soft or too stiff, and the gloves tear open on the outside or inside. They could probably make a decent glove for a great price if they WANTED to, but they aren't motivated to go that route. They also don't have a strong boxing culture like Mexico/Thailand. Without understanding the sport of boxing, Pakistan will never be able to innovate; they can only imitate at best.
…BUT WHAT'S THE PROBLEM WITH PAKISTAN GLOVES?
If you can punch with a Pakistan glove and it doesn't hurt as much, go ahead and use it. But you'll want something better when your technique improves and you learn how to punch really hard. This is why professional fighters will usually avoid Pakistan-made gloves. I share many images and links of Pakistan gloves below. You should how to spot them!
What is a "CLONE GLOVE"?
Many people keep asking what I mean by "clone gloves" and why I use that term so much. Let's consider how I think MOST true glovemakers design their gloves. The highest quality ones from back in the days have their own unique design. Something that they came up with by themselves based on their own personal experience in the sport. They want padding a certain way, shape a certain way, construction and support a certain way. They have a unique design engineered for maximizing performance and they're proud of it.
But nowadays, we have many "business manufacturers" making gloves to maximize profit. They don't have time or even the knowledge to create their own glove design, so they simply use an existing "template". And usually these templates are designed around maximizing profit, using inferior materials and decreasing labor times. So when I say "clone gloves", I mean that the gloves are simply a widely available template used by several other companies. Some designs are just there to look cool and increase sales but don't actually improve the glove in any functional way.
Low-level Pakistan boxing glove manufacturers
These companies have the older, outdated, "toy" designs. These glove molds were the generic stuff sold in toy stores and martial arts warehouses 10-20 years ago. They are pretty much the worst of the worst. And very sad to see even reputable brands using these models.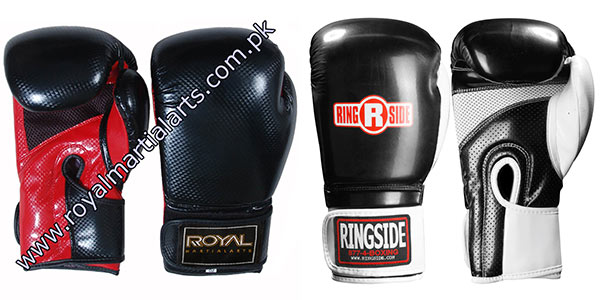 Mid-level Pakistan boxing glove manufacturers
Here we see a higher level of boxing glove manufacturer. They've got the same old models as the previous companies but also more updated designs. Are you starting to see the patterns, yet? It's like they're all using the exact same glove design template, right? And the eye-opening thing is that many household brands use them as well. Remember all the complaints that Everlast or Ringside are no longer as good as they used to be? Well, now you can see why…they've all outsourced to Pakistan.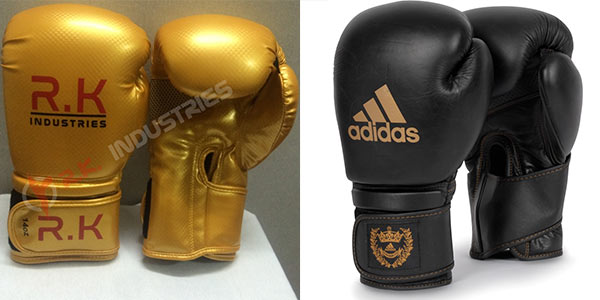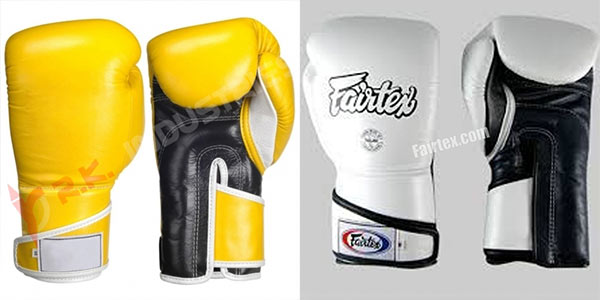 High-level Pakistan boxing glove manufacturers
Ok, NOW we're talking! These guys are probably the best and most updated of the Pakistan clone manufacturers. They produce the latest glove models on the market today. Are these newer, better-looking models actually superior to the old models or are they essentially the same but with only an updated design? We'll find out later in this review.
Probably 90% of the boxing gloves created in the world
are made in Pakistan.
I've showed only a few examples of each level of Pakistan glove manufacturer but my inbox has emails from at least a hundred different Pakistan companies. All promising to provide the "best quality at the best price", and yet there's no prices on their sites (for negotiating reasons, I'm sure). You have to email them to get prices depending on what model, customization, quality, and quantity that you want.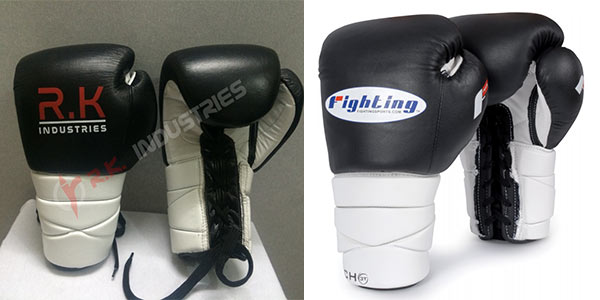 The $119 Fighting Sports Tri-Tech Lace gloves over at rk-ind.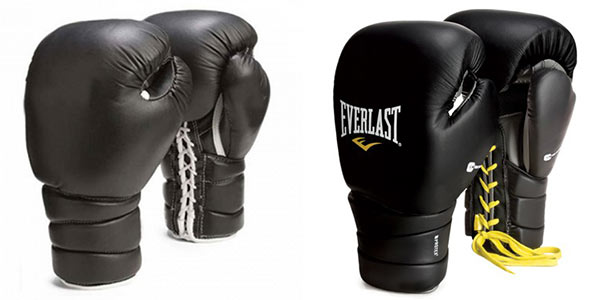 The $150 Everlast Protex3 gloves over at "Leading-Sports".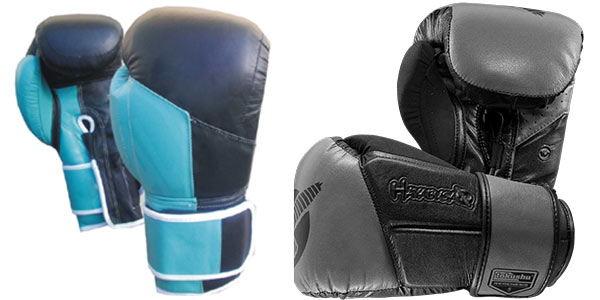 I found Hayabusa's $129 Tokushu Regenesis boxing gloves over at omika, rk-ind and kokal.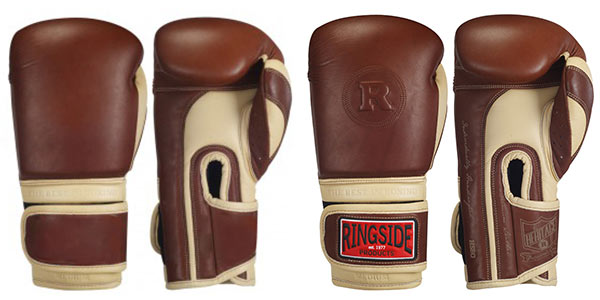 I found the $179 Ringside Heritage Gloves over at omika. (Looks like they used Ringside's image but edited out the logo.)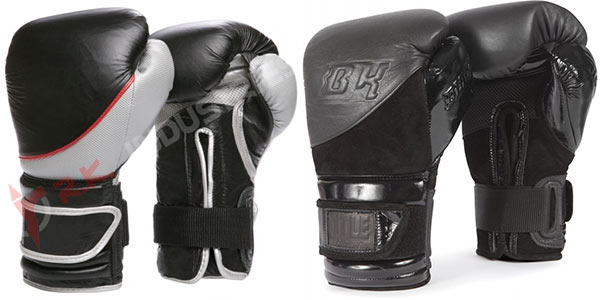 The $199 TITLE Black Blitz Training gloves over at rk-ind.
Alibaba links, as a reference for how much gloves should cost:
Many offer complete customization if you go through them directly. I don't know if they'll do one-off deals for an individual; there's probably a minimum order quantity. But hey, if you ever wanted your own fight gear brand with your own logos and design, you know where to look now.
I also only showed you the ones with a website! Many of them don't even have that. They'll ask for pictures of products you like and they copy it. If you look on Alibaba and Ebay, you'll find many copies of Grant and other boxing glove brands. Some look close to the real thing, others look obviously fake.
Now that we've set the bar for what the LOW standard of boxing gloves might be, it's time to look at the good stuff. Armed with this knowledge, you can better detect copycat brands and inferior models of boxing gloves. You'll know if it's cheap stuff and also if it's overpriced. Ahhh, the beauty of the internet!
Interesting read on Pakistan gloves:
D – "OFF-brand clones" (the lesser clones)
I call these the "OFF-brand clones" because they're established companies but not yet household names. They're trying to become well-known and sometimes even pricing their products higher to be associated with household brands like Everlast and TITLE Boxing or even serious pro brands like Grant and Winning.
Many boxers don't know these brands and the ones that do don't trust them. You might even get laughed at in the gym for wearing these brands. They are definitely no better, but also sometimes no worse than the famous brands. So if you know what you're looking for, you can get a good deal on a not-so-good glove.
Some of these companies are not even known as boxing companies. They started off making equipment for martial arts or MMA/kickboxing or even just fitness, like "women's cardio kickboxing class". Many of them target the rapidly growing MMA market and usually give up after about a year of begging friends to try their gear. It's hard to stay in business when you're not offering any new value or innovation to consumers.
I don't recommend anybody to buy these gloves; they are here for educational purposes and as a price reference.
Century – "the classic American generic brand"
Century gear is typically found in toy stores and sporting good stores. At toy stores, it'll be the only option and priced cheaply. At sporting good stores, it's the cheaper alternative to name brands (most likely Everlast if you're in America and Adidas if you're in Europe).
Century is probably better known for making martial arts gear and for that reason, you won't see them in boxing gyms but instead in martial arts gyms that have "boxing gear". As you can see: they use all the classic Pakistan boxing molds, slap on their own logo, and priced it at $50-120. This is the SAME stuff you can get for $5-20 direct from the factory.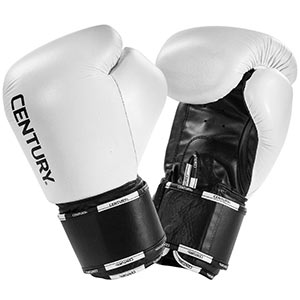 Creed Heavy Bag Gloves ($69) – total ripoff at any price, really. I wouldn't use these even if they were free.
TKO – "a smaller American generic brand"
TKO is another generic fight gear company like Century except only they're a smaller company and their gloves are even lower-priced and lesser quality. They're using a more outdated design for their gloves (compared to Century) and their gloves feel even cheaper in your hands. I tried their gloves 10 years ago and it hurt like hell to punch with them even when they were new. I remember them looking like plastic.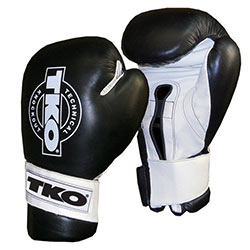 TKO Pro Style ($64) – this looks so cheap. The stitching, the strap, the leather.
PRO Boxing Supplies – "local warehouse brand"
"PRO Boxing Supplies" aka "PBS" and other generic names using the word "PRO" (like "PRO Boxing Equipment"), is the classic generic brand here in Southern California. They have several shops in Southern California that sell all kinds of fight gear. They carry many name brands such as Everlast, Title, Ringside, and Reyes…and then they also have their own house brand gloves and gear that are made in similar mold but with their own design, different colors, their logo, and it's CHEAPER.
PBS, manufacturers their own stuff in their factories in Pakistan. It's how they're able to price their stuff cheaper and drop their price even lower than that if you haggle in person. 10 years ago, their prices were very cheap but now raised to be more consistent with the big brands you see today. I absolutely hate dealing with them and their products. Their products are low quality, I bought it too because they said it was "definitely better than the name brands", but it still broke down quickly (went flat in 2 months).
Shopping at their store in person was a frustrating experience. Very rude behavior and dismissive of customers that don't appear to have money. They'll rush you into buying and get annoyed when you ask to see other products or sizes or colors. You feel like you're wasting their time simply by being in their store. You're treated like crap if you want to just look around; oh and don't you dare ask them to match their online prices. They're only your best friend if you look like an easy target.
Just FYI, they never have prices on anything on the store because they change them depending on how gullible you look. If you look like a first-timer, you'll get the highest price possible. If you look like you know what you're doing, you get a better price. They'll also give you one price over the phone and then completely deny it when you come in person to pick-up. You can read online for more complaints about their products and the way they do business. It's like they never heard of customer service before.
FRAUD ALERT:
These guys operate under many names. It's like a family franchise or something and each member has a different take on the "PRO" name. Search their stores on Yelp in Southern California and you'll find "PRO Boxing Equipment", "PRO Boxing Suplies", "Pro Combat", "PROLAST". Do not be fooled. Their gear is crap. The leather rips and the padding goes flat.
They are also behind the current Casanova-ripoff scandal. As you may or may not know…

the original authentic Casanova brand (worn by old school champions, also in the Rocky movie) and called "Deportes Casanova", is made in Mexico by a small factory of about 5-people (and distributed here in the US by

www.NecalliBoxing.com

)

. Well these PRO-clowns decided to trademark the Casanova brand in the US and even used a similar-looking logo to the original and calling it Casanova/Casanova Sports (also sold at casanovasports.com). They're also sold on Amazon and confused several buyers already. This has got to be one of the shadiest things I've heard in a long time and hope they go out of business. What a bunch of douchebags.
For the people who argued with them (I have some emails from their victims and will try to post soon). These "Casanova Sports" guys have even argued back claiming they're the only authorized Casanova reseller on Amazon which is also not true. They're currently getting sued for the Casanova trademark infringement and I hope they eventually lose.
Go to the casanovasports.com website and you'll even see in their logo, they list the casanovaboxing.com URL which correctly redirects to the authentic US distributor site NecalliBoxing.com. Like damn, how bad are they trying to fool people?
PBS for me is the very epitome of a "Pakistan clone" because they're generic versions of brand-name Pakistan clones. You can't get much more generic than that!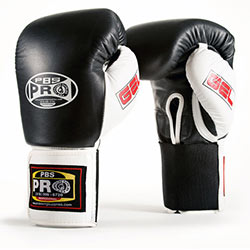 PBS Gel Gloves ($79) – This model was formally produced by TITLE and is now sold by many companies. It's not a good model and has the "gel problems" I mentioned above.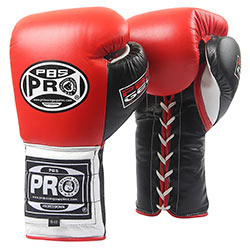 PBS Pro Style Gel Lace ($129) – their premium model attempt at copying Grant, but with gel—WEIRD! Single-stitching all around for the most part and the 3-cuff design looks poorly stitched. I've NEVER liked PBS foam padding and I don't like their gel padding either. Yes, I got to try it in their store when I was picking up handwraps.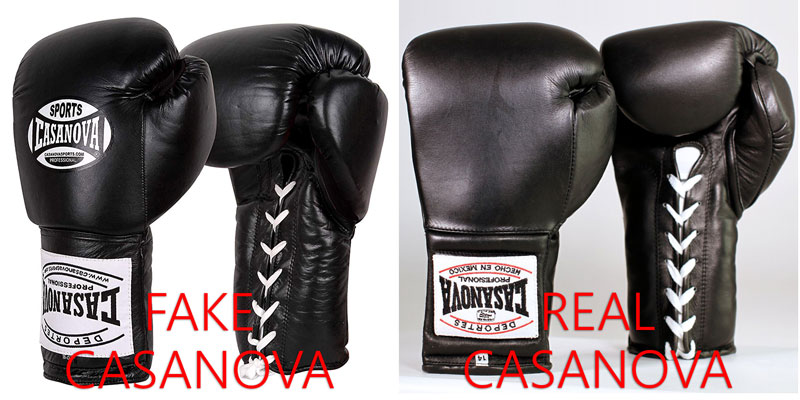 Casanova *FAKE RIP OFF GLOVES* ($99) – I could not believe the audacity of those shysters to rip off a classic brand, I got a hold of these myself from another person who had been ripped off. Oh yeah, I tried it just to see.
They don't look Mexican-made at all whatsoever; looks like any other cheap Pakistan glove (but actually worse). They didn't even make an effort to copy the original Casanovas. Entirely different shape, padding, and feel. The only effort they made was to copy the Casanova logo. Oh but look carefully and you'll notice one glaring flaw…there's no "HECHO EN MEXICO" on the label because these are so obviously not made in Mexico; they even turned the glove so you can't see the label straight on. Don't be fooled by their online pictures either; some of them try to copy the real Casanova's photo angles and also the wrinkled leather of Mexican gloves but it looks like such cheap plastic piece of crap in person. An insult to even cheap Pakistan gloves.
The gloves feel like total shit. Really cheap leather…feels like you're wearing a plastic bag with cushion over your hands. Really cheap lining. The padding gives you no protection whatsoever, you can punch right through them. There's also no gripbar, the one you see in photos is such a soft material that it doesn't give any support. OH, AND GET THIS, I felt a new sensation never before in any glove. I don't know what they did with the hand compartment but the padding curve doesn't even bend to your hand properly when you punch. It feels alright when you first put on the glove but then when you hit the heavy bag, the whole knuckle area bends over awkwardly and pushes your hand into a weird *painful* angle. Just when you thought gloves couldn't get any worse, these guys fly in and set a new record low.
Any pop-up fly-by-night company
Want to know if a new company out there is any good? Simply compare their designs to the popular design molds out there. If it looks similar and sells within a similar price point, it's probably the same thing. Some are trying to go "high-end" by offering only 2 models. Some go the big store route offering a redesign of every Pakistan mold out there:
C –  "NAME-BRAND clones"  (the greater clones)
I call these brands the NAME-BRAND clones because they too, are outsourcing all their gloves to be made in Pakistan. There may be some brands on here that claim to make their own gloves in the US or Europe or some other local place but it's hard to believe that when their gloves still share the same mold as the Pakistan clones. Now MAYBE it's the Pakistan glove manufacturers that are copying their latest designs. Except that argument goes out the window when you see many other boxing gear companies all copying the same glove molds. So who's copying who? I don't know anymore.
Many of these brands used to make better products back in the day when they actually made their own boxing gloves and had their own glove molds that were unique to their company. Since they've started outsourcing to Pakistan, we now have dozens of new brands on the market making the same 20 copycat models except with different designs and sold at different price points—how confusing! (BEWARE: some of these brands say "Made in USA" and they are not!)
The boxing glove market is STILL the mass confusion that it is today because of all these brands hovering in the same price ranges, each marketing their Pakistan-clones under different gimmicky features. And while they may LOOK fancy, they are ALL overpriced clone gloves with only meaningless differences in design. Not a single one of them is creating their own glove design or adding any new benefit to the iconic boxing glove design.
I personally would not buy from any of these brands because I don't like their quality and price. You're paying more for the same stuff that you can buy for less from the OFF-brand clone companies (albeit without the cool designs, familiar name and customer service). These might do if you're a beginner and can't afford anything better. The good news is the name brands have clearance sales often. Anyway, these gloves are ok for temporary training but you should upgrade as soon as you can.
Everlast – "aka 'Neverlast', the classic all-American boxing brand" ($20-200; avg $80)
Everlast is the classic household American boxing brand, practically synonymous with the sport of boxing. Anybody who sees the Everlast logo is going to think of fighting right away, which is probably why so many companies rip off their logo shape (TAPOUT?).
It's just too bad everybody hated Everlast before I even started boxing. The brand became the joke of the sport. A big part of it has to do with the fact that Everlast makes horrible quality products (manufactured in Pakistan or China) and sells them in stores that boxers don't respect…such as discount retail stores (Walmart/Target), sporting goods stores, toy stores, department stores, and other places where you find cheap things for cheap prices. It might have been a great decision business-wise, but it's hurt their brand terribly among the hardcore boxers.
The saddest part is that Everlast used to be known for making quality products; an American badge of quality. The gloves that fighters won championships with. The gloves your grandfather was proud to own. I think that's why people got so angry at the company. They expected the best from Everlast but their products failed to deliver. Their gloves are priced anywhere from $20 to $200 and almost all of it is poorly-made. I have bought focus mitts and gel gloves that ripped in a matter of a week, and then there's also the time Tomasz Adamek's Everlast shoe tore off in the middle of a fight. We knew Everlast was bad but we weren't expecting THAT bad. They've made a fool out of everyone.
For those who claim that Everlast DOES make good products if you buy their more expensive stuff, I will say this is only partially true. Even their most expensive models $150-200 are still Pakistan clones. They have only two product lines that are good: the "Everlast MX Pro" line which I will cover later in this guide and their "certified" competition gear. How they got to be the only certified brand at the time, I have no idea$$$. Their competition headgear was one of my favorites and their competition gloves also seemed to be good (although not meant for regular training). For now, just avoid buying anything from Everlast.
Additional thoughts about Everlast:
They tried to send me free gear in exchange for a review but insisted on me trying their crappier models which I'm guessing are crap quality but offer high profit margins. When I told them I would be honest if their gloves didn't hold up to my other quality gloves, they decided not to send me anything.
Here's an insightful forum comment on the decline of Everlast quality over the years: Everlast and Title , same company or no?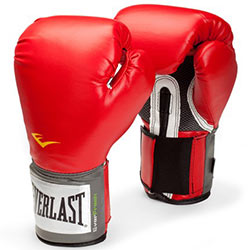 Everlast Pro Style Boxing Gloves ($35) – of course they would market to beginners using the words "pro style". This is the classic crap model sold in sporting goods stores, department stores, and anywhere else that you would expect to find consumer-grade junk. Awful quality, terrible padding, and toxic chemical smell used in the dye color. You can spot a beginner wearing these in every gym. For those who think "it's ok for beginners to start out with a cheap glove", I beg you to use a better "cheap glove". Check out the website and video to see how cheap it looks.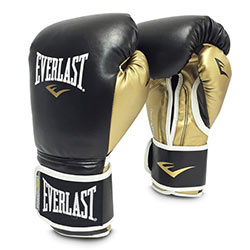 Everlast Powerlock Training Gloves ($49) – here goes a FANCIER (but still crappy) model. With "Synthetic leather!" Pay attention to this mold, it's used an awful lot by other brands.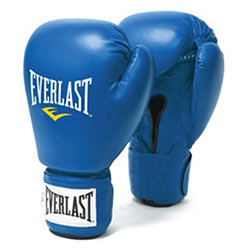 Everlast Amateur Competition Gloves ($79) – it's ok, except only you don't need it. Your competition place will supply gloves for you. This one isn't padded enough for regular training purposes. For those wondering, amateur competition gloves don't have white knuckle areas anymore because amateur fights are now scored like a professional fight instead of the old "points system".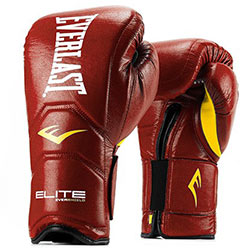 Everlast Elite Training Gloves ($129) – Everlast contacted me hoping I would review this new model, but I declined immediately as I knew it would be crap. It's not real leather, the cheap-looking super-thin velcro strap that doesn't even go the whole way around, and way too many seams and threads which could cut your sparring partner. You can see others echoing similar thoughts in this video review .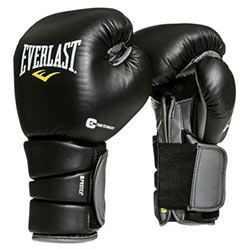 Everlast Protex3 Training Gloves ($149) – you would think because it's expensive, it's good. But nope, the Protex model sucks. It's a way overpriced Pakistan clone.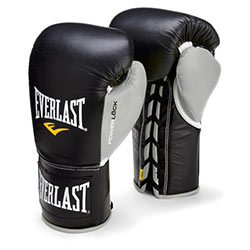 Everlast Powerlock Pro ($99) Training Gloves – don't be fooled by the name or the price. The "Powerlock" series are still cheaply made— poor stitching quality, poor cushioning, etc.
Ringside – "hardcore American brand that went soft" ($30-200; avg $80)
Ringside was the quality American boxing brand when I started boxing in 2004. I remembered them as the "mid-price glove"; the best gloves in the $85 range. Anybody not wanting to pay over $100 for the pro stuff like Grant, Reyes, and Winning would get Ringside. They were cheaper than the pro gloves but better than the average $50 gloves. Many good boxers and competing amateurs wore Ringside. And anybody NOT wearing Ringside was probably wearing Title (who made cheaper, but still functional gear.)
Unfortunately, Ringside soon decided to stop manufacturing their gloves in the USA and started outsourcing to one of those Pakistan clone companies. The new gloves were a total letdown and they lost their fanbase almost overnight. There used to be so many people who swore by Ringside but now they all say, "I'll never buy Ringside again. They're not quality gloves like they used to make. Their new gloves are overpriced pieces of junk!"
Ringside's overnight decline left many fighters searching for a new mid-price glove, creating the perfect opportunity for other boxing and MMA companies to flood the market. You had generic companies like Title and Everlast now creating a luxury line of consumer-grade gloves. Canadian brand, Rival's quality gloves at around $85 were becoming more popular in America. MMA brands like Hayabusa and Venum came in with flashy glove designs that appealed to the younger fight audience but not the boxing purists. Kickboxing/martial-arts brands like RingtoCage/TOP TEN and Twins/Fairtex also crept into the boxing glove market a little bit. There were also people who had the older [good] Ringside gloves defending them as "still the best around".
Ringside has since been reduced to nothing more than a generic company. It's another American-labelled Pakistan clone glove. What's even more sad is that another generic company (Title) supposedly started by their former employees, has outgrown them over the past 10 years and now sells more models at more price points than they do. Ringside is pretty much now the same as Everlast except only that they don't have ANY redeeming models, not a single unique model. Around 2012 Ringside was bought by another brand, "Combat Sports International", that I'm guessing was targeted at the martial arts market. Anyway, I highly recommend against Ringside as you're paying American brand-name prices for Pakistan clone quality. It's a shame they flushed their unique product value down the toilet.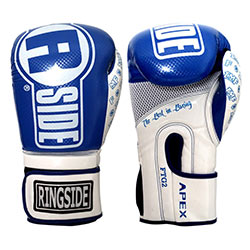 Ringside Apex Flash Sparring Gloves ($69) – one of their many cheap models. It's not real leather, and notice the use of mesh. I promise you, the velcro will tear apart that mesh in no time. Everything about this glove screams "cheap". (UPDATE: one of my EB members said the foam basically split inside after 4 months making them useless.)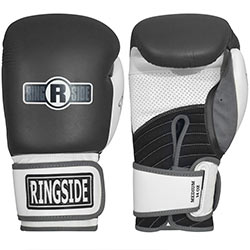 Ringside IMF Tech Bag Gloves ($69) – super cheap looking glove, tons of different materials and textures used in the design. I don't think it's real leather and the velcro strap construction looks flimsy as hell. Here's the first red flag for the whole brand: this pair uses the same special "IMF" padding as their other more expensive models. That pretty much tells me you're going to get crappy padding no matter how much you pay. In case you thought IMF actually meant something special, it actually stands for "Injected Molded Foam", which means it's a single-layer machine-molded foam and completely inferior to a multi-layer foam. Paying for a more expensive Ringside glove only improves the exterior quality of the glove in how much real leather they use.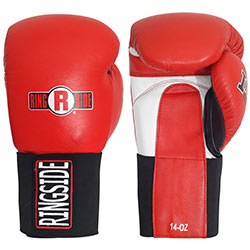 Ringside IMF Sparring Gloves ($79) – this was the model they used to be known for. They were a classic favorite despite the annoying elastic that you had to peel back to shove your hands in. Every gym had at least a few pairs of these. Unfortunately, the quality isn't the same anymore in the newer versions and also the supposedly "new and improved" IMF padding is stiffer than the original (although promised as longer-lasting). I do agree this is a good buy if you want some "cheap gloves". They're a great bargain when they go on sale.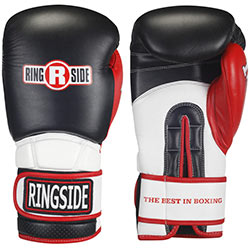 Ringside Pro Style IMF Tech Training Gloves ($129) – the new "pro" model of the IMF. A few things you should know: one is that the label "IMF" is hated by many boxers because it's stiff, padding doesn't last long, and actually no better than their cheaper "IMF" models. Their IMF "sparring" models are stiff, too. I also don't like the cheap-looking thinner strap (it looks and feels even cheaper in person). The thinner strap also provides less wrist support, by the way. You'll see this glove design copied numerous times throughout different brands (like Fighting Sports S2 Gel Power and Adidas Super Pro Sparring Gloves).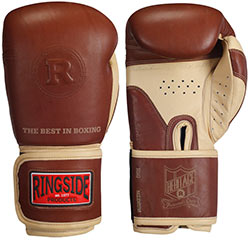 Ringside Heritage Sparring Gloves ($199) – Other than the leather being dyed instead of painted (higher quality finish), I have absolutely no idea why they did this. I think the faux-vintage design makes it look cheap. If Ringside's reputation wasn't already at the bottom of the barrel, they just buried themselves a little deeper with this series. I'm guessing their idea was to produce a high-end line to raise the respect for their brand. Everybody else was offering crappy models for the casual/fitness market and pro models for the serious fighters, and they followed suit with this as their equivalent of a pro model. Except only, no pro would ever buy this. From what I've heard, this is basically the same IMF-padded gloves but with better leather and stitching. While some may like the look and feel of the leather, there are many who complain the glove is stiff, requires a bit of break-in time, doesn't hold a natural fist, and doesn't cushion your hands any better than a $50-pair of gloves. Read around online and you'll find complaints about their other Heritage models as well. (Looks like TOP TEN has their own "heritage" line, too.)
TITLE Boxing / Fighting / Promex – "the name-brand generic" ($30-$200; avg $130)
TITLE Boxing was supposedly started by former Ringside employees that created their own company and started by copying Ringside's products. When I first started boxing, Title was this online store that sold a ton of boxing gear from many brands at reasonable prices. They had lots of sales and many great deals could be found if you visited their website regularly. They have great service and many happy customers/fans in the US. I am still a fan of Title after over 10 years. And I would say they are now a bigger company than Ringside but still considered a "generic company" by the old school dudes.
Title sells the big boxing brands (like Rival, Reyes, Adidas) and MMA/Thai brands (like Hayabusa, Venum, Boon, Fairtex, Windy) alongside their house brands (Title, Fighting Sports, and Promex). Back then, their own house brand Title gloves were priced cheaper than the brand name gloves and people who couldn't afford the big brands like Reyes would buy Title gloves. Their gloves actually performed pretty well and you may have noticed that I wear a pair of classic red Title gloves in my Youtube videos. They also gave "gym discount pricing" which helped them get into many boxing gyms.
I'm guessing Title gear started catching on as this "cheap but still good" brand of gear and their name actually grew into being seen as a legitimate brand. It's funny because Title actually uses all the same Pakistan clone molds and yet they are seen as this completely new and innovative boxing gear company. On top of that, Title started producing their luxury brand called "Fighting" which featured flashier-looking gloves at higher prices. Their idea was to copy the success of the ultra-premium Japanese brand "Winning" but at more affordable price-points. The thing is "Fighting" also too, uses the same Pakistan clone molds so I wonder if it's really any better than even their regular stuff.
Just as how the "Title" brand was inspired by the Ringside (American), and "Fighting" was inspired by "Winning" (Japanese), "Pro Mex" was inspired by "Cleto Reyes" (Mexico). It's a pretty smart business idea when you think about it. Many people did not have money for the legit brands in Ringside, Winning, and Reyes so Title created generic imitations of all their qualities and sold them for cheaper. They tried to copy the sleek protective glove design of Ringside, the high quality super-cushioned glove design of Winning, and the slim aggressive Mexican-style glove design of Cleto Reyes. The quality was nothing close to the originals but good enough to sell.
I still like the company for it's great customer service, large selection, and bargain sales, but I wouldn't use any of their gloves…even if you gave it to me for free.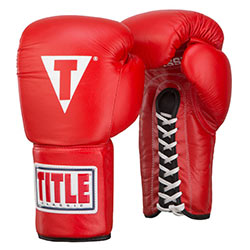 Title Classic Training Gloves ($39) – classic model they used to sell for about $40 back in the days and easily the best glove you find below $60. It was surprisingly decent-enough quality and the padding lasted long enough. Unfortunately, the quality of their recent models has dropped quite a bit as I hear everything… the leather construction, padding, stitching, and even the laces looks cheaper. But with that said, I doubt you can find a better glove for $40. I recommend this glove only if you absolutely can't put a couple dollars together to get a Ringside IMF Sparring model for $45-55 on sale. Also available in velcro, but the elastic strap is cheap and won't last as long IMO.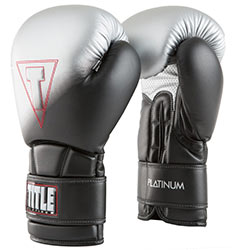 Title Platinum Proclaim Training Gloves ($79) – this model is newer and looks to me like it's not real leather. Anytime you see fancy colors (especially metallics) and graphics on a glove, there's a good chance it's not real leather. You'll see this mold a lot with many other gloves from Title as well as other brands, with variations in color and possibly quality. Have you noticed it also looks similar to the "Ringside Pro Style IMF" gloves up above?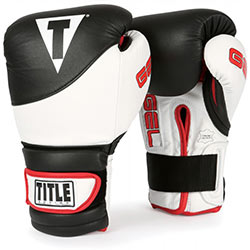 Title Gel Suspense Training ($99) – another new cheap model. I hate it's made with many little parts that stick out and cut your sparring partner. Using the nylon strap instead of leather. Also the little "GEL" tag in the palm area. I wonder if the knuckle area is even leather. The whole design screams "CHEAP!" See it up close.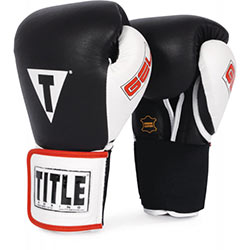 Title Gel World Elastic Training Gloves ($99) – their classic Gel model. Looks identical to the one by PBS up above. I remember Title had it first and PBS and several others copied it later.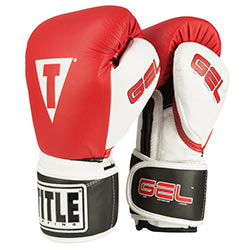 Title Gel Intense Training/Sparring Gloves ($109) – I doubt that a glove can be both dense enough for bagwork and soft enough for sparring. The gel padding does last long but doesn't perform well! Too stiff and often weighs more than the listed weight!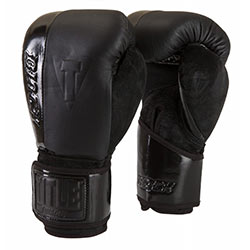 Title Black Blast Training Gloves ($199) – from their flagship "Black" line. Way overpriced and not a true professional glove, IMO. Read this mixed review after only 2 months of use. Their other "Black" gloves don't offer much protection, either. I'm guessing due to its success they've since added new series to their premium line, like "Title White" $199 (same thing but white color) and the "Ali Legacy" $249 (black with metallic gold).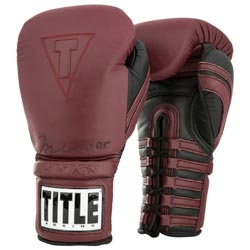 Title Ali Authentic Leather Lace Training Gloves ($199) – annnnnd they've finally come out with their own clone of the "Heritage" glove design. I do like their deep red color over the lame wannabe old school tan/brown color the other companies have been using. I still hate these gloves. Look at the seams and edging all over the glove and then the lace tracks. HORRIBLE design for sparring!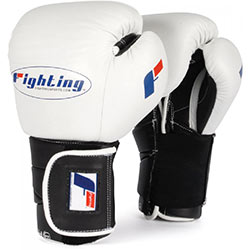 Fighting Sports Tri-Tech Sparring Gloves ($119) – one of the classic models when the "Fighting Sports" brand first started. I have a pair that's held up for a good 2 years. It's only good for sparring, though. The elastic can be a bit "cheap". Mine worked out ok but my friends' pairs have torn apart.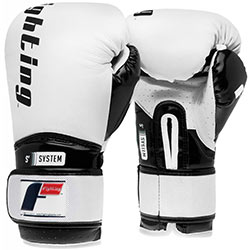 Fighting Sports S2 Gel Power Training Gloves ($129) – it's not a completely horrible glove but it has the same problem as many other gloves in this price range: not completely all leather, kind of stiff (not as much hand protection). You can definitely find better gloves in the same price range, or just put another $10 and get one of the top brands.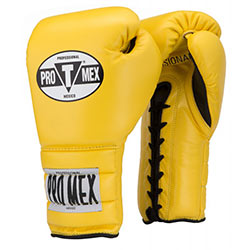 Promex Pro Training Gloves ($99) – Title's attempt at copying Reyes (compact fist, long cuffs, weight more towards the wrist, latex memory foam padding). It looks cheap in the image and even cheaper in person. Here it is for a "bargain" at only $100. I would spend the extra money on the real Reyes considering it's only another $45. In case you were tempted, here's an Amazon review saying "Promex sucks". The old models were known for being really bad quality, too stiff for sparring, terrible thumb position, and also too tight on the hand. The newer version (released in 2018) promises to be closer to real Mexican gloves, better construction quality and latex padding. I wouldn't take it seriously considering it's priced at only $99.
Adidas – "the European Everlast" ($40-150; avg $80)
Adidas is a German company, and a household sports brand in Europe (I hear also common in Australia). They're in many sports as I'm sure you already know; soccer "aka futbol", basketball, football, etc. Adidas boxing gear is respected in a similar way to Everlast. It's found in many stores but the quality is not the best. If you pay attention only to their pro-level products, you might find some better stuff. I haven't been to boxing gyms in Europe but from what I saw in the stores there and Youtube videos, there appears to be a lot of Adidas boxing gear throughout Europe, especially if you're around Germany.
Here in America, Adidas boxing gloves are almost non-existent or seldom seen. I've heard of some fighters wearing them but never seen it with my own eyes. I do wonder if the pros actually use them by choice or because they were sponsored. For the most part, their gear is yet another one of those beautifully-designed Pakistan clone brands. And I really wanted to like their gear because they sent me several models for free. But I couldn't use it—their gloves were so stiff and painful to punch with. There was one pro model that I did fall in love with. It was a 10oz pro fighting glove that felt amazing but you can't train in it. For regular training purposes, Adidas has nothing for you.
Additional thoughts about Adidas:
Their gear is well-designed (aesthetics-wise), but really bad quality and over-priced. You should go with Titleboxing or Ringside to get a much better deal and product.
Many people say Adidas only makes one good boxing product and that's boxing shoes. I would say some of their headgear is ok too but lately people have been complaining abut that as well.
Adidas has many different models and many variations of those models. I would say be careful with Adidas because they cater heavily to the fitness and youth market. If you see weird models out there with strange names and fancy designs, they are probably meant for fitness or kids (toys).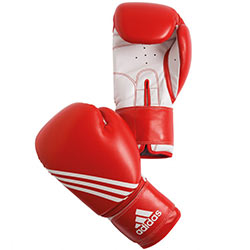 Adidas BT Training Gloves ($39) – starting with their plastic crap model. Typical clone mold and looks like a toy in person. See it up close. Read the Amazon reviews about it falling apart almost right away!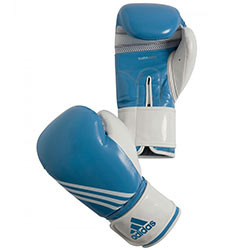 Adidas Boxing Fitness Gloves ($49) – ok, guys. I shouldn't have to tell you to NEVER buy "fitness" gloves. That's for cardio kickboxing class and not for actual boxing (even if the gloves look functional). Recognize the plastic-ey shine of fake leather? And also features "Climacool Technology" which is marketing jargon for "cheap mesh" in the palm area. See it up close.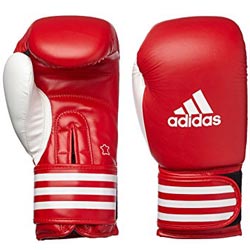 Adidas Ultima Competition Boxing Gloves ($49) – I've seen different versions of this glove with varying designs. The older version (linked) was real leather, higher quality and came in bigger sizes (16oz). The latest version is fake leather, falls apart quickly, and only comes in 8-12oz sizes.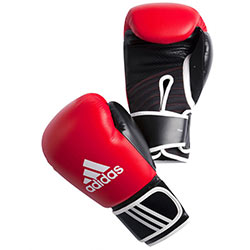 Adidas Adipower Boxing Gloves ($119) – a hundred and twenty dollars, and still a cheap looking closure strap. See it up close.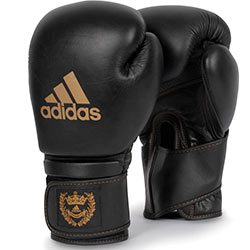 Adidas Boxing Adistar Training Gloves ($139) – this is one of their top models that a distributor sent to me for review purposes. I figured…hmm, looks nice…I'll ignore the fact that it's a clone mold and give it a chance. It looks very well made from external appearances, but I couldn't say more until I felt how it performed. Well…IT SUCKED FROM DAY ONE. I couldn't punch full force in it at all and these were 18oz!!! I've had better support from old worn out 14oz gloves than I did in these brand new 18oz. What a massive letdown considering the Adistar was supposed to be their professional training line.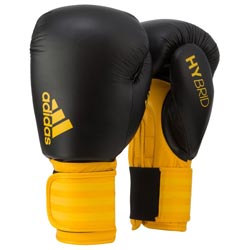 Adidas Hybrid 100 Training Gloves ($59) – from their latest "Hybrid" series. I hear it's a comfortable fit but overall still really cheap stuff, fake leather, weak stitching, crappy single-layer foam, uncomfortable lining, fragile elastic strap, and falls apart quickly. Not meant to last beyond a few months of regular use. If it isn't cheap enough, you can get the similar-looking Hybrid 50 ($39) or toy-looking Hybrid 75 ($49). There's also the female fitness version Hybrid 100 Dynamic Fit ($49).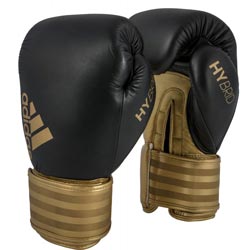 Adidas Hybrid 200 Training Gloves ($109) – ahaha, pay a little more and you finally get real leather, full velcro strap (no elastic), multi-layered foam (better protection), smoother more comfortable lining. At this price, I would just pay more and get a real glove, to be honest. They also have a female fitness version of this too called "Hybrid 200 Dynamic Fit".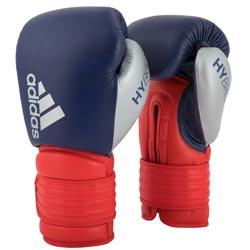 Adidas Hybrid 300 Boxing Gloves ($129) – and here goes the latest flagship model. Just like the Hybrid 200 it has real leather, multi-layered foam, more comfortable inner lining…and unlike the Hybrid 200 it has more padding around the wrist (notice the raised ridges on the velcro), extra elastic on the palm-side (unnecessary IMO). I've heard some complaints about it being uncomfortable at the fingertips, hot lining, and also broken padding. To be honest, this is the type of crap that only happens when a company is so busy "innovating" new gimmicks for marketing purposes instead of perfecting their product. Anyway, I personally wouldn't use it. I never liked Adidas padding, never liked their previous flagship "Adistar" model, and there are better options at this price point. But hey, it's a nice-looking glove!
Lonsdale – "the Everlast of the UK, but cheaper" ($15-100; avg $30)
Lonsdale is like the Everlast of the UK in that they sell all kinds of things. It started as a boxing company but now sell sports apparel and MMA stuff, too. They can be found in many different types of stores. To make it short, it's a crappy Pakistan clone brand. Really cheap stuff at really cheap prices. It's all low quality stuff. They use many of the older Pakistan clone molds, too. I can't imagine that anybody in Europe takes them seriously.
Lonsdale also sells many of the same sports/clothing items as Everlast. Like almost exactly identical. In case you've wondered, both companies are now owned by the same company in UK, called "Sports Direct". Originally, Everlast was started in New York 1910, Lonsdale in London 1960.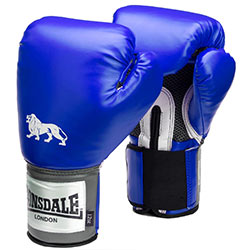 Lonsdale Pro Training Gloves ($18) – same exact model as the "Everlast Pro Style Training Gloves" that I showed up above. Junk junk junk. At least they priced it more fairly.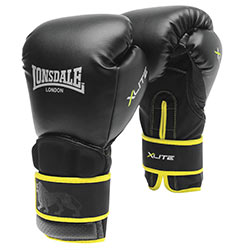 Lonsdale Xlite Training Glove ($39) – hey, remember this mold?! It's back again!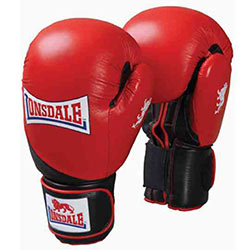 Lonsdale Sparring Gloves ($55) – I think this might be their best training model and the saddest part was I saw someone online still preferring the (awful) Ringside Apex gloves over these. So far, Lonsdale is the worst "name-brand" I've reviewed. NOTE: I think this model has been renamed and redesigned from "Leather Club Sparring Gloves" to "Pro Safe Spar Training Gloves".
TOP TEN – "the UK/Canadian martial artist"   ($39-125; avg $85)
The first time I had ever seen TOP TEN was through one of those online martial arts stores that sold all kinds of equipment for many different fighting styles. Swords, sticks, daggers, shoes, pads, gloves, helmets, uniforms, 90's instructional tapes, and other random stuff I don't know how to describe. I was looking for boxing gloves and pretty much just laughed when I saw only TOP TEN boxing gloves on there. If you've known TOP TEN for a while, then you know exactly why I laughed!
TOP TEN boxing gloves look like those karate gloves with the super perfectly-round padding around the knuckles. Looks like a round little missile with the thumb tucked away (as if you didn't have one). Very different from the usual boxing gloves which have more of a human fist shape and prominent thumb sticking out on the side. Naturally, I laughed at them, never ordered, and never tried them. TOP TEN is definitely not a respected brand in the USA and hardly ever seen.
It wasn't until a few years later that I was boxing in Canada (2010) when I first saw TOP TEN gloves in a boxing gym. Nobody was using them by the way, they were just old beat-up community gloves that you gave to little kids or that "old beginner guy" who only came to lose weight. Even in Canada, despite being commonly found in stores and gyms, TOP TEN is still not the preferred brand. Everybody in Canada seemed to like Rival (a well-respected Canadian brand). What was nice though was that I got a chance to see TOP TEN gloves in person and try them out.
Unfortunately for the brand, the gloves I tried were absolutely crap and after my experience, was determined to write them off forever. I also wasn't the only one that thought TOP TEN gloves are bad. Not surprising considering they are made in Pakistan and while their gloves don't have the typical clone design, they are still clone quality (which is pretty bad).
My understanding of TOP TEN has changed a bit since 2010. There are many misconceptions about the brand and what they offer. In fact…I'm still not sure I understand the brand. I think they're a UK company that got popular in Europe, then expanded to North America with a headquarters in Canada. So depending on where you're from, you will guess their origin differently. Here in the USA, Americans probably think TOP TEN is a Canadian company. And in Europe, I imagine European fighters look at TOP TEN as a British company. Who the heck knows?
I'm also aware that they seem to be the official gear for many different sports. If I had to guess, I think they started by making karate gloves. I'm not sure which is which, but looking up the internet I see karate gloves come in an "open hand gloves" design which looks something like a thong/slipper/sandal equivalent of a boxing glove. Your hand is open and the padding only covers the knuckles and back area of your hand. The padding is strapped to your hand in various ways: maybe some thin strap, or a thin fingerless glove (like a motorcycle glove), or a thin piece some finger holes. I don't know how to describe; just look it up, ok?
So I think they started with the typical round karate/tae-kwon-do gloves (and other martial arts gear) and then decided "OH HEY, WE SHOULD MAKE BOXING GLOVES, TOO!". Except only, instead of designing their glove with the usual boxing glove shape, they simply adapted their existing karate glove design into boxing gloves by extending the padding all around the glove. They also started making MMA gloves as well, furthering their appearance as one of those "all martial arts" gear companies (which doesn't appeal to diehard boxers).
That brings us to today's confusion. People don't know if TOP TEN is really a boxing brand, where it's originated from, and whether or not it makes good gloves. TOP TEN is indeed an official boxing brand in some places. For example, their gear is AIBA approved (which isn't saying much, btw) so that means it at least meets some minimum standard. TOP TEN is also very common in Canada and Europe so at least they're respected by at least the minimum level. You can say they're at least on the level of Titleboxing and better than Everlast (which I think has almost completely fallen out of favor with boxers, even for fitness purposes). There are fighters who think TOP TEN is good, and also fighters who think TOP TEN is bad. For sure, their glove shape doesn't do them any favors. Lucky for them, a distributor has sent me a recent pair that I enjoyed so much, I decided to renew my opinion of the brand.
Additional thoughts about TOP TEN:
I think their brand name is annoying. Really hard to find their gear as searching "top ten boxing gloves" will most likely show dozens of glove review articles instead of TOP TEN brand gloves.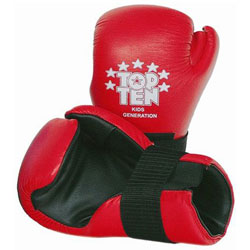 TOP TEN Open Hand Gloves ($65) – shown for demonstration purposes only. I don't recommend you to buy or use this for boxing! As you can see, the padding covers only the knuckles and back of the hand, and the knuckle area is very round like a missile. The palm side of the hand is open and thus the "open hand" label! (I had such a hard time finding this photo angle, haha. Most product photos show only the back of the glove, focusing on the glove style from the back-side. Hope you appreciate!)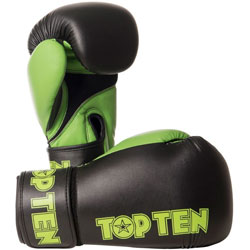 TOP TEN XLP Boxing Gloves ($55) – this is their typical junk glove and probably what I first tried. They have several gloves even BELOW this model, mind you. Despite its attempt at a "fancy" appearance, this glove is fake leather, mesh palm, and cheap build overall.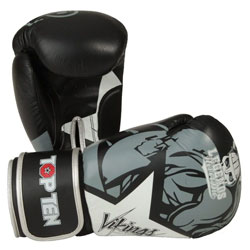 TOP TEN Vikings Star Sparring Boxing Gloves ($59) – obvious ripoff of Hayabusa glove designs. C'mon, guys!!!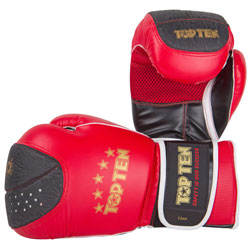 TOP TEN Sparring Elite Boxing Gloves ($85) – WHOA! What the heck is this?! It's a cheap ripoff of the Rival RB10 gloves! I'd say this is pretty lame.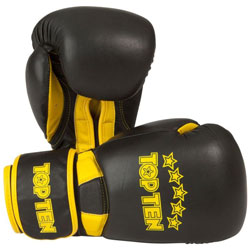 TOP TEN Elite Dual Boxing Gloves ($95) – ok, finally!…they got real leather. Of course, it's the cheap Pakistan kind and of course, it's a freaken clone glove design. Ugh. NEXT!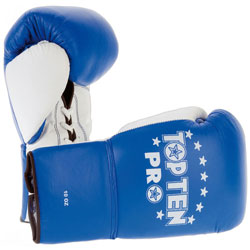 TOP TEN Pro Competition Boxing Gloves ($79) – these are their pro competition gloves. Probably similar to TitleBoxing pro gloves although these look cheaper to me. Not meant for serious training.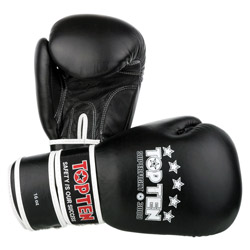 TOP TEN Superfight 3000 Boxing Gloves ($99) – this was the model the distributor sent me in early 2018. Very unique shape that I think most people will appreciate. The foam feels really thick and about medium softness. Protects your hands well on the heavy bag and just about soft-enough for sparring (although I much prefer having softer). It's a bargain glove at $100 and should serve you well.
Who knows, I might consider a separate review on this glove one day if enough people are interested in it. This is the only TOP TEN glove model that I would actually recommend…and what does it have? Unique shape, unique padding, and actually functional! The thumb is surprisingly comfortable (very straight) and the dual straps can adapt to all wrist sizes. Yes, TOP TEN makes tons of clone gear but they also have some unique pieces as well…their martial arts gloves and this boxing glove (obviously modeled after their martial arts gloves) are the exception!
RDX – "the UK TitleBoxing clone" ($25-70; avg $55) 
I remember a time, maybe around 2010 when RDX was seen as a total generic ripoff of TitleBoxing. Their gloves were sold only on Ebay and Amazon, direct to [un-informed] consumers, instead of through boxing equipment dealers/retailers. I think they started as a generic company, and were never at any point a respected quality brand or had their own unique glove mold. They sold all the same Pakistan clone gloves as TitleBoxing, with similar colors, glove design, and overall vibe (some designs were almost identical).
Years had passed and then one day…I noticed their site was totally re-designed and people (from the UK) actually spoke about them in forums like they were a real brand. There were pictures of people wearing their gear and videos of fighters sparring in them. RDX probably realized it was better in the long-run to come up with their own designs and they've done a good job of it lately. Their gloves appear entirely different from the usual designs, making it harder to see which clone mold they're using. Kudos to them for finally establishing their brand.
I don't know how they pulled it off but there you go. Unfortunately, they'll always be a cheap Pakistan clone company to me. So I'll keep ignoring their review requests until I see something truly innovative from them (other than design). For those wondering: yes, I did try their gloves a couple times and they felt just like any other Pakistan clone company. You can search Google to hear reviews about their poor quality and stitching.
Additional thoughts about RDX:
RDX is a typical "marketed-brand" that is loved by newbies and hated by legit fighters. The newbs find them to be great value for the money, cool designs, "feels like high quality", good padding, comfortable and lasts long enough. The legit fighters all say "RDX sucks", really stiff padding (never use for sparring), looks like crap, and that it's still a crappy knockoff brand relying on good marketing and fancy designs to make money (like Ringside, Hayabusa, Venum). I've even heard fighters insult other brands by calling them "worse than RDX".
Their pricing has gone up. Before, their gloves were really low-priced ($25-40) but nicely designed and functioned well enough that it could rival $60-75 gloves on the market. It's still cheap stuff competing with other cheap stuff but the point is their gloves were great value for the dollar. That's change a bit lately. They're looking to grow into the mid-range soon and I'm guessing we'll see $99 model within a year.
Their hand fit is not uniform across the brand. Some models are "too small", others too "too big" or "too wide", "uncomfortable thumb" or "squeezes the pinky", "small on inside, but huge on outside", and so forth. There are also complaints about too much padding in the palm area that some people couldn't make a fist as easily. If you're particular about hand fit, I suggest reading up the reviews on the specific model before buying.
Aside from some quality control complaints about stitching, I've also heard that the fancy colors rub off and also that velcro comes off easily (really annoying!). The good thing though is that I hear the padding holds up well. Between you and I, this probably means the padding is stiff.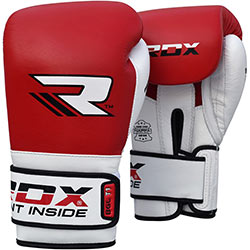 RDX Elite Boxing Gloves ($59) – sixty dollars gets you mesh, cheap velcro strap, and a bunch of seams around the palm area.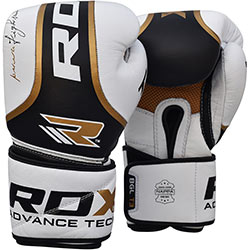 RDX Optimier Boxing Gloves ($64) – pay five dollars more and you get to have a better strap. Still not a good glove but it's beautifully designed and looks really high-tech. I wonder if they get their design inspirations from Rival. 10 years ago, nobody was designing boxing gloves like this. See it up close.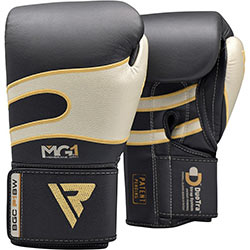 RDX Bazooka Boxing Gloves ($70) – wow, beautiful! This looks like the Ferrari of boxing gloves, you almost forget it's using the same clone mold as a hundred other brands. They should have called this the "MG1" (it's what they named their padding) to make it sound like a car rather than a toy name like "Bazooka".
Leone – "former Italian Everlast, now Italian TitleBoxing" ($35-110; avg $80)
Leone was a reputable boxing company started in Italy several decades ago. I'm guessing it had something like an Everlast appeal, but as with many companies that became mainstream, they start chasing the almighty dollar and relying on their brand name rather than quality to make sales. I think you can tell from the glove designs what has become of their glove quality lately. I hear their "Glory" gloves were the only good model of late (I don't know if they still sell it). Everything else is of the cheap Pakistan clone variety.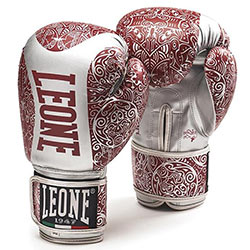 Leone Maori Boxing Gloves ($45) – really nice design to mask a cheap clone glove.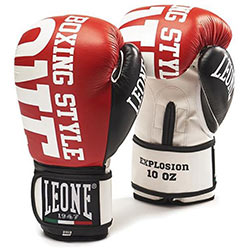 Leone Explosion Boxing Gloves ($69) – The official Leone site sells them for sixty and Titleboxing sells them for a hundred. It doesn't matter, it's still a cheap clone mold.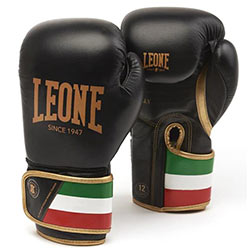 Leone Guanti Boxe Italy '47 Gloves ($75) – very sexy classy design, and yet, still a clone design.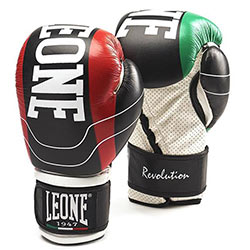 Leone Revolution Boxing Gloves ($95) – the perforated leather in the palm area looks cool.
The Thai clones – Fairtex, Twins, Windy, Boon, King, Yokkao, etc ($40-150; avg $70)
Thai gloves are known for being too stiff (even the "good" ones) or too soft, shorter-cuff (compact-shape) with less wrist support, too small (more common) or too bulky, different padding distribution, and having a fabric logo (which is better). They're shaped and padded in a different way from boxing gloves, for Muay Thai purposes like clinching and blocking kicks. The biggest issue for boxers is having less wrist support and the bulky shape. Beware that some Muay Thai models don't have a grab bar, which can also make your punches feel less solid.
Thai gloves are not recommended for boxing because of
poor wrist support, and different padding distribution.
You can get a great deal on Thai gloves if you buy them in person in Thailand. The weird thing is that while all the Thai brands are made in Thailand, some of their models are identical to the usual Pakistan glove molds (I call them "Thai clones"). Who's copying who? I've used several over the years but for the rest, I had to ask friends and read online.
Fairtex ($70-150) – the priciest Thai brand. Fairtex and Twins are the top 2 Thai brands with Fairtex costing even more. There are many people who say Fairtex is clearly better but you'll also find others who feel the opposite (like me). I compare them to Ringside because they used to be a good brand but have now fallen in quality. And similarly, they're all about marketing and brand name. They're known for softer cushion and more comfort but less durability.
Twins ($50-100) – very good leather, good padding, lots of crazy designs (if you're in to that), and generally a smaller hand fit.
Windy ($35-100) – the ORIGINAL Thai brand that was copied and now out-marketed over the past several decades. They're known for being classic-styled, reasonably priced, well-made, large size (good for big hands but harder to clinch), STIFF knuckle padding, and wrist support not as good as others. I feel their quality is not what it was when I used it over 10 years ago.
Boon ($70-100) – small company only known by elitists/enthusiasts, but very high quality for relatively cheap price. Some say it's clearly better than the highly-regarded Fairtex and Twins. High quality, good stitching, great padding that doesn't hurt.
Sandee ($50-100) – standard clone, cheapest padding, too. Considered over-priced.
King Professional – old brand that was known making the best pads, mitts and gloves. Easily distinguishable by their longer/curved outer cuff. Unfortunately, I tried a recent model and they're total crap. Honestly, they feel like toys; not made for serious use at all. Their synthetic leather is awful, your hand starts sweating within seconds of putting them into the glove. Read my review (coming soon).
Raja – highly regarded brand with some small issues. I hear they feel great and are made well but somehow don't last long. They have issues like the velcro falling apart quickly.
ThaiSmai – stitching looks to be on-par or slightly below Twins, but the padding and fitting is really bad.
Top King – cheap clone but at least the padding isn't as stiff. These gloves are very big size in external appearance, which some fighters don't like.
Yokkao – I have a pair of them myself. AWFUL QUALITY, has many sharp protuding seems and annoying plastic badge that can cut sparring partners. Feels like $30 toy gloves (on par with cheap Everlast/Lonsdale gloves you see in sports stores); seriously, they're a joke. Maybe you like their crazy style but they're really cheap clones (kind of like a Thai Venum). Read my review (coming soon).
General order of quality nowadays based on what I feel + other opinions (Fairtex and Windy were higher before):
High End – 1. Boon, 2. Twins, 3. Windy, 5. Fairtex.
Middle – 1.Raja, 2. Sandee, 3. Top King.
Lowest – 1. Yokkao, 2. King, 3. ThaiSmai.
Helpful links/videos on Thai boxing gloves and brand comparisons: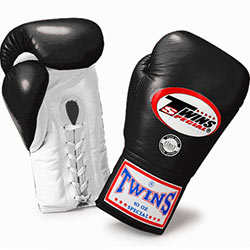 Twins Special Premium Leather Boxing Gloves BGLL1 ($79) – I would guess that Twins is probably the first Thai brand that boxers will come across and most commonly this model, since it's shaped and styled more like a traditional boxing glove. The other Twins models are shaped more for Muay Thai and styled too differently from boxing gloves (e.g. flames and wild ornaments). I have a pair of these myself and like that the padding is softer than other Thai brands out there.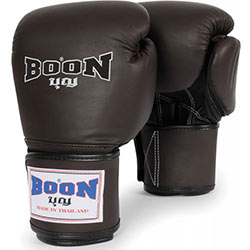 Boon Sport Leather Training Gloves ($99) – never tried this brand myself but have seen some good reviews of it – here and here. I hear it's great quality but still a bit "stiff" for hard sparring and also designed for Muay Thai.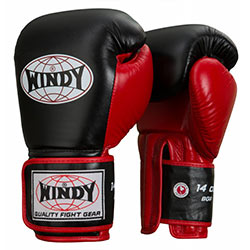 Windy Professional Thai Sparring Gloves ($99) – their best model that I could find. The other ones looked like Pakistan clones and had many complaints about stitching quality, cracking leather, and velcro coming apart.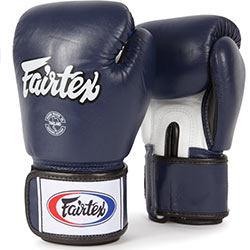 Fairtex Training Gloves ($85) – one of the many clone molds they have. Check out all the other copycat designs on their website. Doesn't this Fairtex model look eerily similar to Ringside's model?
Hayabusa – "the MMA posterboy" ($90-160; avg $130)
I had never heard of Hayabusa until an MMA friend walked into the gym with a pair of them about 10 years ago. They had a really cool modern design, very artistic graphics unlike any other brand. Rival boxing gear had cool-looking designs too but it was more diagonal lines and neon colors. Hayabusa gloves, on the other hand, looked like something out of a Japanese anime cartoon (rich colors, Asian lettering). I think Hayabusa set the tone for MMA gear design; that you had to be extremely cool-looking or else you seemed boring, inferior, and less innovative compared to other fighting brands. Hayabusa's popularity continues to surge among MMA fighters today. Walk into any MMA or kickboxing gym and you're bound to find all levels of fighters sporting Hayabusa gloves.
Hayabusa, however, failed to capture any real respect in the boxing market and I suspect it's for the all the reasons that I don't like that brand. As a boxing purist, like other boxing purists, we already had a history and a tradition. I don't know how to say it, but we respect the "old". We respect the "old school guys", the "old school knowledge", the "old school training". Boxing has a culture of being "time-tested" and so you were very skeptic of anything new. Our gear was plain and designed to remind us of the old days when times were tough and fighters were tougher. A fancy pretty glove like Hayabusa looked like a toy to us. It looked like something made for children, not for real men, not for real fighters.
From the very first time that I threw a punch with a Hayabusa glove on, I was thinking HELLLLLLLL NO! The gloves were stiff as hell. This might be ok if you're hitting a heavy bag but you're going to make enemies real quick in the ring sparring with these rocks on. Way too stiff for boxing sparring (maybe MMA guys don't mind?). They also weren't made with leather. It was unheard of for a boxer to use a non-leather glove. Back then, being made with leather was the most basic way you would tell if a glove was good or not.
And then you hear the price…and it's WHAT?! $85-160?! That's a joke, right? You see back then, boxers had like maybe 5 choices. If you were broke or poor, you bought Title ($35-60). If you had any money, you would get Ringside ($85). If you were a pro or had some more money, you got Winning ($250-300). And then if you liked Mexican-style gloves, maybe you went Reyes ($80-125) and if you were Canadian, you went Rival ($80). Ringside was the default quality glove back then for Americans. It was like the Mercedes of boxing gloves. If you had more money, you could get the Ferrari (Winning) and if you had less, you went Title.
Hayabusa was always premium-priced but they weren't seen as a premium brand by boxers. At the time, their $85 (now $130) gloves were much worse than the Title gloves at $60. And nowadays, anytime you see Hayabusa gloves in the boxing gym, it's most likely worn by a guy who either just started boxing or a guy who doesn't even spar much. Experienced boxers with $125-150 are probably going to go with a much better brand like Rival, Reyes, and others. Many boxers prefer to wear real boxing brands that are worn by the pros, instead of cartoonish gloves worn only by MMA guys and "newbies". This brand is a complete turn-off for me and it's no surprise that I don't see any professional boxers training in Hayabusa gloves either. They've been trying to send me a free pair for review but I warned them I would be honest and that's the last I heard of them.
Hayabusa gloves failed in several ways:
TOO STIFF, hits way too hard on opponents.
Not enough support; hurts my hands. I cannot punch full-strength with these.
Poor quality – inferior materials, craftsmanship, and function to many similar-priced boxing gloves.
Annoying dual strap. It's great in theory but in real-world use, it catches your handwraps a lot.
Fake leather.
Way over-priced.
Way too gimmicky and over-hyped marketing "features". Big turn off.
Made in China. This might explain why they hardly ever use real leather and also the inconsistent quality control and workmanship.
I've even heard people prefer Fairtex over Hayabusa (and that's a bad thing).
I hate that they keep coming up with new designs every year. This is just proof that they rely heavily on marketing and don't have any solid time-tested models. You don't see Reyes coming out with a new model every year. Is it because they [Reyes] aren't innovative? No, it's because they've been in business for decades and don't need to improve their already-perfect models. Also, they have a longstanding customer-base that probably wouldn't want them to change anything. When was the last time you heard of Hayabusa gloves so incredible that tons of pro boxers said, "PLEASE DON'T CHANGE ANYTHING"???…my point exactly.
Hayabusa Reviews:
 "A lot of hype…" – by MuayThaiPros.com
A positive review that still highlights some problems with Hayabusa – by Boxingglovesreviews.com
I do like the double-strap concept. It appears to be more secure on the wrist than most single straps, and possibly a useful design improvement that more boxing companies could implement.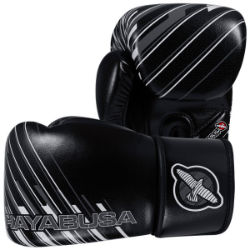 Hayabusa Ikusa Charged Gloves ($79) – used to cost a hundred dollars and you don't even get real leather! What the hell is "Superior quality engineered leather"? Hayabusa's dual-strap closure design makes it annoying to put on since the velcro keeps catching onto your handwraps. If you can get past these issues, there's also the matter that these gloves are way too stiff to be sparring with. They might ok on the bag but still over-priced in general, as is all their other stuff.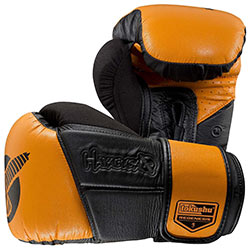 Hayabusa Tokushu Regenesis Boxing Gloves ($129) – older popular model using "Vylar-2 Engineered Leather"…again, fake leather and people who tried it say they still preferred real leather. Look at the seams all over this thing. Guess what happens when these gloves start to get old; these are all the points where the glove will burst open. The more seams, the more points of failure. See negative Amazon reviews about poor quality control, annoying velcro, too stiff, poor stitching, sweaty, smelly, incorrect weight, hard to make a fist, etc. (Yes, I'm ignoring the positive reviews.) I feel many of the people rating these gloves highly have never tried the good boxing brands.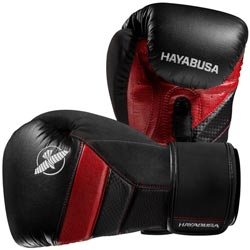 Hayabusa T3 Boxing Gloves ($119) – this is the updated Tokushu Regenesis. Still the same fake "Vylar Engineered Leather", dual-closure straps, "Fusion Splinting" technology (what the heck is that?), "microfiber thumb", and anti-microbial inner lining. It's a redesign hoping to improve upon the old Tokushu Regenesis model's shortcomings. What bugs me and I think may turn off other boxing purists is that the cuff is shorter, so it looks and feels even more like a Muay Thai/MMA boxing glove now. The general consensus out there, even by folks who love the brand, is that the padding is stiff and the fit is really tight/stiff (even for small or thin hands) and also that the dual-strap is still really annoying because it catches the handwraps.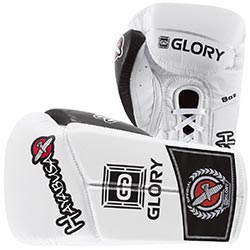 Hayabusa Glory Laces Gloves ($99) – a pro-model made in real leather for kickboxers, and actually has good reviews. Only comes in 8 or 10oz so it's not for training.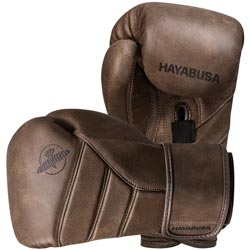 Hayabusa T3 Kanpeki Boxing Gloves ($149) – Wait a sec. Why does this all-leather glove cost so much? OH I get it— real leather IS better than fake leather! For those wondering, I've heard that the leather is nice but the weight and padding is inconsistent. Some say it's too stiff, others say it's too soft. I've also heard someone say the inside seam cut his thumb (which is ridiculous at this price point).
Venum – "the poor man's MMA brand" ($50-99; avg $80)
Venum is the typical wannabe MMA brand that you see nowadays. Flashy in-your-face design catered towards younger kids. Comes with tons of high-tech sounding features, and targets the $85 price point. It's basically another clone brand trying to duplicate Hayabusa's success. NOTE: they are made in Thailand…so I guess you could call them a Thailand clone brand.
But fast-forward several years and we've got some interesting developments. One is that Venum is trying to rebrand themselves as a higher quality brand. They're doing heavy endorsements with popular fighters from boxing, MMA, and also traditional martial arts. They've also come out with a new boxing shoe line they're trying to launch. I'm sorry but I will probably never like Venum very much. They have no soul or heritage in boxing. Just some MMA company trying to exploit and monetize in the boxing space. Here's a fun story about their little-known origins as a French MMA company associating itself with the Brazilian MMA community.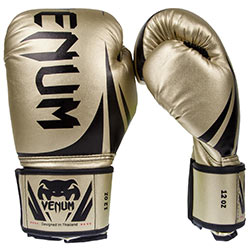 Venum Challenger 2.0 Boxing Gloves ($45) – this clone glove got 4.5 stars out of 5 on Amazon with over 500 reviews. No offense, but none of those buyers know anything about quality boxing gloves. (You can read the bad reviews to get a clearer picture.)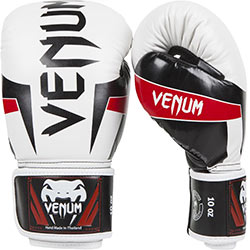 Venum Elite Boxing Gloves ($79) – "Premium Skintex leather construction". Guess what…it's not premium and it's sure as hell not leather. This is a clone glove that you can buy for $15.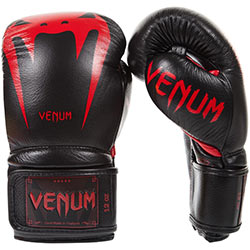 Venum Giant 3.0 Boxing Gloves ($99) – here's the flagship model clone $100 model that FINALLY gives you real leather. How much money are they trying to save?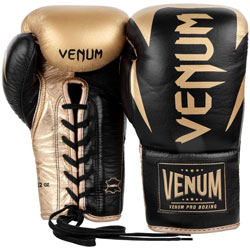 Venum Hammer Pro Boxing Gloves ($249) – yet ANOTHER flagship model, this time aimed at the highend glove market. I figured why not give them a chance? Just check it out and see! I didn't try in person but did scrutinize the pictures and online copy carefully. I'm sorry but these are going to miss the mark for me. Many obvious details. It's still subpar leather, the piping and lining look cheap. The stitching looks suspect. I did appreciate the extra holes punched into the finger areas. I'm kind of shocked their photography couldn't make the gloves look better. I also noticed they don't post these gloves on Amazon. I'm guessing it cuts too deeply into their profit margins?
Ring To Cage – "the boxing brand for kickboxers & martial artists" ($40-100; avg $75)
I'm guessing "Ring To Cage" is one of the older brands in the MMA/kickboxing world. And the only reason why I think that is because their designs aren't as crazy-looking as say Hayabusa, Venom, and other MMA gear companies. They have a more traditional look and even the name itself, "Ring To Cage", speaks of an evolution from boxing to cage-fighting. I think this brand did well because it appealed to an older demographic of martial artists just starting to try on boxing gloves. This brand "feels" like it's legit and priced attractively. For that reason, you can find them in many MMA and traditional martial arts gyms and sometimes even in boxing gyms.
The first time I was introduced to it was from a few kickboxing buddies at a local martial arts school. The gloves LOOK big and well-padded. But to me, they felt like any other MMA glove—too stiff for my taste. (Certainly makes you wonder if martial artists ever spar hard.) They are another Pakistan clone company but I do appreciate that you can get some traditional-looking designs, and they don't try to pretend their gear is worth over $100. It's a refreshing break from all the companies pretending to be "premium". For the most part, they are a GENERIC company that doesn't pretend to be unique.
R2C's reputation in the MMA world actually wins me over. I hear they are well-made, have soft-padded sparring models, are a great deal (especially at discounted prices online), and do have unique models aside from their clone designs. I also like that even the negative reviews had something nice to say about them and that their brand stayed away from being obnoxiously designed, over-hyped, and over-priced. I would respect them more if they got rid of the clone models.
Many people say they are a far better glove than many of the bigger name and higher-priced brands out there and I agree. From the reviews I've heard, they are something just below the respected boxing brands and one of the better brands you can buy under $100. The only thing keeping me from buying a pair (until recently) was that I didn't hear much praise from PURE boxers and also because I doubted the glove could outperform the top boxing brands. I'm guessing the brand wasn't marketed to my demographic (hardcore purist boxer) but that won't keep me from suggesting it to newbies with a budget of $100 and under.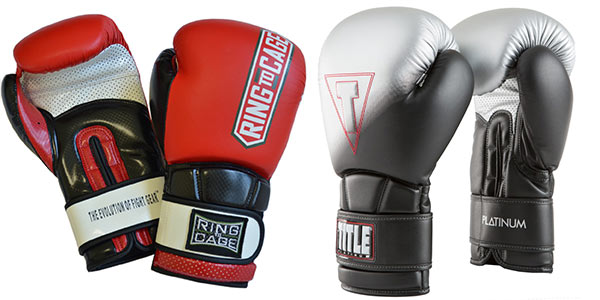 Ring to Cage Ultima MiM-Foam Training Boxing Gloves ($69) – one of their many clone models with its usual telltale signs of overly-fancy design, flashy colors, and small strap. This one is the same exact mold of the Titleboxing Platinum Proclaim Training Gloves.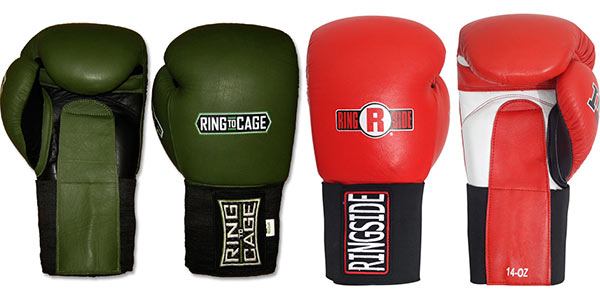 Ring to Cage Deluxe MiM-Foam Sparring Gloves ($79) – R2C's clone of the Ringside IMF Sparring gloves. Instead of IMF, they call it "MIM foam" which stands for Machine-Injected Molded foam. If you don't want to pay full price for the Ringside one, I got a feeling this might be the exact same glove. It goes on sale for $40-50 sometimes.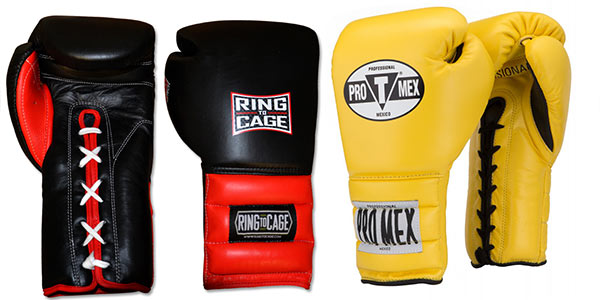 Ring to Cage Mexican-Style Geltech Training Gloves ($85) – R2C's Pakistan clone of the Mexican glove design. FYI, the main hallmarks of the "Mexican glove design" is its slim fist-shape and triple-cuff. They do have a cheaper mesh version which I don't like but I suppose could work if you get the laces variant so there's no velcro strap to tear it apart.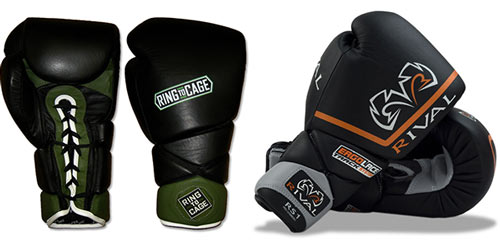 Ring to Cage Big Hand Sparring Gloves ($79) – R2C's attempted clone of the Rival RS1 Pro Sparring Gloves, with its identical wrist design. This is shameless copying at it's finest. I have yet to see anybody else copying Rival this closely and don't know if it's the same quality. (Based on what I've heard of R2C's attempted clone of Rival headgear, I would guess it's not as good.)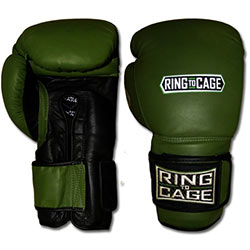 Ring to Cage Deluxe MiM-Foam Sparring Gloves ($89) – here's what I think is the first glove they might have actually invented themselves. It's a super soft-padded glove that you can order from sizes 14oz all the way up to 50oz! It has great reviews and satisfies bigger fighters, those wanting to hit with less force, or those wanting to train with weighted gloves. I've heard both good and bad reviews about this model's quality but I don't know of anybody else who makes gloves up to 50oz. PURCHASE LINKS: 14-24oz, 34oz, 50oz, also in white or black

Ring to Cage C-17 Japanese Style Training Gloves 2.0 ($99) – it's their best and most popular creation, and probably the best boxing glove at $100. This is the pair that put them on the map. It's a MODIFIED clone attempt of the legendary Winning gloves, expected to be of similar quality but at a much lower price ($100 instead of $300). I own a pair and it's a nice sparring glove with big cushy padding and very high build quality although still nowhere close to the exceptional Winning gloves. This is the only glove I would personally try from R2C. If I had any minor complaint: the inside lining should be smoother; most people will be fine but I got a blister on my pinky middle knuckle on the 3rd day of using them. PURCHASE LINK: 12-18oz, Mexican metallic colors ($129)
Read the raving reviews:
Phenom – "the angled-wrist clone from the UK" ($80-200, avg $125)
Phenom Boxing is a newer brand from the UK with a slight twist on the usual clones. They have their aesthetic, which is nice and they have an angled wrist on the gloves. This makes them fit not only small wrists better (because gloves fit tighter around smaller wrists), but also fit big wrists better (since the cuff gets bigger towards the end, accommodating thicker forearms). It's a win-win for all.
I knew nothing about the brand until some people kept asking me about them. Eventually, somebody from the company contacted me and sent me 4 pairs to review…how generous of them! I got to try 16oz training pairs in both laces and velcro, and also their official pro fight gloves.
If I had to guess, I think their company started with Muay Thai products before pivoting over to the purist boxing market. They've since done pretty well, getting the likes of Amir Khan and other notable boxers to use their products. They are used not only in training but also in some pro fights.
I'll review only their higher-end stuff and avoid the cheap stuff.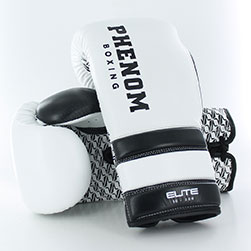 Elite SG-200 Professional Sparring Gloves ($200) – I liked the look, felt nice. The angled cuff is cool although not life-changing or anything like that. The cushion was alright. Average, doable. Not as protective as my favorite gloves. The padding was not protective enough for me to do bagwork (although I'm sure it's fine for most people.) I do appreciate that they're made well and not sloppy anywhere.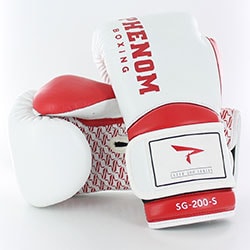 Elite SG-200-S Professional Sparring Gloves ($200) – same thing but velcro version. I think the laces look way better (but I'm old school like that).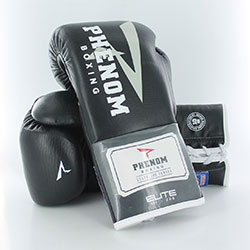 Elite XDF-200 Professional Fight Gloves ($185) – I'm not a pro fighter can't compare these to other gloves. They look nicely made and more than adequate for a single pro fight.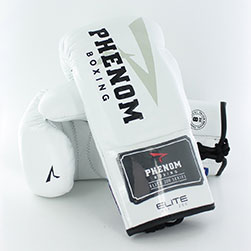 Elite RSF-200 Professional Fight Gloves ($185) – I'm not a pro fighter can't compare these to other gloves. They look nicely made and more than adequate for a single pro fight.
Revgear – "the generic kickboxing/martial-arts brand" ($30-85; avg $70)
I have no idea how Revgear got as big as they are. They are kind of like Ring To Cage in that they cater to the kickboxing and traditional martial arts demographic. Their gear is however the lowest quality of the Pakistan clone gloves. My guess is they appeal to martial arts gym owners who buy gear in bulk. Because of Revgear's low pricing, you can probably get these gloves in bulk for really cheap and they look passable enough as "authentic boxing gloves". I hope I don't have to tell you they are poor quality. Don't be fooled by their designs and frequent placement inside fight gear stores. They do not compare well against other products on the shelf.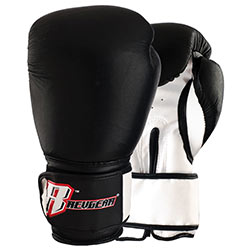 Revgear Pro Leather Training Gloves ($49) – they have the lowest grade clone junk like this one.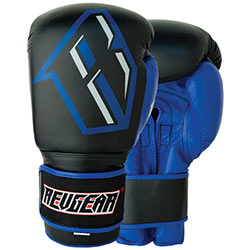 Revgear S3 Sentinel Pro Boxing Gloves ($89) – even their fancy line of ninety-dollar gloves like this one is still pretty bad clone quality. I'm starting to get why the clone brands always have craziest designs. It's to hide the fact that it's the same cheap glove as a million other brands. In case you wanted another reason not to buy it, it's using the annoying gel padding that I don't like.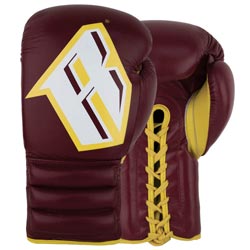 Revgear S4 Sentinel Pro Lace Boxing Gloves ($89) – they're cashing in on the "Mexican glove" trend that's popular right now, doing lace-ups with the triple-cuff design. Hahaha. I don't know why but it still looks really cheap. If I had to guess, it's maybe because the foam is too round whereas real Mexican gloves look more box-ey. There are a few other giveaways but I don't want to teach them how to copy it now! I feel so bad that many people won't be able to tell the difference.
Ediroc – "The Pakistan Grant" ($150-200; avg $150)
Ediroc (formerly known as Fuel Fight Gear) is an American company (probably from the East Coast) that I think had the right idea. I had actually never heard of them until very recently when a friend pointed them out to me and I saw that they sponsored some big name pro fighters like Wladimir Klitschko, Eddie Chambers, and Virgil Hill (although the latter 2 are now trainers). They are currently marketed as "the most comfortable gloves on Earth" and previously marketed as "Made in Mexico". When I first heard the "Made in Mexico" label, I thought, "OH GREAT, somebody else thought to duplicate Grant's business model of bringing high-quality Mexican-made boxing gloves to the US market."
At first glance, Ediroc gloves did APPEAR to be made in Mexico and had that Mexican glove styling but upon discovering bad reviews on the internet, I learned that they are actually made in Pakistan. What they did was have their first batch made in Mexico, and then sent those models to Pakistan to be re-produced. It's a clever attempt at producing Mexican quality at Pakistan rates. Their results have been dismal, with many complaints about cheap leather, sub-standard stitching, short laces, uneven fit, not being at all like the usual Mexican quality craftsmanship, over-priced for what you're getting, and on top of it—really bad customer service.
Additional thoughts about Ediroc:
Their former name "Fuel Fight Gear" was also known for being shoddy quality. That same reviewer gave them higher scores for Ediroc, but still flawed (6.5 out of 10). – Sherdog Review
Another bad review.
Strengths are nice lining and lots of wrist padding (good for parrying or catching kicks). Flaws are the poor leather quality, stitching, and cost of the gloves.
They admitted to previously manufacturing their gloves in China, Mexico, and Pakistan. Not sure where it's made now but I'm guessing it's Pakistan. You can tell they have little control of their manufacturing as they're always sold out. Likely, these kinds of brands are always forced to go around shopping for new suppliers and each batch will vary from the next.
Photos with RingtoCage & Zepol.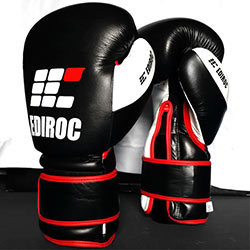 Ediroc 16oz H1 Velcro Sparring Glove ($149) – looks like a sexily-redesigned Pakistan clone. See it up close and compare it to the many clone designs out there. This glove is definitely not worth $149, I can guarantee you that. It's not at all Mexican-made quality.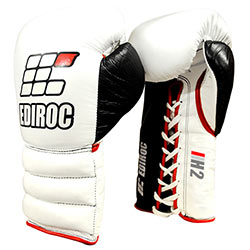 Ediroc 20oz H2 Sparring Gloves ($149) – very sexy design and looks more like a higher quality glove. Unfortunately, I'm willing to bet it's still a Pakistan clone of the Mexican glove design and not worth more than $100. You can read the reviews online. If you like the style, sure, why not? I just think you can get much better and REAL genuine Mexican-made gloves for that price that even offer customization…so I can't justify buying these.
Sabas Fight Gear – the "Mexican wannabe" ($120-220; avg $130)
Sabas is a new boxing gear company (based in Southern California) that started out a few years ago, selling supposedly high-quality "Made-in-Mexico" gloves at a great price. They were selling well-built gloves with good padding, comfort, many customizations, and all at a fair price. They were the first American company to bring Mexican gloves to the masses and with fast shipping. Their stock models were really stylish and you could customize it with all kinds of fancy colors and embroidery. With such affordable prices for high-quality "custom" gloves and all the great reviews online, they seemed on the verge of taking over the market.
Sabas couldn't have shown up at a more perfect time. People were getting tired of all the name-brands (Everlast/Title/Ringside) redesigning their cheap clones every year. But they also didn't want to shell out $300 for Winning or $500 for Grant. Mexican gloves like Reyes were a great buy at $150 in terms of price-to-quality ratio but not always the most protective. Rival was also great at $150 but not everyone likes their futuristic design. MMA and Muay Thai brands were either low quality or not shaped well for boxing. The market was ready for the right glove at the right price and Sabas was the answer. At the time, my only concern about them was to keep the price down and quality up.
But their brand took a turn for the worst…
Nearly a year after I wrote my positive review here and even ranked them at 5th place (based on comments from friends and other folks on the internet), I began to hear many complaints about their quality control. I ordered my own pair in March 2018 and was surprised to find many issues with them. They are not quality at all and do not seem like Mexican gloves in any way, they look and feel exactly like cheap Pakistan gloves.
Additional thoughts on Sabas:
Sabas is mediocre quality all around. Cheap leather, padding is way too soft, cheap piping, and the annoying "bubbling issue" (plastic lining between padding and outer leather moves around, causing ugly lumps). The leather is really bad, I hear even worse than Title boxing. Those raving reviews are now outdated as their quality has dropped tremendously. Here's an old Youtube review giving them "9.5 out of 10".
All three models are claimed to be good for bagwork and sparring, supposedly high quality, thick leather, well-padded, and comfortable. Many say only the SuperSoft is soft enough for sparring out of the box. Their favorite model is probably the SuperSoft since it imitates the all-time favorite Winning glove. In case you're confused about their "TC" label, it stands for "triple cuff" and is available for both ProSeries and ProSeries PRIME.
They do have stylish designs and nice great stitching. Double-stitching everywhere with no loose threads or excess leather sticking out. People like their custom work (see their Facebook photos).
Their velcro strap and wrist support was said to be better than than the "high-tech" Hayabusa Tokushu and even Winning. This is absolutely false.
Sabas is not at all comparable to Winning, people should stop saying this! Winning is superior in every single way, you can see it right away. Winning has better leather, padding/protection, construction, also more comfortable and durable. Sabas feels awkward, cheap leather and cheap padding which won't last long at all, less wrist protection, very different thumb design and overall glove design.
Between RingtoCage C17 and Sabas SuperSoft, the R2C appear to have better padding, wrist protection, construction quality, and also looks much more like Winning gloves.
Compared to other Mexican gloves, Sabas is nothing close in shape, design, and quality. Sabas looks and feels like Pakistan-made. Absolutely nothing "Mexican" about Sabas gloves.
Smaller, compact, narrow fit in general but not restrictive by any means. You will like the fit if you have smaller hands or prefer a tighter fit.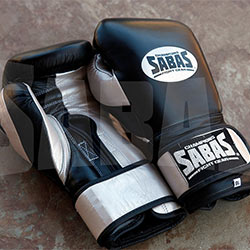 Sabas ProSeries ($119) – neutral model supposedly built for maximum comfort and protection, balance between half-feedback and half-protection (mix of Reyes and Winning). Comes in LACES & VELCRO.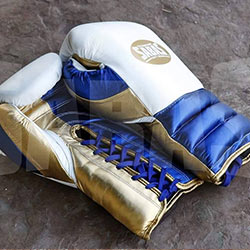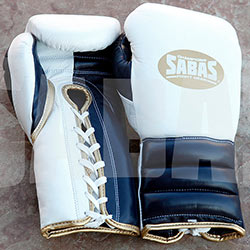 Sabas ProSeries PRIME ($119-170) – their Grant-inspired model. Marketed as a "true puncher's" glove and built to feel like a Grant glove (although I doubt it). It copies the welted seams, canvas liner, latex padding, triple-cuff design, large grip bar, and padding designed to give nice punch feedback. Comes in LACES & VELCRO. I only showed pictures with color schemes that I liked. See this one. (Ahhhh! So many to choose!)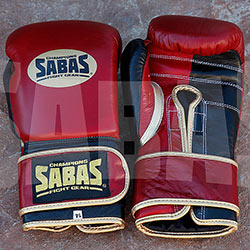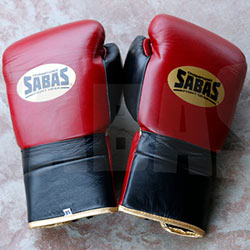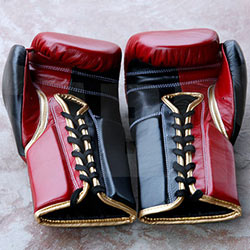 Sabas SuperSoft ($119) – their Winning-inspired model. I bought this exact pair because I loved the colors and found it be nothing close to Winning.  Maybe the old models looked closer to Winning, better quality and more similar padding but my personal experience was totally different.
Cheap feeling, cheap leather (the worst kind that tears easily), padding is too soft, not as comfortable, awkward padding position, low wrist support. Only the styling and stitching looked nice. Sabas padding is TOO SOFT and my knuckles punched right through them on the bag. I hated the gloves within 5 minutes. Painful to use and poor knuckle curve that makes your punches impact more at the middle knuckles instead of the top knuckles.Whatever improvements they supposedly made upon the older design, I think this glove only got worse.This model is available in velcro or lace-up version.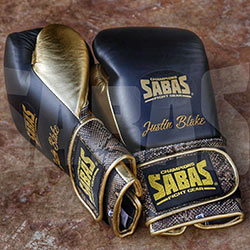 Sabas Custom ProSeries / Supersoft ($155-165) – I have no idea which model, what leather, or how much it costs.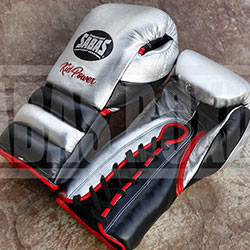 Sabas Custom Proseries Prime ($160-220) – another one of their stylish custom work. Look at the cool alternating colors in the triple-cuff design. Check out their Facebook photo album to see all the possibilities.
Sting – "The Pakistan-Australian" ($60-200; avg $150)
Sting is a cool new Australian boxing brand, manufactured in Pakistan. When I first saw their website and glove designs, they seemed just like any other typical Pakistan-clone glove except with really fancy marketing/branding. The same glove molds, standard features hyped up in gimmicky ways, and of course really cool product photos. The pricing was on par with any other wannabe brand as well…crap fitness gloves in the $50-100 range and then the better stuff around that $150-200 range. I had zero interest to try them whatsoever. I was also aware that they were official equipment suppliers for USA Boxing and also the AIBA but of course, I chalk that up as usual marketing methods in any industry.
Well in 2018, their marketing person reached out to me and offered to send over their 2 best models…the PREDATOR ($200 training model) and the cheaper VIPER ($150 sparring model). Just an FYI, they've since revamped their glove designs and not sell both at $200. I warned him that I would be brutally honest if the gloves didn't hold up to my impossible standards and he insisted on me trying them anyway, without any fear of my feedback. He explained Sting is made in Pakistan but they have their own factories and also control the manufacturing and make their own custom designs (internally as well as externally). WELL DONE, I have a lot of respect for a brand willing to stand behind their product! I'm happy to give any brand a chance as long as they're actually doing something new and not wasting my time as another copycat brand.
I received the gloves and have since had a few months to play with them. At first glance, the gloves did look like the usual Pakistan clones but very well intended. Nice design, modern but tasteful. They look sexy and sleek. The logo is not obnoxious and you don't feel like they're trying to cram their brand name down your throat. The colors are also very well done and properly chosen. They have colors that stand out but also harmonize with the rest of the glove. It doesn't feel like 5 colors all competing with each other. I love the dual-colors on the laces, you don't notice these little details until you have the glove in person.
The craftsmanship also felt well-intended. You can tell they tried to make these in a serious manner and without taking any shortcuts. The stitching was nice, very tight and perfect. The padding was typical dense padding. The laces felt high quality and fancy. No crazy seams to cut sparring partners and NO LABELS (no plastic or fabric ones)…HOORAY, SO CLEAN! The leather wasn't the greatest but also not the worst; it did feel like they were meant to last. Their inside-lining is also very different from most gloves. What I liked most was that there were lots of attention to details in the glove and you don't feel any shortcuts were made despite them being made in Pakistan. Like I said, these do look like clones but they're really stylish gloves and seem good enough to stand out from other Pakistan clones.
The first thing that comes to my mind about Sting is their inside comfort on the hands. Really comfortable and very ergonomic; fit like a glove, whereas other gloves feel like somebody wrapped cardboard around your hands. It's not only the ergonomic shape of the glove but also the materials used, mainly the super-soft inside lining and the super-soft palm-side foam. Whereas other gloves range between feeling either like slippery silk or grippy-fabric, the Sting gloves are neither. They feel like melted butter; the inside makes contact with your hand (likes it's trying to suffocate your hand) but it feels good. This feeling is accomplished by having really soft foam on the palm side which is unusual for most brands. Most brands will have either the structured EVA bar-shaped foam and/or some cotton stuffing around the wrist area, and then nothing but lined leather on the palm area. That wrist area padding is typically used to give you more wrist support during punches. If you use padding that's too soft, that wrist area will be unstructured and lacking support. Well Sting has super-soft non-supportive padding on the entire palm side BUT then uses super-stiff (HARD) rubber material on the back side of the wrist to give you that wrist support.
Additional thoughts about Sting:
Sting gloves are really comfortable (due to super soft lining and palm-side pillow padding). They feel luxurious; you could even say like they were made for women (I mean that in a good way, hahaha). You can tell whoever designed them really cared about that.  They're basically above-average quality, nicely-designed Pakistan clone gloves with dense Pakistan padding and comfy inside.
I hated that they had that cheap plastic piping. I feel those will tear fast and make these sexy gloves look old faster. If you're not a serious fighter, it probably won't happen to you.
The glove weights did not seem uniform. The 16oz Predator model felt lighter (more like 14oz) than the 16oz Viper model. Who knows maybe it's just the way they feel that's throwing off my mind. I didn't weigh them.
I won't blast their company secrets but the marketing person sent me cross-section images of the padding inside their gloves showing how they customized the padding to make it more supportive. At the time, these adjustments were only made on the Predator model (I think). Basically, they had special extra padding in front of the finger-joint knuckles at a specific angle to give your impacting knuckles extra support. Only problem was I didn't like it. It felt like my punches weren't hitting square-on and that I was punching with brass knuckles on. This extra knuckle padding also kind of bent my hand a tiny bit during impact, impacting more of my middle knuckles than the other joint knuckles and creating some discomfort. With that said, I almost didn't notice these things when I was in the heat of my training session. It's only when I compare side-by-side with other brands and paying close attention to every sensation that I could perceive this difference.
For sure, I prefer the way the Viper gloves impacted on my knuckles despite its definite inferiority. With that said, both models still impact more towards the middle knuckles than the top knuckles. It's a small difference most of you won't notice because of the abundant knuckle padding. I think this happens because the gloves are so back heavy…they use tons of dense padding on the back for support and then only soft padding on the front for comfort. Then when you curl your hand into a fist, the entire back of the glove is bent over the knuckle padding causing it to shift down. Try a Mexican glove and you'll see they all hit more square-on than Pakistan gloves.
Sting are still fun gloves to use (comfy, lightweight, functional) and stylish but definitely not my top pick for the $150-200 range.
I have no doubt that their newer models will probably improve quickly as they seemed to take all my feedback very seriously.
Sting also has a custom gear option where you can choose whatever colors you want for all their gear (gloves, headgear, groin protector, mitts). You can do it from their website.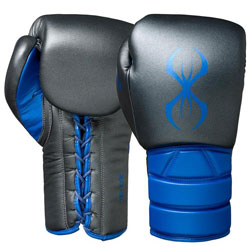 Sting Predator Training Glove 16oz ($199) – The leather on the more expensive PREDATOR model felt like it was supposed to be a better material, but it also felt more engineered and artificial. It's still a nice feeling. The gloves feel very light for 16oz. I don't know if that's good or bad. These were meant for the heavy bag and they feel just fine. If you're in love with the way they feel inside on your hands, why not? (Laces or velcro available.)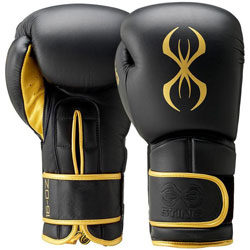 Sting Viper Sparring Glove 16oz ($199) – the new and improved viper sparring glove is awesome! Actually has much softer cushion that you can actually spar with! Feels nice and I love love love the clean styling. Mine was the white gloves with the gold spider/trim. (My Youtube review.)
The original Viper models had inferior leather and overall feel (compared to the Predator model). Since then, they've improved the glove and now justified selling it as the same price of the Predator model. (Laces or velcro available.)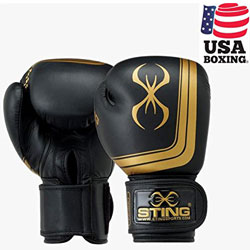 Sting Orion Premium Boxing Competition Gloves 12oz/16oz ($99) – their official boxing competition model. I assume these are functional but way less frills. You probably don't even need these as your place of competition should already provide some. I'm also guessing they're cheaper since they aren't made for extended daily training.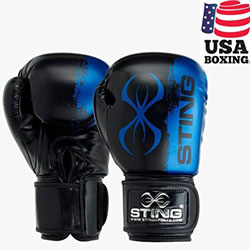 Sting Vulcan Sparring and Bag Gloves 16oz ($89) – do I really have to tell you this is their much cheaper/crappier model? It's not even real leather, btw. Please do not spar in these. It pisses me off to see that plastic label. I lose respect for brands when they promote this stuff as "sparring gloves".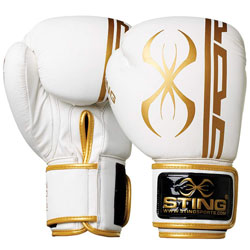 Sting Armaplus Training/Sparring Boxing Gloves 16oz ($59) – oh c'mon. This is their crappy fitness model. Not for real boxing training and definitely NOT for sparring.
B – LOW-end premium brands (mostly mass-produced with pro/custom options)
Man, I'm so sorry you guys had to wade through all that crap. I was afraid if I didn't cover them, I'd get 100 questions asking about the same brands over and over…I know from experience. Now we can get to the fun stuff!
It's hard to make a quality boxing glove,
if you don't make it yourself.
I consider many of these companies to be premium brands. They sell high quality boxing gloves and they manufacture it themselves. That's the easiest way to have quality control, right? Now their boxing gloves are priced higher but the awesome thing is they're totally worth it and they don't even cost THAT MUCH higher. If you started boxing over 10 years ago like I did, you might find going from $50 to $150 is a lot. But if you started boxing today, going from $90 to $150 is not that big of a jump. Besides, you don't really have a choice if you're a serious boxer. These will be the lowest grade of boxing gloves that I would ever use for real training.
It's incredible that so many people still haven't heard of these brands. There's no reason why Hayabusa's cheap china clones should be so popular when many other brands produce superior boxing gloves for less. I'm guessing MMA fighters don't punch all that much to notice or care about the difference but then again, the same could be said about some boxers as well. Either way, you'll need better gloves if you're punching hard every day.
Hopefully with my guide, you'll no longer be one of those people confused between a $150 quality glove and a $150 clone glove. Some of these brands offer cheaper models for the masses and high-end models for the pros and serious amateurs. Ignore the cheap models and also ignore brand reviews aimed at the cheap models.
NOTE: don't be fooled by good reviews and bad reviews! A boxing brand might get some bad reviews from pure boxers, while a cheap MMA brand will get raving reviews from newbies and martial arts "enthusiasts" who don't know any better. Boxers train harder on their punches than anybody else. We're doing non-stop punching for hours everyday. No kicks, no grappling. Just a ton of bag work, mitt work, and sparring. Boxers will always be the toughest critics for boxing gloves.
Cleto Reyes – "The Puncher's gloves" from Mexico  ($140-180; avg $160)
Ahhhh yes, the legendary Cleto Reyes! If you know ANYTHING about Mexican gloves, you'll know that Reyes gloves are famously known in the boxing world as "puncher's gloves". They are officially the #1 choice of gloves for fighters who want to punch with maximum power in the ring. I feel like just about every professional fighter would prefer these gloves for their pro fights unless they have hand problems (their hands hurt when they punch) or because Reyes gloves doesn't fit their hands (Reyes gloves are compact/narrow).
You'll even hear of negotiation problems in professional boxing because of fighters not wanting their opponents to wear Reyes (due to a perceived advantage in punching power). This is a common tactic among established champions to prevent more powerful opponents from doing as much damage. Or you'll also hear of fighters losing a fight and blaming their loss on not being able to wear Reyes gloves. Can a glove really make that much difference? Even if not, a lot of boxing is mental/psychological.
The Reyes gloves' great reputation, aside from its high quality, is actually due to simple design principles—the gloves are designed with less padding in the knuckled area and shaped to have a smaller fist. This allows the glove to punch harder and also squeeze past an opponent's defense easier. Of course, the "secret" behind Reyes gloves is more than just distributed surface area. It's ironic when you hear that the inventor, Cleto Reyes, quit boxing after an amateur fight because of the damage he took despite winning in great fashion.
Reyes gloves have definitely contributed to the stereotype of Mexican gloves and Mexican boxing. Many people assumes all Mexican boxers are aggressive sluggers and therefore all Mexican-style boxing gloves are made for an aggressive fighting style with minimal-cushioning and sleek compact design. Well, I think it's true for the most part. All other Mexican boxing glove brands are immediately compared to Reyes as the standard. You might hear someone say "Zepol is like Reyes but narrower." Or "Seyer is like Reyes but stiffer." Or "JC Pacheco is very close to Reyes."
So with all the hype and prestige around Reyes, why is this glove in the "low-end premium" category instead of the "high-end premium"? My biggest complaint is that they're not adequate for most fighters. When it comes to training and sparring, what you need is more hand protection, not less. For a professional fight, it's great, but for training, you need more cushion. And most of you are not professional boxers. You might see a puncher like Manny Pacquiao swear by his beloved Reyes gloves in a pro fight. But in training? He's wearing Winning gloves, like many other pros. I can't think of any pro fighter who actually trains in Reyes gloves. I think Reyes is more common in training in Mexico, but even there they also use Winning.
The other thing that makes me hesitant to recommend Reyes is that they're not made of the same quality that they used to be. As with many brands from the old times, everyone complains that "they don't make'em like they used to!" Back then, it felt like a Reyes glove could be 10-years old and still be functional. Now, it seems like they get "old" after only a few years. They break down and fall apart faster. Nonetheless, Reyes is still a great name backed by a very good glove. They're just starting to feel a bit more mass-produced rather than truly handmade. Still top quality and long-lasting but I suspect many people train in them for that authentic Mexican look and not the padding.
When I think of BOXING, I think of Everlast.
When I think of PRO BOXING, I think of Reyes.

Additional thoughts about Reyes:
They're made high quality and the #1 most recognized Mexican glove brand. Popular and beloved gloves but not often used in training (at least in the US), I rarely see it. I hear even most of the pros in Mexico are training in Winning instead of Reyes.
Known for having the best handcraft work of all the Mexican brands. Their gloves look authentic and old school yet modern at the same time while other Mexican brands look crude, and more outdated (although still appealing). Reyes are notorious for coming in heavy. A "14oz" glove might weigh 16oz.
Newer models are said to be softer and easier to bend at the wrist (possibly less wrist support?).
I've also heard people saying the Mexican models are different and higher quality than the US models. Like you might be getting a different quality Reyes glove ordering from a US website as opposed to a Mexican website. Reyes models bought in the US from the Ringside website are sometimes referred to as "Ringside Reyes".
Some people complain about the thumb design of Reyes being uncomfortable. Might be good to try a pair in person before you purchase it online.
Beautiful story about Reyes gloves – by Washington Post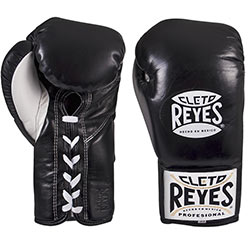 Cleto Reyes Professional Boxing Gloves ($160) – THE classic Reyes fighting gloves, the preferred choice of most pro fighters. Filled with horsehair and has an approximate lifespan of only 30 rounds. The horsehair feels soft enough to pass the pre-fight inspection and then quickly packs into the deadliest weapon you can wear on your hands. This model has probably stalled fight negotiations more than any other glove in boxing history. It only comes in 8oz or 10oz so it's not intended for regular training.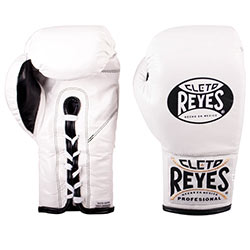 Cleto Reyes Official Safetec Boxing Gloves ($153) – this model mimics the pro fight model (similar size and padding density) but filled with Safetec foam which can last up to 200 times more than the fighting model. It's intended for mimicking your actual fighting gloves in training. PURCHASE LINK: 8oz-10oz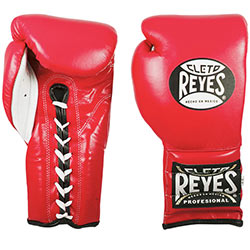 Cleto Reyes Professional Boxing Training Gloves ($160) – this is a training model. It's nicely padded, high quality, and I love the classic look. THIS is what a real boxing glove looks like. Get laces if you want to look like a real boxer. Velcro is for newbies; more convenient, laces are the way to go. The hardcore guys who spend 5-6 hours a day in the gym aren't going to worry about the 5 minutes it takes to tie the laces. Laces give more support and look better IMO.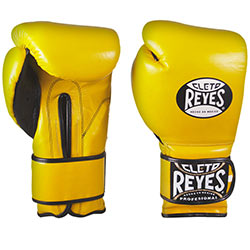 Cleto Reyes Training Gloves with VELCRO ($160) – traditional design but with velcro. I think it's a cool idea but loses the soul and authentic-ness of Mexican gloves. I think this model is a recent creation in the past 10 years to cater to the "less hardcore" fighters. Here's a nice review. I've heard people say velcro Reyes has poor wrist support (wrists have a lot of mobility), but do keep in mind that is probably relative to LACED gloves.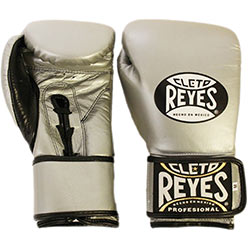 Cleto Reyes Hybrid Training Gloves ($160) – hybrid – a newer model that has laces AND velcro strap. Best of both worlds in theory but I secretly feel it's gonna have the hassle of both laces AND velcro. I'm not sure where they were going with this. First off, the sizing isn't done in oz's but in regular clothing sizes like XS/S/M/L. Second, I noticed the shape and size of the glove is much smaller. I wonder if it's meant for only bagwork or the MMA/Muay Thai market. I'm guessing the gloves are much lighter, probably less padding and less protection overall.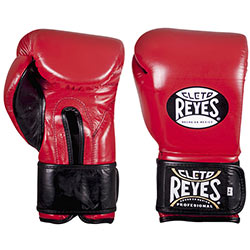 Cleto Reyes Training Gloves with EXTRA PADDING ($165) – now this is a good idea. It's their regular training glove but re-designed with more padding. Perfect for those who want to train in Reyes quality but want extra protection and less damage done to sparring partners. This ought to be their sparring model. I've heard some reviews out say it feels top-heavy and not very weight-balanced because of the extra padding.
Everlast MX – "the Mexican Everlast" ($150-180; avg $165)
Everlast again?! What are they doing here? As I've already previously mentioned, Everlast became the joke of the boxing community and was no longer respected. And I'm guessing they started noticing their own decline in brand reputation and felt that it hurt their business. With all the pro fighters choosing to train in the Winning gloves and fight in Reyes gloves, that left Everlast without any credible brand ambassadors. They probably figured the best thing to do for raising brand awareness and brand reputation was to make a better glove that real fighters would actually use. That lead them to the the Everlast MX model. This model is their lone saving grace and the ONLY reason why you should ever buy an Everlast boxing glove.
What makes them different? Well, for one (taking a page from Grant's strategy), they are made in Mexico instead of wherever their other gloves are made (China, Pakistan). Manufactured for much higher quality and actually used by pro fighters. For those who don't know, the Everlast MX Pro Fight model is a common alternative to Reyes gloves for professional fighters. It's filled with a blend of foam and horsehair and known for also being a great puncher's glove. In fight negotiations where Reyes gloves were not allowed, some fighters tried to sneak by with the Everlast MX Pro Fight gloves.
Some advantages to the Everlast MX line is that they're a combination of old-school Mexican quality but with a more modern shape. Some people who like Mexican boxing style glove but complained about their thumb design or the shape of the gloves may be appeased with the Everlast MX gloves. I do see some pro fighters not only fighting in Everlast MX gloves but also training in Everlast MX gloves (using the thicker-padded training models). The MX gloves are indeed much higher quality and probably the only thing keeping Everlast's brand reputation from running down the drain.
It's too bad the Everlast MX training gloves are still not as padded and do not protect your hands as well as the other brands. They do a relatively OK job, but they are not the best. I hear many fighters wouldn't throw 100% power at the heavy bag with these gloves on, and also that they are too hard to spar with. Do note that the Everlast MX Pro Fight model is the only model that's foam & horsehair. The training models are fully cushioned with foam. I do wish the quality was still higher because I keep hearing reports about loose threads on new gloves. I want to give Everlast the benefit of the doubt but I can't. The other thing is that I wonder how many fighters are using Everlast in training simply because they're being paid to do so.
Many people who like these gloves probably do so because of their looks, quality and comfort, and are willing to overlook the OK-but-not-great padding. For the price you pay, I would say Reyes is still the better deal and better glove but the Everlast MX is definitely not a Mexican clone and deserves to be considered as a unique glove.
Additional thoughts on Everlast: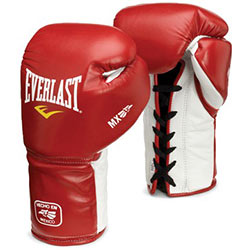 Everlast MX Training Boxing Gloves ($179) – this is a BEAUTIFUL GLOVE high quality glove! Very sexy. It has the authentic old school boxing design, hall marks of the Mexican glove design (in the textured leather), and also a kind of modernized look. It's very tasteful and the design speaks to the quality of the leather as you can see that they don't try to put crazy patterns or colors so that you can actually appreciate the quality of the leather. Very authentic, classy, and smells great. I've heard these are said to be somewhat similar to Grant in shape and feel. Very comfortable but unfortunately still not very good protection, and not the best construction quality (relatively speaking). I agree with this Youtube video review. See it up close.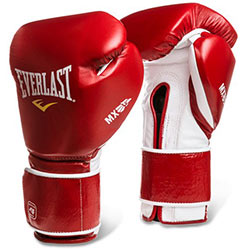 Everlast MX Hook & Loop Training Gloves ($179) – here's the no-fun version of the MX training glove in velcro. Laces looks better and has better wrist support.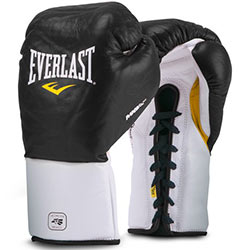 Everlast MX Professional Fight Boxing Gloves ($150) – the alternative "puncher's glove" for professional fighting! Fighters who can't use Reyes (because of negotiation problems) and don't want Grant, will probably choose this model for it's high power-transferring abilities. It's only available in 8oz or 10oz, and has horsehair in it so you can't train in this.
Rival – "the Canadian Techie" ($50-160; avg $120)
Rival looked like a cool crazy brand when I first heard of them. Back in 2004 when I started boxing, the boxing gloves you saw in the gym were mostly something like….cheap $40 gloves from TitleBoxing, Everlast junk, unknown kickboxing company gloves, or mid-level $85 Ringside, or high-end Grant, or Reyes ($150) or ultra-premium Winning ($250). Pretty much all the brands you saw in the gym were either American or Mexican and they looked the part—simple, no-nonsense design, tough-looking gloves. Rival boxing gloves at the time cost around $80 but they didn't look like anything we were familiar with (too fancy-looking) and so we didn't know whether they were dressed-up overpriced junk or the real goods.
The other problem was that Rival wasn't readily found in boxing stores. I believe only TitleBoxing (the online store) sold Rival at the time. There were only a few Rival models available and they were sandwiched in between all the other familiar big names. $80 being a lot for a glove at the time, nobody took the risk buying it online unless it was a proven winner like Ringside. Fighters care about a glove's reputation.
So imagine that you were used to seeing a traditional-looking classic American or Mexican boxing glove, and one day, in steps this crazy looking glove with diagonal lines and colors going everywhere. Rival SEEMED like it was a wannabe cool brand. And so nobody bought it because it looked like it was trying too hard to be premium. And sure enough, the only guys who DID buy it were the beginners. To be a beginner kid boxer walking in with an $80 glove made you look like you were just some rich kid trying to be cool.
And so years passed while nobody had ever tried a Rival boxing glove. It was STILL that one glove company you saw online at TitleBoxing.com but never bought. Some people bought Rival boxing shoes, some people bought Rival focus mitts, but nobody dared to buy Rival boxing gloves. For whatever reason, it was still too much of a social risk. Besides, American brands were still good enough at the time and so nobody had the desire to venture away from their favorite brands.
In 2010, I lived in Canada for about 3 months, step into a boxing gym there and I see Rival gloves EVERYWHERE. I finally realized, "OHHHHHHH….they're a Canadian company!" I already knew that but to see it in person, you truly understand it. I also saw other brands there for the first time too, like TOP TEN. So how did it go? Oh man, I loved Rival gear. Their headgear became one of my favorites of all time. So ergonomic and form-fitting to my head (whereas other headgear felt like either wearing a box on my head or suffocating my face with pillows). I didn't know I could spar that comfortably and I swear their headgear alone probably improved my fighting ability by 10% in the ring.
Their gloves were really comfortable and really high quality. You feel like the gloves were made to fit a human hand, not a robot hand—the gloves conformed to the shape of your hand bending perfectly with your fist (whereas other brands felt like a stiff pillow duct-taped to your hands). And they feel great to punch in; no hand pain!
When I came back to the US, Rival seemed to have fallen in favor perfectly with the trends at the time. The American brands were getting worse and worse, MMA brands were getting people used to seeing aggressively-designed gloves, and people were willing to pay more for boxing gloves now. I think what helped push people over the fence to try Rival was their adoption of the new "d3o Intelli-Shock technology", a new cushioning technology that supposedly protected your hands (gloves) and head (headgear) better than traditional cushioning. Whether or not the new cushioning actually worked didn't matter, it was that customers could see an ACTUALLY NEW FEATURE in boxing gear that previously didn't exist. For the average consumer who was sick of seeing the same Pakistan clones, to see a new feature was incredibly refreshing.
I was telling people how much I loved their products but it didn't matter anyway. You were starting to see more Rival stuff in the states and growing respect for the brand. With many notable pros were using Rival in sparring and even fights, their aggressive designs were no longer seen as being "too much". Rival became a cool alternative brand that was known for being high quality, very comfortable, innovative and definitely worth trying if you didn't like your existing old-school brands. I'm really glad that they're growing in popularity because they deserve it. They've actually created new products and new technology for boxing and they actually MAKE THEIR OWN BOXING GLOVE! Which is more than I can say for 99% of the other companies out there. What we need is more innovation, not imitation.
Additional thoughts about Rival:
I love that their boxing gloves are separated between "bag gloves" and "sparring gloves". I don't like when boxing companies promote all-purpose "training gloves" meant for both hitting the bag and sparring. Either a glove has dense-foam that's meant for bagwork, or soft foam for hitting a sparring opponent. There is no shouldn't be any in-between.
Rival is really innovative, creating many new boxing equipment designs and technologies for better padding and support. Their trademarked 15-degree cuff design is a big part of what makes the glove feel so form-fitting to your hand (keep in mind, not EVERYONE likes it). The special d3o padding in their gloves and headgear is what helps absorb the shock.
Rival is the absolute most comfortable, most ergonomically-designed brand. Also the easiest to make a fist, IMO. Other gloves can feel just as good but may require a longer break-in time.
Rival gloves can run small or lighter. For example, if you want a true 16oz glove, you might have to order 18oz or "L" or even "XL".
Their high-end models made with "microfiber" are supposedly more durable than leather, although requiring more break-in time. But then again, many people say the gloves felt comfortable right away. I still prefer leather over non-leather and can't argue with those who feel Rival is cheating us out of leather. From what I've seen, Rival is as long-lasting as any other quality brand. Many people have attested that despite preferring leather, Rival's outer-layer durability has been perfect. I've yet to hear of Rival boxing gloves tearing quickly. Many have been willing to pay extra for real leather but I'm guessing Rival simply can't do it because their manufacturing is in China, and the leather industry is in Pakistan. I figure it's cheaper for them to produce high quality synthetic leather than to import high quality leather.
Interestingly enough, their boxing gloves are made in China. I'll just have to presume that China CAN produce quality goods as long as the quality is specified and overseen. The iPhone is made in China and that's a premium product right there. Rival is considered to be on par with the quality of Reyes, and perhaps even a little better. I also feel being made in China somewhat protects them from having their designs copied by the other brands (who are made in Pakistan).
They have a junk/clone line as well. Ignore the lower-end models. Be wary of anything that doesn't have their 15-degree cuff design or isn't real leather.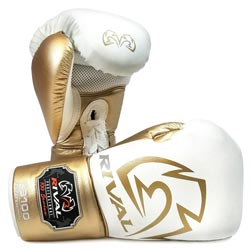 Rival RS100 Professional Sparring Gloves ($179) – a beautiful new model intended to supersede it's predecessor the RS1 pro sparring gloves, which I've heard were out for over 10 years. If it's anything like the former model, it will be nothing less than amazing. It looks absolutely amazing, comes in 4 sexy color variations. High quality, great comfort, great padding. Again, this isn't real leather but supposedly a high-grade synthetic material that's supposed to outlast real leather (hmmmm). The only thing keeping me from putting them in my top 5 is that I haven't tried it myself yet.

Rival RB10 Intelli-Shock Bag Gloves ($159) – this glove right here is what makes Rival such a high-tech company in boxing. If Winning was a Ferrari, this thing is a very solid Audi. Sexy, streamlined, performs like a beast. Looks and feels great. Super comfortable, high quality, and great support. It uses their own specially-patented d3o padding. Everyone that has this glove falls in love with it and swear it's the best thing ever (aside from Winning, of course). Do note that their bag gloves are sized by dimensions S/M/L instead of weight 12oz/14oz/16oz. I hear their heaviest XL size only weighs about 13oz. I would look at the sizing chart and then pick whichever size you want. Click on the link to see all the sexy pictures. It's actually non-leather and uses mesh, but still very durable. Definitely NOT for sparring. NOTE: the newer version that came out in 2017 says "WristLock2" on the wrist, whereas the old version (pictured above) says "ErgoStrap System".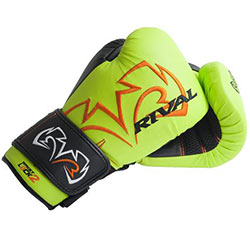 Rival RB11 Evolution Bag Gloves ($109) – not their top bag model but still a VERY good bag glove. Very high quality, super comfortable, with excellent support. Many fighters swear this is their favorite glove as well. They love the way it looks as well as the way it feels when they hit the bag. You feel powerful, nice solid pop. Beware, I've heard of some people loving everything about the glove except for the thumb not having a lot of room. This thumb design seems to be an issue with the Evolution Sparring glove model as well.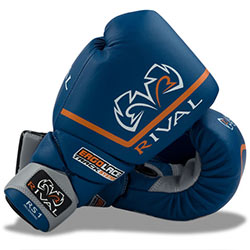 Rival RS1 Pro Sparring Gloves ($139) – advertised as "THE STANDARD IN SPARRING GLOVES" and I'd have to agree. Back when I only saw Rival online but never in person, it was this model that stood out with the distinct "X" lace-tracks on the wrist. The photo makes it looks some what like a toy or CGI, kind of plastic-ey and fake. But that perception changed when I saw it in real life. It's a beautiful glove and the very first pair of Rival I ever put on. The funny thing is it was an old really beat up one, but you could tell it was a great glove by how well it was still holding together. It look like it had the life beaten out of it and yet was still intact and protective. I was visiting a gym in Canada so I put these on and MY OH MY, they are COMFORTABLE! Like wow, mannnnn….it was like slipping your hands into a Lamborghini backseat. If I had my eyes closed, I would have thought they were custom-made gloves just for me. And even though this model was completely worn out, I used it for everything. Sparring AND hitting the heavy bag 100% with it. (Even people who don't like Rival still admit the padding is amazing.) It felt amazing and converted me into a Rival fan for life. I'll never overlook an over-designed glove again. The Rival hype is real! (NOTE: for those wondering if the cuff is too small to offer blocking support, I can tell you that I was worried about the same and didn't even notice.)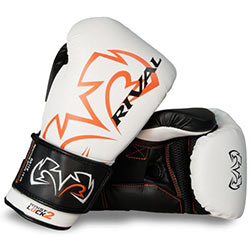 Rival RS11V Evolution Sparring Gloves ($129) – the sparring version of the Evolution series, with extra thick foam so you don't hurt your sparring partners. Again, while this glove isn't their top sparring model, it is STILL a very high quality glove. Those who have it claim it could have easily sold for twice as much. The materials and design is perfect, it feels great and performs well. Their are some slight drawbacks that may or may not matter to you. There are reports that the glove is relatively compact, a 16oz model might weigh in at 14oz, it's definitely smaller. The second is that it can still transfer a lot of power, so you CAN use this as an all-around glove and even hit the bag with it…but for sparring, you'll want a bigger/softer model for your opponent's sake. Another thing some people complain about is the inside lining being abrasive whereas some others didn't notice. And lastly, the glove is considered small (with the smaller thumb issue as well) and snug-fitting so you might care if your hands are bigger. With that said, some reviewers would have given this a 10 out of 10 score if Winning didn't exist. That's still a perfect score if you ask me.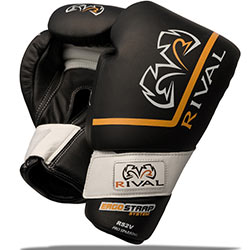 Rival RSV2 Pro Sparring Gloves ($119) – everyone that has them says, "THEY'RE AMAZING! AWESOME! I LOVE THEM!" Super comfortable, great fit. They love the ergonomic wrist support. People love the real leather and the way it looks. Feel amazing on the hands. Very flexible and super easy to make a fist. Very durable and long-lasting. Some people say they can feel the different in the padding quality simply by blocking punches. I have heard some complaints that the small double-straps can be a pain to take off and you might still need another person to help you. There's truth to it but I personally didn't mind…then again, I'm the guy who prefers laces over velcro. I think if you want real wrist support, an extra 5 seconds of hassle shouldn't be a big deal. I much prefer a super high-tech ergonomic wrist strap to a cheap clone glove strap.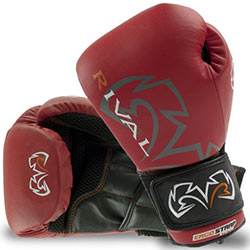 Rival RSV10V Optima Sparring Gloves ($109) – this is three or four spots away from their top model and STILL, there are positive reviews comparing the build quality to a sports car. A testament to Rival's quality. While the glove has been praised for great padding and wrist support, some people complained the velcro didn't last as long.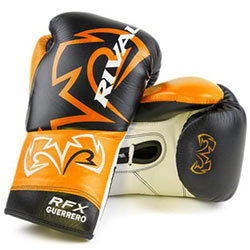 Rival RFX Guerrero Pro Fight Gloves ($199) – their pro fight glove made with horsehair, available in 8oz or 10oz. They're commonly used by professional boxers in Canada, as well as some Americans who are sponsored by Rival. They're sold as "puncher's gloves" but I wouldn't have any experience to validate or rebut that claim.
Necalli (formerly Casanova) – "the forgotten Mexican" ($150-175; avg $160)
Casanova boxing gloves were completely out of my awareness until about 3 years ago when a company representative reached out to me with a free pair of gloves for review. I really wasn't in the mood after having received tons of mediocre gear from different companies all using the same Pakistan clones. I couldn't have cared any less about ANOTHER new fight gear company claiming to have invented an awesome new boxing glove.
Except only, Casanova boxing gloves weren't new. There was nothing innovative or high-tech about them. No new features promised and no wild claims about them being better than all other gloves. Their gloves were simply made old school style with old school quality. And they weren't an American company that just started business. Needless to say, she had my complete attention. Hahaha, I had never been so excited about a product that was so not re-invented.
When the gloves arrived in the mail, I tore open the package and noticed a strong leather smell immediately. They looked so beautifully ugly. The shape was boxy and very non-ergonomic-looking, like a glove from the medieval times had time-travelled to present day. The leather was nice and textured with wrinkles and aesthetic imperfections. (Many of the cheaper gloves will use a thinner leather so that it wraps smoothly around the glove.) Sticking my bare hand inside the glove felt like I was wearing a shoebox over my hands. The padding felt supportive although a little lumpy. The logo instead of being a colorful plastic tag, was a simple monochrome text printed on a piece of fabric— which actually looks more high quality to me. Everything about the glove felt old school. And now it was time to try it.
From the very first punch I threw at the heavy bag, I knew I had a winner. My hands had never felt so good hitting the heavy bag. My hands aren't as indestructible as they used to be and it had been a while since I could throw punches with full force at the heavy bag. A pair of 16oz Casanova gloves felt better than EVERY other glove out there (including even 18oz or 20oz gloves in other brands). In case you're wondering, I would say Winning is still better padded but Casanova is also very nice! At the time, Winning and Casanova were the only glove brands I could punch with maximum power without feeling hand pain or soreness.
I loved these gloves so much. Honestly, I think their secret is in the shape of the glove. Sure, the gloves are made with quality materials and put together properly but I think a lot of it has do with the shape. Given all things equal (quality of materials, type of padding used), the shape alone can determine how your hand will be supported when your punch lands. The shape alone determines what shape your hand will be in at the moment of impact. A better constructed glove will impact your knuckles in and wrist in a better way. I think older gloves were designed more for the way they felt and newer gloves were designed more for looking pretty (especially the cheaper models).
Now, are you ready for the next most impressive feature about Casanova boxing gloves? They are were only $140. THIS IS A STEAL! They only have one model, and depending on what features or colors you want, they range anywhere from $125-150. But that's it, ONE MODEL. And that's how a quality boxing glove company should be—one model only, not different models targeted at different customer segments. For the cost of $140, Casanova pretty much beats almost every other boxing glove out there from $200 and down.
Some of you may have caught on to the realization that Mexico is where quality boxing gloves are made, and are wondering how Casanova holds up against other Mexican boxing brands. I have not tried them all but I do hear that many of them are still made with the same great old school quality, rugged and long-lasting. Of the famous ones, I would say Reyes got big, started to become mass-produced, and dropped in quality compared to the other Mexican brands.
The rep explained that Casanova gloves used to be very popular back in the day and was used by many famous world champions. Their reputation fell as a combination of the original owner, great trainer Arturo "Curo" Hernandez passing away and their gloves being banned from professional fights in the US (for not having attached thumbs). The thumbs are not usually attached in Mexico, and they aren't concerned about unattached thumbs potentially poking out an opponent's eyes; but this has since been rectified. A former worker (and his family who took over the business) did a great job to maintain the same production quality of the gloves but was not well-versed in modern-day marketing methods. Despite the lack of an online presence and with many new brands showing up in the market, Casanova continues to sell worldwide among many fighters and is still well-known in Mexico. They are still a small company today but with a few design improvements and now a website presence, they hope to regain the popularity they once had.
Additional thoughts on Casanova:
Casanova gloves have a wide pocket and are a good option for those who like Reyes but want a little more room for their hands. Excellent wrist support. Probably my favorite thing about them!
Casanova gloves do have a stiff feeling when you first put them on but will break in and feel comfortable rather within a week or two of regular training. Rest assured, their quality is high; I think they've even gone up since I've reviewed as the newer models seem to have better stitching. Great leather, great latex foam padding, and well constructed in a small factory run by one family.
I personally think they fell out of popularity because of the ban for unattached thumb, low padding in the professional fight glove model, old school boxy shape, poor marketing and with so many new brands showing up in the market with flashier designs.
I will be releasing my in-depth review on these gloves soon!
Old story on Casanova being banned for being too thin – BoxingScene.com
Beware of the FRAUDS running under the name "Casanova Sports" (www.casanovasports.com), these are not real Casanova gloves! They are made in Pakistan and NOT Mexico! There's a lawsuit out against them because these jerks went out and tried to trademark the Casanova logo. They've released some poorly-made gloves with a similar looking logo and pissing off many customers on Amazon. Beware!

Necalli ORIGINAL Sparring/Training Boxing Gloves ($160) – they've got one model for sparring/training and that's it. Super high quality, well-made. Want to know all the special features? Here you go: "Hand made top grain cow leather,  latex foam, attached thumbs, lace-up, wide pocket, extra forearm coverage, superb wrist support and protection. Made in Mexico with Mexican leather." THAT'S IT! No "space-engineered microfiber leather" and "Megatron 2.4 V-tech breathable mesh" and other marketing gimmicks. It's MADE IN MEXICO…enough said!
It's a great glove, trust me and buy it. It's ugly as hell and honestly, that makes it even more beautiful to me. Some nostalgia is awakened when you put on a pair of Casanova's. Feels like you're putting your hand inside a piece of history. How on earth does it offer the amazing wrist support that it does? The representative explained it's a combination of the padding and the way the glove is constructed. From hitting the bag, I honestly have no idea what it is. The glove simply absorbs the shock amazingly well. Something is securing my hand and giving me a solid punch while offering full support.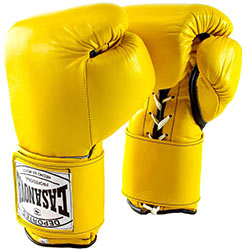 Necalli Sparring/Training Hybrid Boxing Gloves ($160) – this is the "hybrid" version featuring laces AND a velcro strap. It's a recent addition they added within the past 5 years or so, I think. Previously…all they had was just that one all-purpose model.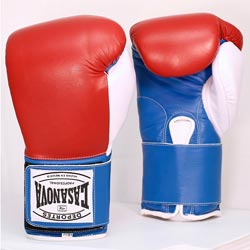 Necalli Sparring/Training Hook & Loop Velcro Gloves ($160) – they've finally succumbed and made a velcro version. This is a new model and recent addition for the brand.
GIL (formerly Zepol) – "the sexy Mexican" ($150-170; avg $150)
Zepol is one of the major boxing equipment brands in Mexico (I'm guessing) for at least a while. I didn't hear of them about them until maybe 2015 and didn't get to try them until late 2018. They're known for their small/narrow fist shape (even narrower than Cleto Reyes), sexy sleek design, nice leather, ribbon laces (very distinct), comfort, and high quality craftsmanship. Up until I tried them for myself, Zepol seemed like a smaller craft brand that was beloved by the fighters that owned them but seldom-seen by anybody else.
There was also the confusion about WHO was behind Zepol. The best Zepol gloves were made by its original maker, whom the internet likes to refer to as "Zepol father". The lesser-quality Zepol gloves were made by the son, referred to as "Zepol son". I'm guessing the son decided to to open up his own shop elsewhere to bank off the family name, but never fully learned how to make them exactly like his father. There were even internet articles and forum posts to help detect between gloves made by Zepol father vs gloves made by Zepol son. But all that came to a stop when Zepol father (the original Zepol) passed away in May 2017. As you can expect, many people were worried about losing Zepol father's quality touch forever…but never to fear…there is now "Zepol STEPSON" to the rescue!
For those not in the know, Zepol stepson, is a man with the family surname "Gil" that used to work for Zepol father and continues to create gloves in the same manner as Zepol father. He has since started his own brand "GIL" and for that reason I cover the GIL brand and no longer the old "Zepol" brand. I'm not sure if the old Zepol brand is still operating and being carried on by Zepol son.
I have to say that I fell in love with the GIL gloves right away when I first opened the shipping box. Their online pictures don't do them any justice whatsoever. They are VERY SEXY! And like a RETRO-SEXY, mind you. They don't look modern by any means…more like MID-CENTURY MODERN, hahah. They still look like they were made 50 years ago, old school boxey/squarish shape, like they came from the same era as all the old school Mexican gloves…but you could tell in terms of design, their original maker was way ahead of his time and modernized the look of his glove. In the decades when everyone was making ugly box gloves, he created a very sleek sexy box that was beautiful to look at and very comfortable. The corners are stylishly rounded and every little detail and corner of the glove was neatly tucked into place. The handwork is top-notch.
The leather is undoubtedly Mexican; strong with rich texture. GIL leather has a cleaner/less-chemical smell than most other Mexican gloves but this might also be because these were stock colors and not custom colors. The stitching is super-perfect and quite beautiful to look at. Compared to the online images of the original Zepol gloves, I actually think the step-son made them in better quality and attention to details than the father did. I don't know what it is but I love the sleekness of the palm-side of the gloves. It's probably because he used slim padding on the wrist area instead of bulging cotton. The ribbon laces are a very stylish (and distinct) touch of Zepol. The rolled piping is also very tightly packed and neatly done; other brands can look uneven.
The padding is indeed stiff like other Mexican brands. I don't know who said Zepol was soft or even "too soft" but I sure as hell didn't feel that way about them. The padding is not only DENSE (especially by Pakistan standards) but also SPRINGY instead of SPONGY. For me, "spongy" is when the padding actually absorbs impact and compresses. Springy is kind of the opposite, it somewhat absorbs impact but mainly it rejects the energy and pushes your fist back out when you punch. I imagine some people might prefer the "springy" feel but I did not. It felt like my fists couldn't impact the bag squarely unless I punched super hard. The gloves are still a lot of fun to use but I'm not sure if it's due to novelty or because I actually like the feel. For sure, I felt they did not offer me enough protection to throw 100%. The padding needed to be a little thicker and a little softer, or at least feel that way. Instead, it felt like the padding was really thin but bounced off a little too early upon impact. If you don't have hand problems like me, you will be just fine with these; many people do love these gloves. I also disagree with the notion that they are soft enough for sparring (which others have claimed about Zepol in the past).
The only thing left to talk about is comfort. The gloves are comfortable from a Mexican standpoint in that your hands can get in there and make a strong supported fist. But yes, the padding is a little stiff. If you care, the inside lining covers everything except your fingertips (which feels the inside of the rough leather; its not a big deal!) but the thing is the lining is thin on the padding and you feel some rough lining texture on the back of your hand through the lining (mostly covered with wraps anyway). It's not a big deal…I still love the old school-ness of it all and didn't mind using them like this.
Additional thoughts about GIL:
Again, these gloves are really sexy and I'm not fooled by my own bias, by the way! I'm fully aware  I love these gloves so much is because of their looks. But still, you will not regret it! Hahahah, you'll love these as soon as you get a pair. They're fine for casual bagwork as long as you're not a fragile-handed power-puncher like me.
This is the first boxing glove I have ever tried with this unique SPRINGY feel. When I tap my fingers on the knuckle area of the padding, it almost sounds and feels like I'm dribbling a basketball…whereas other gloves feel like a typical soft cushion wrapped in leather (like a leather carseat!). It's definitely more of a RUBBER cushion rather than SPONGE cushion.
You can get them customized! Woohoo! I got the classic 2-tone (black on the back side and salmon on the front-side) and that alone was really sexy already. These gloves are so tastefully designed, you don't have to go crazy with the colors for them to pop. I would actually recommend staying with 2-tone (avoiding split-thumb & split-palm) to show off their clean lines and leather texture. The laces are really nice, too. Again…they're already so sleek because of the shape, so you probably don't want to distract from that.
Small and narrow fist shape (even narrower than Reyes), but actually still a big glove and comfortably fit/secure both small and big hands. When I measured them against Casanova gloves, their profile from certain angles were actually bigger!
Very sexy design (some say the best-designed of the Mexican brands although they do have a squarish flat boxy look),
They might have previously been said to be "extremely soft and comfortable (best fit of all the brands)" but I disagree. They're more of a typical stiff feel that you find in Mexican gloves. The thumb pocket is comfortable in like a rigid/secure kind of way rather than soft/cushion kind of way.
Things people have said although I don't agree with all: nice thick leather (softer than Classics and also a distinct real "country" leather smell), and 100% natural latex padding. Good wrist support (despite having more wrist space). Construction quality is said to be a clear step down from Reyes (eh, I'm not sure about that). Has customization options like JC Pacheco but arrives feeling broken in and can be sparred with right away (JC is stiff). Probably better as a sparring glove than bag glove.
Very common for pro boxers in Mexico. The Zepol gloves made by the father are better than the ones made by the son (I don't know how to tell). People favor them over JC (for softness, nice ribbon laces, and quality) and over Reyes (softness, comfort), but Reyes still better overall. The only drawbacks about Zepol via personal preferences would be for feeling too soft and spongey (some prefer a glove with more bounce/feedback), less wrist support than other brands (although cuff is still longer than typical Ringside/Title gloves), inside lining doesn't go all the way up so your fingertips are feeling the leather (rough feeling but not detrimental to comfort), and squarish look. Fighters love their Zepol. I wonder if the name Zepol is the reverse of the common Mexican name "Lopez". Compared to 2001 model Reyes, and another Reyes.
***EDIT 5-5-17: I've come to learn that Zepol (father) has passed away only a week ago. Very unfortunate news. RIP. His son-in-law who makes gloves in a similar manner has started a new company called Professional GIL.
I'm aware that GIL is not ZEPOL. They are 2 different companies. But unfortunately, it seems the Zepol line has discontinued and Gil is readily available as its successor.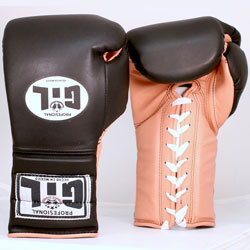 GIL Boxing Training Gloves laces 16oz ($149) – laces model in BLACK/SALMON color. This pair is exactly the one I have and so freaken beautiful. Their vintage photography doesn't do it any justice. They look so much better in person and I'll upload my own photos when I release my detailed GIL gloves review. Like I said before: stiff/springy padding. Good for heavy bag and not for sparring. Boxey shape with a long cuff. They have a box shape but more sleek and streamlined, and while the shape is compact, the gloves can fit any hand size…it's not tight in there. The thumb is stiff/tight but not a a problem by any means. I do feel like this padding will last long. And of course, the leather is very nice/sturdy. Good stitching as well.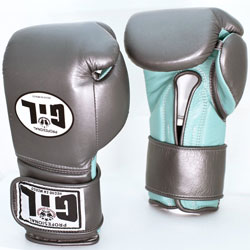 GIL Boxing Training Gloves velcro 16oz ($169) – hahaha, Mexican gloves always got those interesting color combinations. I love it. Here is their sexy "hook & loop" velcro model in GREY/SEAFOAM-GREEN. You're sure to be noticed in every gym; I get looks all the time with my Mexican gloves. You should really check out all their other color combinations as well. What can I say? Mexicans have a colorful culture.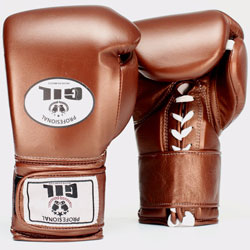 GIL Boxing Training Gloves hybrid 16oz ($164) – and now for the ultimate test in glove aesthetics…will the gloves design be strong enough to be to stand out with only one color. GIL scores another winner being completely eye-catching in solid bronze. What a delicious chocolatey color! I love how Mexican gloves offer hybrid models. It allows you to train alone OR have full support. I would probably try to get this exact model for my next pair of GIL gloves.
The "OTHER Mexicans" – Boxeo, Campeon, Casanova, Classics, JC Pacheco, Morales, Seyer, GIL (formerly Zepol), Palomares  ($50-150; $130)
I think part of what makes Mexican gloves a cult-favorite is because of their old school appeal. It's a bit of nostalgia wearing the same gloves as what the old-timers used to wear, and they also happen to be very high quality and extremely comfortable. You feel like you're wearing a custom artisan glove made by a local craftsman compared to the factory mass-produced gloves made by the big corporations. The Mexican brands are also popular for their boutique "customization" options. It's fun to order different colors and have a completely unique glove from what everybody else is wearing in the gym. Once you get your first custom color combination, you get addicted to ordering more. And hey guess what, the faster you wear out your gloves, the faster you can justify buying a new color combination. What a great way to motivate yourself to train, right?
2018 EDIT: due to the recent trend in Mexican glove customization, many American (Pakistan-made) brands are now offering customization. Rival, Adidas, Sting, and also new Pakistan pop-up companies everywhere offering glove customization.
2 reasons why Mexican boxing gloves are popular today:
1) Old school quality
2) Custom color options
Because Reyes is considered the standard in Mexican boxing gloves and Grant being the standard PREMIUM Mexican-American glove, most people will review other Mexican brands in comparison to Reyes and Grant (NOTE: the comments below are what I seen and heard in forums, not purely my own opinions):
All Mexican boxing gear are made for performance, comfort, and durability. Generally, Mexican leather is better than leather from Pakistan and Thailand, and especially China. Fighters with smaller hands may prefer the fit of Zepol, Seyer, and JC Pacheco. Zepol and Boxeo have the softest leather and natural latex padding, and also made to last. Reyes and JC Pacheco have the best velcro closure straps. You'll love Zepol if you want softer gloves than Grant, but Seyer is better if you like stiffer boxing gloves. Some people like the feel of a wide glove because of the extra space and personal fit to their hand. Others prefer a tighter narrower fit, and don't mind the extra break-in time. You have to try it to see for yourself. I personally thought I would never like a wide boxy looking glove like Casanova but I was wrong. It's so comfortable and feels so good, you learn to like that shape.
Additional thoughts about other Mexican brands:
Comparison chart of the Mexican brands. A little outdated, as more of them offer customization now and quality may have changed.
Many pros in Mexico use Winning because of higher protection and also the status. Trainers and gym owners prefer Zepol, Boxeo, Campeon, Casanova for their durability. I would guess Boxeo/Campeon/Casanova are lower-priced and have a no-nonsense appeal since they aren't very fancy looking and not known for customization options. Reyes is also common in Mexico.
I think there used to be many more Mexican brands from the old days, small local boutique "glove-makers" but they probably disappeared when the original maker passed away. Only a few remained, passing on the tradition and evolved their production process to handle a more globalized boxing market. Different boxing glove brands and their history.
Winning is still unquestionably better than Mexican gloves in terms of protection. Mexican brands (including Grant) all use latex which slowly loses its ability to recover its shape (getting slimmer/denser) when you hit the bag with it, whereas Winning stays soft and lasts longer in general. Winning can actually be SO SOFT that some fighters don't like it because it literally feels like you're punching into a pillow; like there's no impact feedback and you don't feel like you're hitting hard at all. There's also the matter of era. Quality comparison between old vs new: even a 5-year old heavily beat up Reyes glove from 15 years ago would probably hold up better than a 2-year old Reyes glove now.
When it comes to the matter of customized boxing gloves, the Mexican brands are a steal. You normally wouldn't have that option and to be able to get it for $150-200 is amazing considering it's also a top quality glove. While not all Mexican brands do custom work, they may offer uncommon colors or different color combinations that you wouldn't find in typical American/European boxing brands. It's fun to wear those Mexican green or yellow colors when everybody else has the same old red/blue/black. Custom-gear is really addictive; it's hard to go back to wearing soul-less machine-molded gloves that everyone else has. Some brands are known for offering custom work. Others, you have to ask directly to see what they can and can't do (buying in quantity does help). You can ask for different colors, inscriptions, different leathers, padding changes, laces, etc. Some guys use this app to play around with possible color combinations.
Those wanting the closest alternative to a Grant glove shape and quality will go with Seyer (not sure if they offer customization). Those wanting a lot of customization and still a relatively high quality Mexican glove, will go with Zepol and maybe JC Pacheco. Choosing between JC Pacheco vs Zepol will ultimately come down to fit, stiffness, wrist padding, and leather/color availability at the moment. JC Pacheco has stiffer padding overall which could give more knuckle protection and wrist support but needs to be broken in, Zepol has softer padding overall and feels great right away but has a little less wrist support (also feels top heavy because of less wrist padding). Zepol suitable for bagwork but great as a sparring glove, JC great as a bag glove but very unlikely for sparring. Zepol has thinner softer smooth leather (like Winning) whereas JC has thicker rougher textured leather. Both are high quality, it's a matter of what what texture you like. I noticed many fighters try JC first (because they look more modern and less boxy) but then ultimately prefer Zepol for the softness, comfort, and more consistent quality. Zepol has better thumb position.
If you don't care about customization, Boxeo and Campeon are the top favorites for training because of their quality, comfort, and great protection. The brands with the softest foam (good for sparring) and overall construction quality, the order is Boxeo #1, Campeon #2, and Zepol #3…with Zepol being a little denser/harder than the other two, and do keep in mind that there are even people who say Zepol is "too soft" which I disagree with. Boxeo, Campeon, and Reyes padding feels SOFT & SPONGY. Zepol is DENSE & SPONGY. JC Pacheco is just HARD. Grant (older model) is about SEMI-SPONGY, not too hard or soft. SPRINGY has a bouncy feel whereas SPONGY has a compression feel. SPRINGY vs SPONGY will come down to personal preference. If you like using lighter gloves on the heavy bag, Boxeo and Zepol are the top 2 choices in that order. I think Casanova's padding is softer than Zepol but also thinner so it kinda boils down to how hard you punch. If you're sparring at 50%, perhaps Casanova is better. But above that, I'd probably pick Zepol.
Top 3 for wrist support to me are Boxeo, Campeon, and Casanova, in no particular order. If I had to guess, Campeon might be the best since it has the stiffest wrist. I personally have only tried Casanova and it's the best I've tried so far. Then again, some prefer having more wrist flexibility like Zepol.
Mexican boxing gear can vary in quality from moment to moment. Zepol can be higher quality (or less issues) than Boxeo in one moment and then vice versa another moment. Sometimes a company's leather, paint, or padding suppliers are delayed and they opt for inferior materials. Those in the know may be able to tell you, "Don't buy this [brand] right now." or "Don't get that option right now, they're out of their usual supply and the replacement is not as good."
Mexican gloves are traditionally made with laces. Their hook-and-loop models may seem like lower quality in comparison since velcro is a recent addition catering to the less-hardcore consumers. Sometimes their velcro models are not even the same quality glove, but a less serious "play glove". To find a high-quality velcro option for Mexican brands, you should probably stick with HYBRID models that offer both laces and velcro. Some claim hybrid gloves give more support than laces-only models. You can also try lace-converters.
Custom price is determined by the brand, number of colors (extra for special colors), laces vs velcro/hybrid, and if you want screen printing. Somebody paid $150 for JC Pacheco using 3 colors. Shipping around $30. Mexican brands also do custom headgear, groin protectors and anything else you may need. It's common for hardcore fighters to order a 3-piece custom set of gloves, headgear, and groin protector. Looks very cool!
Another advantage of Mexican gloves over other gloves is that their padding and design gives you good punch feedback. This can help improve your punch form since it feels better when you land with your knuckles in the right position, whereas the curve in other gloves can prevent you from landing flat or they produce the same thud and feeling no matter how you land.
Use leather cleaner & conditioner to preserve your boxing gear. Many people say Obenauf heavy duty LP, made for mountain boots, is the best for hardworking leather.
"Las Dos Emes" (the "2 M's), made by the late Manuel Moreno was considered to be the best boxing gloves ever. The makers of Boxeo and Zepol used to work with him. Thoughts about how older Mexican gloves are built, in terms of padding, welted seams, and material. That foam should only be used on the knuckle area vs the wrist area which should be padded with cotton instead of foam (since sweat breaks down the foam).
Great discussion about custom made Mexican boxing gloves (w/PICTURES), also PART 2 – Sherdog forum
To buy Mexican gloves, please search online and/or also contact Juan: mexicombate@gmail.com (he now sells his own brand as well as others).
For some context, you can compare prices in this popular Mexico website: MercadoLibre.com.mx (try searching different brands).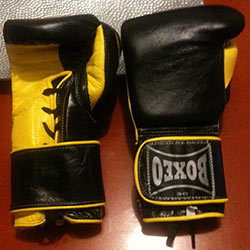 Boxeo boxing gloves – photos: custom work, hybrid model, Mexican colors, Pinterest, next to Campeon & Zepol, and including JC.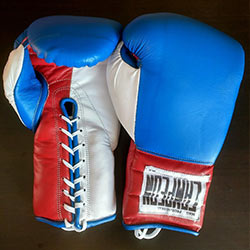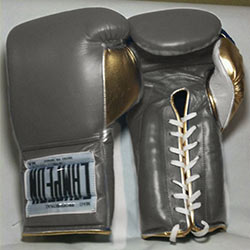 Campeon boxing gloves – photos: all black, more different colors, with Boxeo, JC, and Zepol.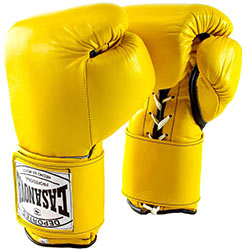 Casanova boxing gloves – shown again for comparison purposes.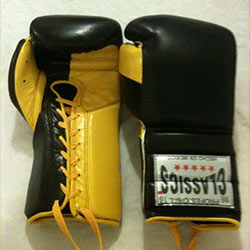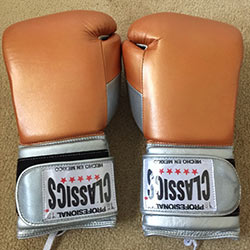 Classics boxing gloves – they look very similar to Zepol's boxy shape but are not the same. Photos: black-cream, pink-blue hybrids, red-white-blue, black-red-green, black-red-gold, Mexican colors, crocodile custom.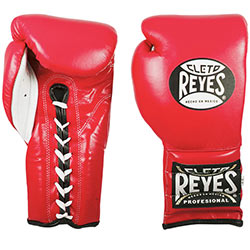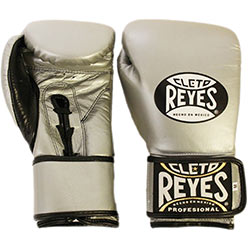 Cleto Reyes – shown again for comparison purposes.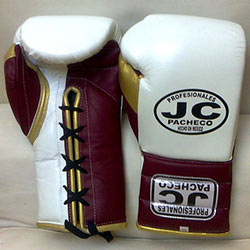 JC Pacheco boxing gloves – really beautiful custom work, right? They have so many nice photos out there, like this, and this (other angles). See their Facebook photos. JC next to Fairtex / Winning / Zepol / Reyes. JC can make nice velcro-only models (where others can only do hybrid).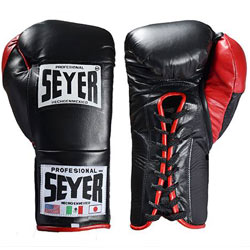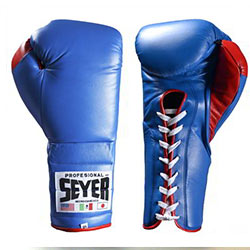 Seyer boxing gloves – some of their newer designs have a distinct thumb design. Many say if you compare the old Seyer model to the old Reyes model, you can tell Reyes copied Seyer. Many say Grant also used to look like Seyer but they look quite different now. Photos: old Seyer vs new Seyer.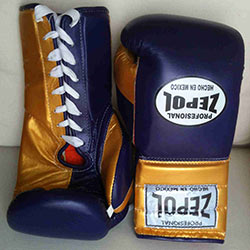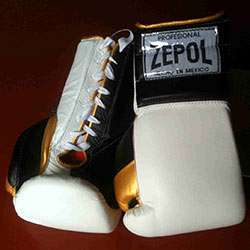 Zepol – they have so many nice photos out there. Please see their photos on Facebook, as well as Google search (different keywords), next to Boxeo & Campeon, with Seyer and JC.
TM Torres Medina – "the underground Mexican" ($125-185; avg $140)
If you've been following my reviews of Mexican gloves above, you'll notice that "Juan" has been the expert (and unofficial distributor) on Mexican boxing gloves. Since having developed trust online through forums and other word-of-mouth means, he's opened up his own brand using his family name "Torres Medina". I was lucky enough to be offered a review pair and I can tell you that just like all the others, I warned him beforehand that I would not give his brand any publicity if I didn't feel it was up to par with the top brands already on the market.
I requested a custom pair, 16oz with metallic colors and custom embroidery. Go big or go home, right? And let me tell you they did not disappoint. They arrived on time, about 4 weeks after I ordered. And right when I opened the box…AHHHHH, that whiff of strong leather smell. The leather was thick. The padding and cushion felt thick, and every corner of the glove seemed to be padded very well. Excellent fist and wrist protection. The inside felt nice and secure as well. Good even stitching all the way around. The first couple punches I threw at the wall felt pretty solid. It looks and feels exactly like a Mexican glove, high quality and with the typical box shape and stiffness.
I'm ecstatic about these gloves. The only thing I wished was to have more time with them so you can expect me to update this review after having beat on them for a couple more months.
Additional thoughts on TM:
NOTE: TM has recently changed his supplier so I haven't yet tried his latest models yet but I do trust his judgement and honesty.

You're getting the typical Mexican deal here – great quality at a great price. They also have options for more exotic leather if you're willing to pay $225-275. Metallic colors cost an extra $15 or so. Embroidery or airbrushing cost $17. The options are endless.
As common with other Mexican boxing gloves, TM gloves are heavier than the listed weight. 16oz gloves can weigh 19oz. Some of you may like this and consider it as extra padding. Others may find it a disadvantage for sparring. Juan explains that in Mexico, the gloves go by size and not so much weight. So 16oz means big and 12oz means small, but they both could weigh the same or even more than that. It's possible to request exactly 16oz size AND 16oz weight, or even 16oz size but 12oz weight. These are handcrafted so I'm not sure how well they've got the science down.
TM gloves have a more modernized Mexican glove shape – they're still boxy and stuff but not as boxy as the super old school boxing gloves. They still look authentic and old school though and not like the machine-molded Pakistan gloves. Compared to my Casanovas, the TM looks prettier, still flat and boxy but slightly more rounded-corners. Although I do love the ugliness of my Casanovas as well.
TM gloves are stiff – will take a bit of break-in time to feel absolutely comfortable. Right out of the box, the 16oz feel quite snug and tight even on my small hands/wrist (unwrapped). If I may dare say such a thing, I would almost not recommend them for bigger guys like 175lb and up or if they have big hands/wrists. My Casanovas have a much bigger pocket and softer more comfortable fit around the hand (despite appearing more boxy). The TM's may feel like your hand is being suffocated by too much stiff padding. But again, if you're used to Mexican gloves and like lots and lots of support, then this will probably be the familiar feel you're looking for.
Great fist – like other Mexican gloves, TM makes a great fist. You'll feel like you can hit very VERY hard in these gloves. The gloves make your hand feel like a missile rather than a padded fist. The thumb is sleek and comfortable enough.
The paint job can be a little imperfect – in the images, the gloves look super perfect like they were made by machine. When you receive them in person, you can clearly see they were made by hand. There will be little blemishes on the paint; with faded or rubbed areas. For me, this is beautiful because it shows it's handmade character. But for someone else, you might want a manufactured look like with uniform color and consistency throughout every part of the glove. I personally don't like the "toy glove" look like it came out of a printer.
TM can make anything, not only gloves – they do mitts, and probably headgear and foul-protectors as well. Alfredo Caballero (the trainer for Juan Francisco "Gallo" Estrada and Miguel Berchelt) is using their mitts.
Juan, well-known on Sherdog forums as "Technoir" has already some nice initial reviews. – "hold their own against Cleto Reyes" (although I'm not sure I'd go that far). He's told me that he's since sourced out better leather so the gloves should be even higher quality now along with several other improvements. I'm really excited for his company.
Yes, I do think his logo looks like a ripoff of the Floyd Mayweather's promotional company TMT (The Money Team) brand logo.
Contact him at: mexicombate@gmail.com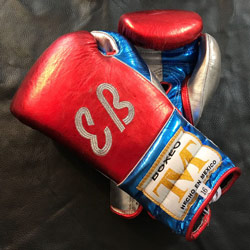 Custom 16oz with metallic and embroidery ($150) – it's great quality at a great price. I would say it's hard to find anything of this quality below $200 and to get it as fast as I did. I suppose if you lived in Mexico, you might get it directly for cheaper but $150 for Mexican quality AND customization is a bargain deal in the US.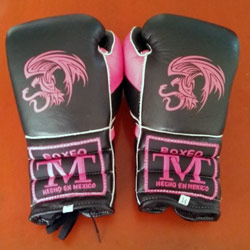 Another example with custom graphics ($140) – just an example of what he can do. Again, endless colors and customization options. I would have to tell you that the gloves look more "heavy duty" and unique in real life than in the pictures.
Adidas – "the sleek German" ($125-150)
Like Everlast, Adidas also makes a second showing here on this review page simply because of their professional models. Unfortunately, their professional fighting gloves (which only come in small sizes like 8oz/10oz) and their newly released custom models are their only good models. You may be tempted to try other expensive models of Adidas but they are not true quality gloves. They simply have nice designs and should be avoided. The pro models are the only ones I see being used (and only in professional fighting).
I really don't understand what it is about Adidas. I feel they're too busy developing products for so many different sports that they can't really focus on boxing. I really want to like them as I love their clean styling but their boxing gloves, unlike of boxing their shoes and headgear, are really disappointing. Their gloves usually don't come close to any of the top brands, aren't innovative at all, and are priced too high in my opinion. I also don't like that you only find their cheap gear in sports chain stores and department stores across Europe.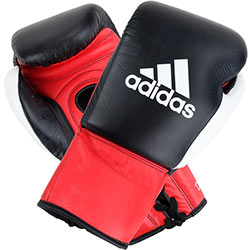 Adidas Dynamic Pro Boxing Gloves ($130) – I am not a professional boxer and do not like wearing light gloves but an Adidas distributor insisted on having me review this glove along with some others. After a dismal performance from their other bigger/heavier gloves even as big as 18oz, I tried on a 10oz pair of the Dynamic Pro gloves with absolutely no expectations and was surprisingly blown away by its amount of support. I didn't even know it was possible to punch full force with a 10oz glove and not hurt but this glove managed to do it.
The foam padding on this is magical. No exaggeration at all: these tiny foam-padded 10oz gloves had more support than their 18oz Adistar model! (Adistar is marketed as their "pro line", by the way.) I was able to punch full force with no pain whatsoever. The funny thing is they cost almost about the same as well. I'm guessing since this model is a professional fight model, maybe the trade-off is that the padding doesn't last as long (even though it's foam). Anyway…the model is included here because I loved it so much. You can find it cheaply online as it's probably getting discontinued.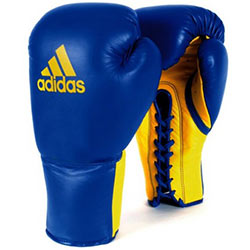 Adidas Glory Pro Boxing Gloves ($130) – this is a popular fighting glove used by many pro boxers in Europe. Get what's it's stuffed with…HORSEHAIR! Hehehe, it's Adidas' "puncher's glove". I've tried it and hated it from day 1, like, OUCH! I suppose they really are true "puncher's gloves" because I felt zero support at all whatsoever. Then again, maybe horsehair gloves will pack in better after you break them in with a couple warm-up rounds. This was my first and only experience with a horsehair glove. BLACK & YELLOW color $99.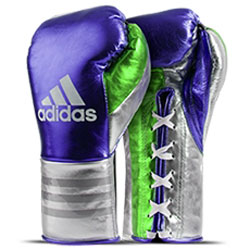 Adidas MyGloves ($500) – everyone welcome Adidas to the recent "custom-gloves" trend! I'm kind of annoyed that everybody's jumping in on this but then again, I do appreciate when companies adapt. I do have faith in Adidas (when I know they're trying) but still holding my tongue on this until I hear more good reviews and even see a pair for myself. Adidas is now officially targeting the high-end category of the boxing gloves market where Winning and Grant sit. I think they're daring to be even better. Custom-made in the USA (I wonder by whom) to the highest quality standard and every bit of the glove can be customized to your taste.
A – "TOP-level premium" (high-end, boutique, with pro/custom options)
These are the only real hardcore brands. Everyone else is just screwing around trying to make money off the casuals. These brands are what the pros and all the most legitimate boxers use. If you have money and plan to box for a while, I seriously don't recommend using any less than this grade of gear. Knowing what I know now, I would have been using these brands from day 1. They are expensive and you may pay a premium for them but they are worth it and they protect a very valuable part of your body. I'm telling you now: once you hurt your hands, they pretty much never go back to normal.
Winning – "the Japanese pillows" ($300-500)
Winning gloves are pretty much the gold standard in boxing. You've probably heard many things about these gloves: that they are amazing, feel like pillows, made of incredibly high quality, and that the foam has some kind of magical special padding that takes away all your hand pain. It's all true! The only reason why not everyone uses them is simply because of the price. At a time when regular training gloves cost $50, Winning cost $200+. Today while most training gloves are priced around $100, Winning gloves cost $300-400. And it isn't only their gloves that are famous, but also their headgear. Winning has the #1 best headgear for boxing. Winning is also considered a status symbol. Wearing winning implies that: 1) you train hardcore so you can't stand inferior gloves, and also 2) that you have money to pay for this which is a big deal in some countries.
With a price like that, they better deliver, right? Let's get straight to the facts. Yes, they really do feel like pillows. It's incredible. Of all the gloves you can put your hands in, Winning gloves will put the least amount of impact on your hand. Unfortunately, they will also transfer the least amount impact to your opponent as well. For that reason, you may have heard of pro boxing negotiation problems where one fighter tried to force another fighter to use Winning gloves as well. This isn't to say that no boxer would ever choose to use them in a professional fight (because some do) but Winning does live up to their moniker as "pillows".
Winning gloves are made with the highest quality. The paint-job finish, the stitching, the craftsmanship, everything looks and feels absolutely top-class. You don't feel like you're holding a mass-produced factory clone, but it's also not a handcrafted perfect-because-it's-imperfect art piece like Mexican gloves. It feels like an alien-engineered glove from the future. It's no wonder professional boxers all over the world train in Winning gloves more than any other brand. And it's not only professionals but many amateur boxers as well. They are an absolute must if you have sensitive hands or previous hand injuries.
What's the secret? I think their secret is in the padding and also glove shape. Something to do with its foam (soft cushion but doesn't let you punch through). I don't know what it is but nobody has been able to copy it, and not for a lack of trying. TitleBoxing modeled their "Fighting" brand off Winning gloves, hoping to reproduce it's high-cushioned qualities at a lower price. Their sparring gloves were nice attempt—yes, very cushioned, but nowhere near as cushioned and long-lasting as Winning. RingtoCage has also tried to make a "cheaper Winning glove" in their C-17 2.0 model (reviewed above) but it's only marginally comparable the real thing. Yes, nicely cushioned at first but still nowhere near as high in quality of construction and longterm performance. I like to think that if it was truly that easy, somebody would have figured it out by now. I mean can't somebody just put the same foam that Winning uses and put that in their glove? It's no shock that a country known for technological innovation would produce the most technologically-advanced boxing glove. Winning is STILL lightyears of it's competition. NOBODY has come close to Winning gloves in the 15+ years I've been in boxing.
I also love Winning's marketing. They don't sponsor any pros. No fancy website or gimmicky features. They don't even have distributors, they don't want any. The product sells itself. Your best chance is to find them online but there might be a reputable dealer nearby you in person. You can ask a nearby professional boxing gym and they might know where you can get a pair of Winning gloves. (However, if you buy from my links, that would support me as I get a commission.)
Additional thoughts about Winning:
The best in everything! Best protection, best comfort, best fit, best durability, best stitching. The most perfect glove ever. While some people think Mexican leather is better than Winning, I disagree. I think Reyes might possibly have better leather but to my eye, I prefer Winning leather over 99% of other gloves simply because it looks nice, feels nice, smells clean. Other leathers may be thicker or feel softer but Winning feels surprisingly rich to me. They even put some conditioner on it so that only goes to show how much they care about the leather.
Also known for their super comfortable thumb position. The thumb area is something many boxers will complain about on different gloves (especially Reyes). On Winning gloves, the thumb is in a "straight position" and allows you to make a perfect fist while keeping the thumb protected. If you want my opinion, I think Winning has the most comfortable thumb because the thumb compartment is smaller instead of a big floppy wing like other gloves. Your thumb feels free to move (even though it can't), whereas other gloves (especially Mexican ones) make your thumb feel trapped under a pile of cardboard.
Winning's other secret? I think it's their incredibly smooth lining! It's so easy to slide your hands in and out of the gloves with wraps on. Also with other gloves, you can get blisters even with their "smooth" lining but with Winning, it'll never happen. Winning has the best lining.
Winning does offer customization but you have to contact them directly. They can allow for all sorts of color optimizations and even do "no-logo" or custom logo option. TIP: their headgear and foul guard come in synthetic leather (claimed to be lighter weight and longer-lasting against your sweat), but you can ask for real leather at no extra charge. When I bought my gloves in person from the official distributor, I got to see Amir Khan and Canelo's custom glove design sketches.
Winning gloves are definitely still handmade and I do notice slight differences between different models. When I buy in person, some pairs definitely do feel a tad more cushioned than others. They're still great, mind you but if you go in person…you can pick the absolute most cushioned one. 🙂
A testament to Winning's cushioning powers: people complaining about not feeling the power – BoxingProfessor.com
Slightly-outdated reference of Grant vs Winning – Sherdog forums
Premium glove comparison between: Winning vs Everlast vs Reyes vs Grant – BoxingScene.com
Winning is the only major glove company that doesn't pay pros to use them.
Great Youtube video and comments comparing the big 3 – Grant vs Reyes vs Winning
The typical pro boxer's glove combo: Winning for PROTECTION (in training), Reyes or Grant for POWER (in fights).
See my detailed: Winning Boxing Gloves Review (with photos/videos)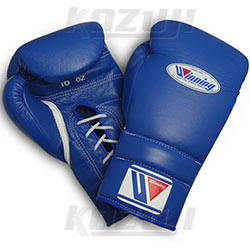 Winning MS-600 Boxing Gloves 16oz ($395) – the blue version with laces is probably the most common Winning gloves version I see in the gym. I love this color as it associates so strongly with the brand. Laces give more support than velcro. Also, if you're a serious fighter, you should be wearing laces PERIOD. No fooling around, take the 5 minutes to tie up so you can train for the next couple hours with maximum support. I actually love the tie-up process of laces because everything feels so much more secure, it's part of the process of being a serious fighter. Winning gloves are priced by weight. A 12oz pair would cost less than a 16oz pair and an 18oz pair would cost more. I guess that validates the idea that they might be using some kind of magical foam.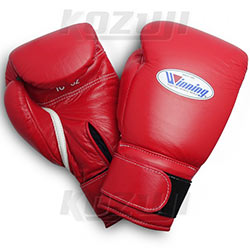 Winning MS-600 Boxing Gloves 16oz VELCRO ($395) – here's what the velcro version looks like. I have personally NEVER seen anybody wearing the velcro version. If you buy it, you can be the first! 🙂 (YES, it's the best velcro training glove.)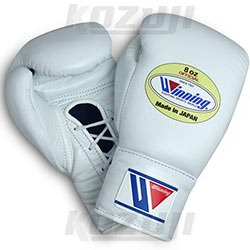 Winning MS-200 Boxing Gloves 8oz ($240) – an example of their professional fighting glove. Known for offering the absolute best hand protection of all the fighting gloves but comes at the cost of decreased punching power.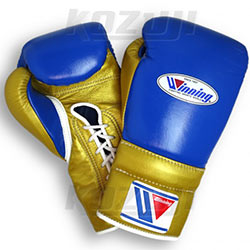 Winning MS-500 Boxing Gloves 14oz CUSTOM COLOR ($365) – an example of the customizations they offer. It comes with an extra charge.

Winning MS-500-2B 14oz DOUBLE-WIDE VELCRO ($465) – they have a wide velcro version in case you need this. Just makes me wonder what other customizations they can do.
Di Nardo – the "Ferrari of boxing gloves" ($830-1000: avg $830)
Di Nardo (from Italy), named after its sole 1-man maker & leather craftsman (Filippo Di Nardo De Leccese), is a boxing glove like nothing you've ever seen before. Using his family's heritage in leather expertise, Di Nardo has created a completely unique glove blending the timeless old school aesthetic with unparalleled materials and support structure. To say it is a marvel in modern boxing glove engineering would be an understatement. This glove is a timeless piece of art. You will love it more each and everyday because you can feel the passion in how it was made.
What is the difference between Di Nardo and all other gloves?
No offense to anybody else but I feel all other gloves are manufactured. Whether they are made by machine or made by hand, they are still manufactured. The worst ones are made to be finished as cheaply and quickly as possible. The better ones are made to last. Di Nardo's are made to be loved. This crazy guy made his gloves with such insane attention to detail. You can tell whoever crafted them loved the process. There are so many tiny tiny details in the glove that can only be felt and not seen. You can tell they were made by the master, not an employee or even an apprentice. He was truly hellbent on making a glove that could be improved every step of the way.
And what are the improvements? Oh boy…I wrote a whole review guide on his gloves. He's just doing things that nobody else does. No ones even imagined all the innovative things he added; nobody's even close. All the materials he used. The structure of the gloves. The leather, the padding, the stitching. He's from another world. You can't do it by machine. And you can't do it without decades of experience in knowing how things are held together. He added so many layers and dimensions to boxing glove craftsmanship that I really can't even compare his work to anybody else. Everyone else is basically wrapping foam in leather and doing their best to stitch it nicely. Di Nardo crafted a unique multi-compartment adaptive padding that bends to your hand, then wrapped it in multiple layers of sweat protection, then threw it inside a leather shell that was also lined from the inside for extra sweat protection, then stitched the whole thing up with kevlar threading, and structured it all in a way that feels so damn good to punch with.
And the design is SO FREAKEN SLEEK! Like damn…these are the sexiest gloves ever made. They really are the Ferrari of boxing gloves. It's like wearing Gucci, Prada, and other designer Italian brands on your hands. They look expensive right away. You don't need any loud designs. When you see the richness of the colors and materials in person, you'll know immediately. It's not like a gimmicky fancy gadget from an electronic store. It's more like something from a high-end art gallery or even national museum. It really is that beautiful. Just from the shape alone already, you can tell they are not from this world.
Now let's talk about the moment I threw my first punch with these on. Right away from the feel and the sound, you know FOR SURE these gloves are different. The way they impact is not like anything else. It's a really unique feel. Other gloves have like a *THUD* or *SMISH* sound. These are like a sharp *TUNK!* sound. It's sharp but also powerful at the same time. The wrist protection is incredible. The knuckle protection is incredible. Everything is top notch. I can't say enough and I'm starting to sound like an informercial but really…you just need to see them in person and you'll see what I mean. There are way too many details to cover.
Additional thoughts about Di Nardo:
All gloves can be customized! He has beautiful color options available, screen-printing, etc. So tasteful. Again, this is classy Italian leatherwork and not gaudy/aggressive American styling or cheap Pakistan styling or copycat Asian styling. Yes, you can put words and initials and stuff.
He also makes boxing shoes although those aren't advertised on the site. Maybe he can do other stuff as well, just ask.
His gloves comes in several padding options. Training gloves are either TUTELELA (standard padding for bagwork) or CAESTUS (slightly softer for sparring and bagwork). Pro fight gloves are either EQUUM1 (rigid), EQUUM2 (semi-rigid), or TUTELA (soft).
His gloves also have re-padding option. He designed his gloves to last forever so you only need to replace the padding when they wear out. He doesn't believe in throwing away such beautiful gloves. Visit his website for padding replacement details.
See my detailed: Di Nardo Boxing Gloves Review (with photos/videos)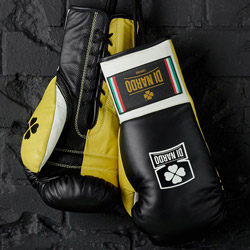 Di Nardo Pugnator Training Gloves 8-20oz ($830) – they really do look like this in real life. The leather and quality of these gloves are so sexy. You can choose from many customization options. Color, lettering, laces or velcro, CAESTUS or TUTELALA padding, all sizes available.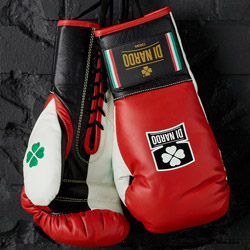 Di Nardo Hereditarium Training Gloves 8-20oz ($830) – another beautiful design but again, you can choose your own design!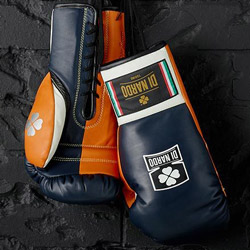 Di Nardo Victoria Training Gloves 8-20oz ($830) – and yet another beautiful design but again, you can choose your own design! They look so beautifully sleek. Like an Italian racecar! WOO!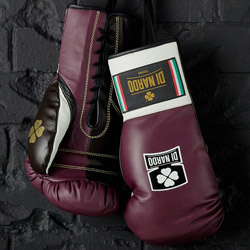 Di Nardo Infernum Pro Fight Gloves 8oz/10oz ($830) – his pro fight competition gloves are certified by all the major boxing organizations. . Color, lettering, laces or velcro, EQUUM1 or EQUUM2 or TUTELA padding…in either 8oz, 10oz, or 10oz XL. EQUUM1 is rigid padding, EQUUM2 is semi-rigid padding, TUTELA is soft-padding.
Grant – the "Mexican-American cushioned-puncher" ($500-1000; avg $600)
I would guess Elvis Grant's original vision in 1995 was to make a better version of the famous traditional Mexican boxing glove, but for the American market. At the time and probably still very much so today, Mexican gloves were the preferred glove of choice for professional fights because they had maximum power transfer and a compact (hard-to-block) shape. His idea was to keep the high-quality and good power transfer but add sexier custom-design options and a little more padding.
The gloves are hand-made in Mexico and still retain their Mexican qualities in their long streamlined sleek design and hit with good power. Unlike other Mexican gloves which were typically low on padding, Grant gloves had a decent amount of padding everywhere, the hand, wrist, and forearm areas were all very nicely padded while still keeping the design compact. (Interesting note: some people foolishly claim Mexican gloves are only good for breaking your hands and that the Grant gloves are "the best", without realizing that Grant gloves are made in Mexico. There are rumors out there that Grant gloves are actually made by local Mexican glove companies—past whispers point to "Seyer".)
For a long time, Grant boxing gloves were known as being one of the highest quality boxing gloves ever made. When I first started boxing in 2004, I borrowed a pair from a pro to spar with and man, they were beautiful. So well-made, so well-crafted and nicely-padded. Everything felt good on my hands. It's one of those things where you have to see it in person to appreciate it. I never forgot how amazing those gloves felt. So nice to wear and very nice to punch with. It's no wonder that Grant quickly became the pro's choice for professional fights whenever Reyes wasn't used.
At the time and perhaps even still today, the top 3 glove brands used by the pros (by order of popularity) were Winning, Grant, and Reyes…and probably in that exact order. In training, Winning dominated, Grant was the alternative, and Reyes was almost non-existent. In pro fights it was the opposite, with Reyes dominating, Grant still the alternative, and Winning almost non-existent. Reyes offered high power transfer at the cost of hand cushioning. And Winning offered the best hand cushioning at the cost of power transfer. Grant offered the best of both. For that reason, you will hear people say Grant gloves are for punchers with hand issues. Floyd Mayweather, known for hand problems in his later years, starting fighting in Grant instead of Reyes like when he was young (although still preferring Winning gloves in training.) Grant gloves developed a cult-like following among the pros and everyday boxers followed suit.
Two reasons however kept Grant from becoming #1. The first reason was because the owner sought to keep it a boutique brand (after his old mass-produced "Campeon" clone line failed, not to be confused with the real Mexican "Campeon" brand). The only way you could buy Grant was with a custom order direct from the company (you can pick cool colors and stuff). You couldn't find Grant in stores anymore and mostly only pro fighters had Grant gloves. The second reason was that the gloves were VERY expensive. For a moment their pricing was on par with Winning gloves and nowadays it's even beyond that. You're not going to be popular when you're hard to find, cost that much, and take months to order!
Today, Grant's boxing gloves have definitely fallen a bit. They are still within the top 3 in terms of pro fight gloves (Reyes, Grant, Everlast) but definitely no longer the preferred choice in training. If their price hasn't turned you off, it's that their quality and customer service has also gone down. People are complaining about orders being shipped late and that the glove quality is horrible (for what you pay). It's falling apart faster, the stitching is poor, the leather feels definitely cheaper than Reyes (this one's really bad considering Reyes has also slipped in quality). Grant gloves are generally considered a ripoff for the price of $500-1000; many say they're not worth more than a $140 glove at best. Some people will tell you Grant is definitely inferior in quality to $160 Reyes gloves in terms of leather, stitching and customer service.
While I still consider Grant to be among the better boxing gloves out there, I can't recommend training in them when they cost over $500. It makes no sense to buy Grant when the superior Winning gloves cost so much less. Even if you like how how Grant feels, there are other very similarly-made Mexican-made brands out there (also offering customization) at only a third of the price.
Additional thoughts about Grant:
Really bad customer service, orders delayed and emails unanswered.
Poor stitching, velcro coming off. With that said, they are still very high quality overall. Good gloves but not at all worth $500, maybe $150 is fair and street value can be $300 because of the brand name.
Some people say Grant is a stiff glove, kind of hard to make a fist. Perhaps, it takes time to break-in?
Grant's construction quality is considered to be AT BEST, to be about the same as Reyes quality or less. It's only value over Reyes is having more hand protection.
They do make beautiful custom glove designs. Check out their Facebook photo album for inspiration.
You CAN sometimes buy Grant gloves in stores but you'd be cheating yourself out of the chance to customize your own design. You should email them directly to purchase. (Beware that it can take 3 months to receive your gloves!)
Grant suspected of sponsoring fighters. This is a big deal because they claim not to; and that fighters are using their brand by choice. – Youtube video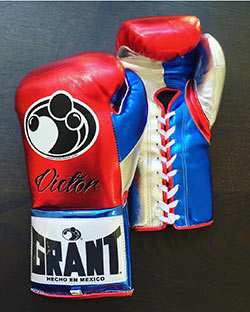 Grant Boxing Glove ($500 & up) – this appears to be the most current design, laces with the name "GRANT" on the cuff. Grant gloves are custom-made to order. This is a unique feature usually only found with Mexican brands (most likely because the company and the factory are in the same place). You can pick different colors, have custom inscriptions, and even exotic materials. Many fighters will choose metallic colors because they look flashy and aren't found in many other brands.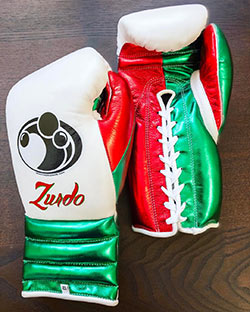 Grant Triple-Cuff Boxing Glove ($500 & up) – this is the classic triple-cuff design that was more common a couple years ago. It has a very nice feeling that I can't explain. The ribbed-cuff makes it easier for your laces to stay in place when you tie them around your forearm. This feature probably isn't as important since most fighters who order Grant gloves are pros and they tape down their forearm anyway.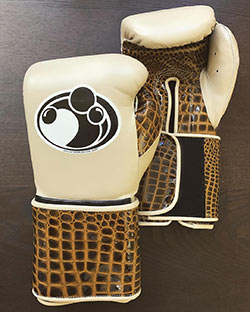 Grant Exotic Leather Custom Boxing Glove ($500 & up) – the velcro version of their glove, customized in some kind of exotic leather (crocodile?). See how cheap it looks without laces? I don't like velcro at all but I understand why it's appealing to folks who train alone or don't have time to tie up. See how these custom designs look on video.
TopBoxer – the "Custom-Champ" from PAKISTAN ($100-250; avg $150)
TopBoxer, is a small Pakistan company run by Muhammad Irfan. Unlike the several hundred other boxing equipment manufacturers in Pakistan, he's picked up a loyal internet following over the years for customized boxing equipment. He's done custom work for everyone; from everyday people like you and I to the biggest names in boxing, MMA, and other combat sports. Also unlike other Pakistan companies, he's ALL ABOUT QUALITY. Higher quality leather, perfect stitching, and best of all—he brings your glove design fantasies to life, creating them even better than you imagined them.
If you're not sure of what you want, he'll hold your hand every step of the way explaining every possible option and their pros and cons. If you know exactly what you want, he'll go the extra mile to find the exact materials and colors, and customize every little thing about your glove whether it be the size, shape, padding, and more. He can copy other gloves or make an entirely new glove that hasn't ever been done before. Your imagination is the only limit. He's a great fellow and passionate artist from the new generation of boxing equipment craftsman. A true asset to the Pakistan boxing industry and boxing worldwide.
From everything that I've read about him online and judging from the images, I love that he stands behind his work. You can tell he enjoys making gloves, learning every day, and there's something in being able to connect your creation with the end user. It's different from the usual factory worker who will never know who he's making gloves for. Muhammad is chatting with you through every step of your glove creation putting all of his heart into it, and when he's done with it, he can't wait to hear how you'll respond. He just as excited about your glove as you are.
SO…how good is his work? I've heard amazing things. Some say it's slightly behind Winnings or right on par with Winnings. Some say it's even slightly better than Winnings. Now, I don't know about BETTER but I can respect the fact that he's even close enough to be compared. I can respect that he's done so many custom models and constantly evolved his process so much over the years, he probably knows how to make a better custom glove than anyone at the moment. I also love that he's the only custom shop I've heard of where you can actually communicate with your glovemaker. I never thought I would be able to put "Pakistan" and "quality gloves" in the same sentence, but Muhammad's proven me wrong.
Additional thoughts about TopBoxer:
TopBoxer gear discussion, photos, and reviews – Sherdog Forum
More great reviews, and another. His gear has the nice smell of high quality leather, great craftsmanship.
Also makes gear for numerous other companies. One of the better known custom shops is Beaulieu Boxing Equipment (aka "BillBoxing") as well as Iboxcustomise.com (not confirmed but I'm guessing). If you're working with somebody offering high quality custom gloves made in Pakistan, there's a good chance they're using TopBoxer as the manufacturer.
Makes all kinds of gear, not only gloves. His punch mitts are a top favorite. Many also feel the same about his headgear, claiming it's better than even all the Mexican brands (fits tighter, higher quality leather, thicker padding, and better padding distribution).
See other interesting creations: black-gold-red, wild colors, ortho gloves, quilted pattern, old school style, another old school glove, REALLY old school style functional replicas, Ironman-themed gloves, another super-hero themed glove, extra wrist protection, exotic leather on hitting surface (not previously possible).
Reverse-engineering discussions about: Winning padding, ortho model better than Winning, wrist filling should use EVA for bagwork and fiber-filler for sparring, improved a Twins glove (another), copying a classic Everlast (although you could go to John Golomb for the real thing), Winning headgear, hand-mold vs machine-mold foam, why it's so hard to get the perfect weight.
I love that he's slow to answer sales-related emails and fast to answer customer-service emails. Most companies are usually the OTHER WAY around, they're quick to chat about their products but stop replying once they have your money!
You can purchase his STOCK gloves starting at $89 his TopBoxer eBay account. (All the images I show below are his custom work.)
You can order custom gloves from his new website here: https://topboxer.com
See my detailed: TopBoxer Gloves Review (with photos/videos)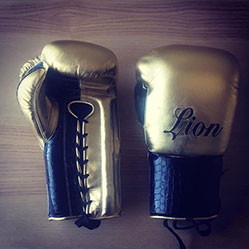 A not so clear image of my gloves but let me be the first to tell you that I LOVE MY GLOVES! First off…they do look and feel Pakistan-made. I don't mean that in a bad or good way. The leather is still Pakistan and the craftsmanship still have a Pakistan style (unlike Mexican or Japan).
What I love, is the padding. Like wow, damn. He really did make the gloves perfect for me. He had my hand measurements and everything, asked me what padding combo I wanted. The padding is great. If I could explain how it feels…it feels like many layers of socks. A very soft padding that dulls your punches. It's different from the usual gloves that have that foam feel (which gives great feedback). These definitely won't "pop" like your usual gloves but that's also not what I wanted them for. I'm sure he can do any kind of glove you want without any problems. I love mine just as it is.
The other things that I notice and really appreciate about the gloves is their unique design. Right off the bat, you can see he has a unique thumb design. And I appreciate this so much because I feel the thumb is probably one of the most finicky areas of the glove design. It's hard to make it look nice AND feel nice. Well his does both well and you can see how he was trying to get maximize comfort. Then there's also the palm-side padding. He put an interesting padding bar on the bottom edge of your hand (the karate chop part).
Now for the CONS. I would say the gloves are big (16oz look more like 18oz). They will be your biggest pair of gloves ever. Maybe you'll like this for a sparring shield. Maybe you'll hate it. I personally didn't mind at all but I do feel some people will complain about it. The other issue is that the gloves seem to fit a really wide hand. Which is weird considering that I gave him my hand measurements. The thumb area, even though it's fine and feels ok and doesn't hurt, it's still built a little awkward. Like the way the glove was designed stresses the fleshy palm side of your thumb. Again, you don't notice any of this in actual use but if I had to find something to nitpick, there it is.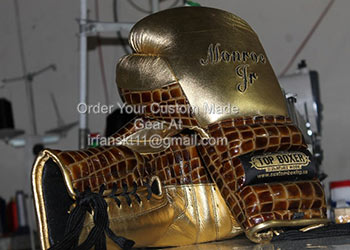 TopBoxer custom gloves – he's done tons of work for pro boxers. This one, featuring exotic crocodile leather, is for Willie Monroe Jr. Check out the ones made for: Dereck Chisora, Michael Conlon. More beautiful croc designs: here, and here. See more photos on his Instagram. To order your own custom-made gloves and gear, email him: irfanskt11@gmail.com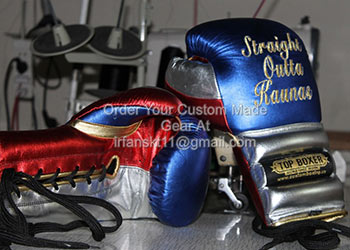 TopBoxer Grant-inspired glove – very similar style to the classic Grant design with triple-cuff, metallic paint, and custom embroidery. More photos. He also does Winning-inspired gloves as well. Photo comparisons with Winning.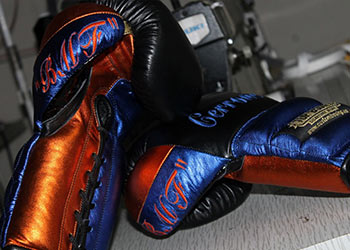 TopBoxer custom gloves – also done work for MMA stars. Check out the ones he's made for Donald Cerrone, Jon Jones, Yair Rodriguez (I love this one) and Holly Holm. You can embroider any part of the glove that you want.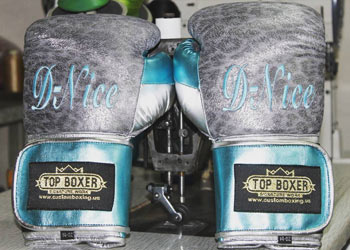 TopBoxer womens gloves – some really nice designs for women. Here's another in gold and teal.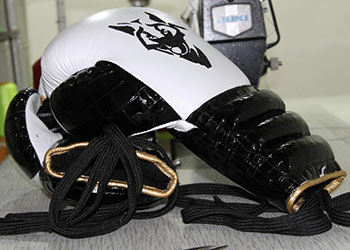 One without the TB logo, here's another.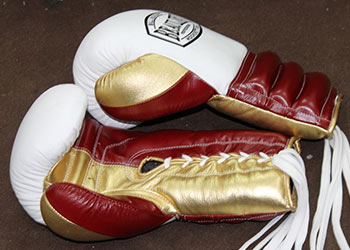 This one was done for another brand of boxing gear, by Billieu Boxing. I love the colors. Also love this one, and these too.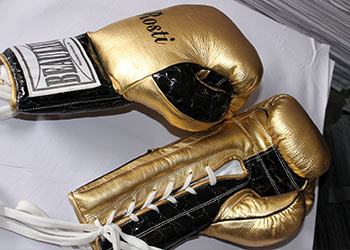 Another one done for the Billieu brand. I LOVE these colors. Please don't copy me because I'm going to get mine like this! (I actually got mine like this but with black laces).
John Golomb – The "Everlast Grandson" ($425)
He is the grandson of Everlast's original founder (Jacob Golomb). John Golomb, known as "The Glove Doctor", is an expert of all experts, a true leather craftsman, and has contributed much to the science and history of boxing gloves. Has been the go-to expert for restoring historical sports gloves, not just boxing but also baseball and many other leather pieces.
Story about the Golomb's work in Everlast's history – New York Times
Interview with John Golomb, "A World Champion Craftsman" – Shinola
He's also known for glove repairs (maybe you want your gloves re-lined and re-padded?). Probably isn't cheap but can repair your favorite gloves even better than it was new.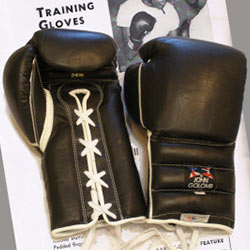 John Golomb's American Training Glove ($425) – just going off the images alone (look at the welted seams), I have no doubt this is a quality glove that is built to outlive you. It's made in the USA by a craftsman who cares. Instead of buying an overrated Grant glove for the same price, you can get an authentic piece of American history. Built with latex and also horsehair.
Fly Sports – The "Air Jordans" of the UK ($400-450)
From the conversations I've had with other glovemakers and studying reviews and images around the internet, Fly appeared to be learning on the job (started out around 2017). They came out with a fantastic brand and design, marked their ground in the high-end category, and now just have to create the glove that lives up to the hype. There have been some reviews speaking on minor flaws around craftsmanship and stitching, and others noting that they quickly re-designed their initial models and are already on their 3rd or 4th revision. I imagine for the money, you're better off with a tried-and-true perfected glove like Winning.
My other reservations revolved around their overall vibe and brand representation. They market their gloves as being "Made in the UK" and innovative, but some things don't feel right. Their website doesn't feature an owner or glovemaker's name which is more typical of a big company rather than a small company. Maybe the owner (Josh Steffan) was going for a more professional corporate look. That's ok.
The other thing is that their original models seemed to copy a lot of the design from Di Nardo (formerly called "Mason"). I understand that when new brands copy, they can't help but copy the best brands (like Grant, Winning, Reyes, Rival). Just about all new brands do. My thing was that the older Fly models looked so close to Di Nardo's. Like a blatant ripoff. Of course, I don't think anybody would ever admit to that. But I called them copycat gloves and rightfully so.
Josh (the owner) contacted me sometime 2019 because he didn't like that I called his gloves copycat gloves and iterating sentiments that they might be made in Pakistan. He offered to send me a pair for my honest review. He also entertained me over a video call showing me his office and workplace and shared little details of how his gloves are made differently from others. I ended the call satisfied that the gloves were made in the UK and even more so, made by someone who cared about their quality. I warned him that I would be honest in my review and he respected that.
I received my "Superlace" AQUA/GOLD 16oz review pair in 2020 and immediately put it to the test. After about 20 rounds of sparring, heavy bagwork, and constantly putting them on and off alongside other gloves, I'm quite confident of how I feel about them. Will be interesting to see how they break down under consistent abuse.
I will tell you right off the bat that they have a LOT of visual appeal. All the guys (and especially girls) that saw these gloves loved them right away. They are definitely among the sexiest boxing gloves ever designed, and of course we already knew that by the images all along. The shape, the color, the texture, the fine details. These gloves ooze sexiness all over. The feel nice/luxurious IN your hands, and really comfortable ON your hands.
The first thing you notice about them is their softness. They are crazy soft (inside and out). The softest gloves I ever put on. The leather is super soft. If most boxing gloves are made like shoes, Fly gloves are made like socks. You can bunch them up in your hands, squeeze them, compress them, twist them. They feel more like a soft sponge than like a dense foam. Sponginess everywhere…in the knuckles, back of the hand, thumb, and wrist areas. The grip bar is super soft as well, almost non-existent. When you curl your fingers, you feel more of the grip edge by your fingertips rather than the gripbar in your palm.
In case you're wondering, Fly padding is even softer than Winning. I think it's crazy that they went that route as nobody ever thinks to go more extreme than what's already considered the most extreme. Well, looks like there's a new softness-rating in boxing gloves now. Of course…we have to wonder: "does this mean they're more protective than Winning?" I'm going to say it DEPENDS. Winning gloves have thicker foam that doesn't compress as much (although it's really soft) whereas you feel a Fly glove can be compressed flatter. If you're mostly sparring and not hitting all that hard on the heavy bag, I could see some preferring Fly. But if you're punching crazy hard on a really stiff heavy bag, most will prefer the Winning.
The second thing you'll notice is the neat craftsmanship. The leather is tucked away nicely. The stitching is perfect. No thread ends sticking out anywhere. Everything perfectly uniform. Even the piping is super neat, instead of the usual rolled or flat piping that most brands have, Fly gloves have super-thin flat piping that's flushed along the edges (and almost doesn't even stick out). It's like it was only used as a color accent. It's a unique look. These gloves feel like the perfect embodiment of British tailoring. They remind me of a perfectly-tailored British suit; stylish and neat. Super comfortable and classy, with refined gentleman's demeanor. I'm glad to see they've since gone away from copying and come out with their own more authentic design.
Additional thoughts about Fly:
Buy them if you like soft-padded Mexican gloves (also soft grip-bar) and a worn-in comfort.
Their stitching is quite possibly the nicest/neatest stitch job of any glove I've ever seen. You can take it as a pro or con. Pro since it looks great and high quality. Con if you realize that it's done by machine and you wanted gloves that were more "handmade".
See Facebook photos of their gear, looks like they do beautiful custom work for another extra $30-150. Check out Fly – Bespoke.
From this video review (old version) and this review (comparing old vs new versions), they seem like high-grade leather and nice flexible design (can open and close your hand). But you can also see some sloppiness. I think they're still learning here and developing their own design. They're very obviously copying Di Nardo in the earlier models and then Winning gloves in the recent models. Look at other models out there and you see a lot of Grant influence in them. The headgear images on their website are totally based off Winning and possibly even Rival as well.
Fly still offers their older Di Nardo lookalike versions of their gloves for specific pros who prefer them.
Beware of fake Fly gloves.
Full review coming soon.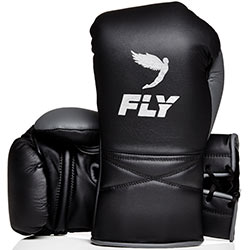 Fly Superlace Training Gloves ($370) – on photos, it looks like the Air Jordan's of boxing gloves. "Fly Sports" is founded by a guy out of the UK and sold as a premium craftsman glove. It certainly looks like a work of art; a glove from the future. Judging from the images alone, the design is unique and the stitching is really clean. They look so perfect in photos, it hardly looks "hand-made". They only have one training model which comes in laces or velcro version, and the other model is pro fight gloves. There are some known pros using them but I don't know if it's for endorsement reasons or by personal preference.
I have these Superlace gloves in 16oz, in the AQUA/GOLD color scheme that you see below. Online photos look more flashy/shiny. The glove colors look more matte in person (still very flashy and beautiful, mind you).
Look carefully and what do you see? Ha…I start to laugh. They look like Mexican gloves but neatly stitched, and padded in a softer manner. I had to be sure so I pulled out some of my Mexican gloves and compared side-by-side. Yeaup…I think they imitated the shape of Mexican gloves (with the more rolled-up fist and squared impact surface), thumb design, and longer cuff. It's funny that I didn't notice that before from the pictures; I only recognized it in person. So basically, they used a Mexican glove design but put super soft Winning-esque padding in there.
If you love the solid flat-knuckle punching surface of Mexican gloves and/or the softness of Winning, Fly will be a solid option for you. It's an interesting mix. The soft padding and flat punching surface really helps to give a comfortable protective impact. If you punch really REALLLY hard, you might prefer denser cushion. That's fair.
Now for the CONS. I wish the gloves had a little more "structural support". Their overall frame is so soft that you don't feel the sensation of a reinforced bar running down the wrists (to solidify the hand with the forearm). I'd guess this lacking structural support is mostly due to the soft leather and padding, and maybe also the way the way it's built. The other secret I feel and now suspect is that the piping is too thin/soft. When trying my other gloves, I feel their piping does provide some of the structural support around the wrists. If you really think about it, tightening the laces gives you support because it tightens the piping and leather…and if your piping and leather are too soft, then tightening the laces doesn't feel as secure. I'm curious to see how Fly gloves would feel with stiffer piping. Or they could also put a layer of denser foam inside of the soft foam so you have both that same plushiness but also added structural support.
Do I think this lack of structural support automatically means Fly gloves are inferior to all other gloves for wrist support? No, not necessarily. One area I noticed is that Fly (like most Mexican gloves) fits really snug on your hand. Everything is fastened tight with no extra space anywhere, whereas my Winning gloves have a little space here and there. We're talking about the tiniest of differences, ok? Well with straight punches on a super stiff bag, Winning may feel more supportive for straight shots because of better structure and thicker foam. Fly still feels almost as good (as Winning) for straight punches; actually feels better for medium punches but then slightly less protective for your absolute hardest punches. But when you're throwing hooks that might stress your wrist bend, Fly might seem more supportive because there's less space for your wrist to wiggle around during impact.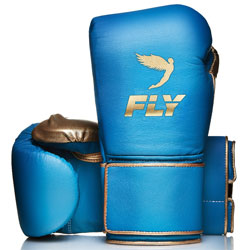 Fly Superloop Training Gloves ($370) – oh, I get it now! "Superlace" for their lace-up gloves, and "Superloop" for their velcro gloves. How clever. And how stupid of me to have missed that for over a year. I'm loving the candy color combinations. Very sexy stuff. Some greek hero color theme going on here. Check out their website to see other cool colors.
Honestly, for their clean aesthetic and softness (no need to break in). I can't help but feel Fly should be an extremely popular choice for female fighters. Of course, this sentiment can extend to males as well. If you want a pair of gloves that feel broken-in from day one. Fly is for you.
Miscellaneous brands (all other brands)
These are all the other brands that I haven't reviewed in depth. I have not personally tried all of these brands. These are simply general opinions that I either formed myself or heard from people I trust.
1v1 Fight Gear (USA) – seems to be a well-intended US-based outfit. Jason (the owner) had the idea to make custom gloves stateside and charge a $300 premium for it. He has 2 levels of gloves, the lower level seems like a beefed up version of the Pakistan clone variety and the higher level is his own hand-made custom gloves. Personally, I'd rather not spend hundreds on a glove made by someone with only a few years of experience but I do respect a man aiming to make a quality product. Maybe I'll get to try them some day.
Amber Sports (USA) – local brand in Houston, TX. Selling typical Pakistan clone. Many similar models to Ringside and RDX. Online reviews complain about poor quality and toxic color dye running off the gloves.
AMMO Boxing (UK) – fast-growing brand selling cheap clone Pakistan gloves with customization. Think of them as the UK version of Sabas.
BAD BOY (USA) – their old gloves were said to be poor quality and stiff. The newer version of their premium Legacy 2.0 line looks to be better designed but I doubt it's any better.
Booster (Belgium) – they look like Pakistan clones but with extra padding. I can't tell if their gloves are unique models. They do have some good reviews online and seem somewhat like another Ring to Cage in the muay thai world.
Charlie (Spain) – they seem somewhat well-known but to me, they look like really bad Pakistan clone gloves.
Chaos (UK) – They look like typical Pakistan clones. Their social media and company website also annoy me in not stating where they're located. Anyway, I think it's obvious they're from the UK.
Corti (Argentina) – I hear they're the best brand in Argentina.
Clinch (Russia) – terrible quality and padding, stiff and uncomfortable.
Crest (Finland) – bad, lowest quality.
Demix (Russia) – better than Clinch but still crap.
Infinitude (Pakistan) – awful cheap Pakistan junk. I hate seeing their ads everywhere.
LECO (Russia) – worst brand ever, feel like regular street gloves, wear down in a month.
Lemarr (UK) – they seem like classily-designed clones with a good reputation in the UK.
G&S Fight Supply (USA) – formerly made in New York but no longer owned by the original family and quality has dropped since their production went overseas.
Green Hill (UK) – crap quality and feels like bricks. Also popular in Russia.
Machina (USA) – fight gear brand made specifically for women (basically smaller size and cleaner design). Absolutely garbarge of the Pakistan variety. Same bubbling issue as Sabas.
No Boxing No Life (Mexico) – Canelo's boxing brand. Apparently, they have 2 tiers. The training gloves are cheap Pakistan-made, and the pro gloves are more expensive Mexican-made. I haven't tried either yet.
ONYX Sports (USA) – absolutely loving their unique idea of making gloves that don't need handwraps. I think it's a cool idea but obviously one more appealing to MMA guys (like the owner himself) than pure boxers. With that said, watching review videos on it has me intrigued. I love that the owner nerded out about it and tried to invent several new mechanisms to protect the hand. If there's any drawbacks I can see…I can say that I'm not a fan of having so many darn seams. That's just more areas for craftsmanship to get lazy and cut corners and doesn't improve the glove strength in any way. Hope I get to try a pair soon.
Paffen Sport (Germany) – over-priced clone gloves from all ranges. Pretty much the TitleBoxing of Germany.
Pro-Box (UK) – cheap Pakistan clone crap.
Punch Equipment (AUS) – the Pro Boxing Equipment of Australia. Cheap generic stuff, with a clone version of every type of glove out there (traditional, Mexican, Muay Thai, etc and etc). Now maybe I'm wrong, and they're just absolutely fantastic at everything. But with a generic name like that? Hmmm….
Triumph United (USA) – Pakistan clone gloves but with better quality control. From the reviews I've heard, their top model "Death Adder" was formerly the same mold as the Everlast Powerlock, and they've since improved upon that. There are far better options at $90 IMO.
Ultimatum (Russia) – high price but average quality. Something like a Russian Hayabusa in that they are fancy design but clone models. Some models are not even full leather.
Unified (UK) – cheap Pakistan clones of the Revgear tier.
UMA – Universal Martial Arts (Pakistan) – another custom outfit in Pakistan doing quality work. I've never tried but they're supposedly cheaper but not as well known and not as skilled as TopBoxer but still great gloves at an awesome price—around $100! Their leather is not as good as the highest quality Mexican leather. UMA also does Winning clones (called UMA RT 41), Hayabusa clones (but better). Checkout their website, and reviews: here, and here.
TUF-WEAR (USA) – just like Everlast, used to be an old school quality brand made in the USA, but now junk made in Pakistan.
Have a brand to add to the list? Add your own comments on certain brands, models, and the year you bought them. (Please don't shill your own brand unless it's amazing—OR I will DELETE IT!)
Can Lopez Shock the World?
I cannot be more excited for this weekend's matchup between Teofimo Lopez and Lomachenko. A classic tale of the young lion coming up to challenge the seasoned vet. The casual fan may not understand this as they have a similar number of pro fights, however their careers could not be more different….
Lomachenko has an amateur record of 396-1 with two Olympic Gold medals….an absurd amateur career led to a pro career where his second fight was for a world title. His only fight that wasn't for a world title was his first pro fight! Which was still for the WBO international title by the way….Now sitting on the throne of the 135lbs division, holding multiple titles…he has very few doubters….most opponents he has outclassed and in the fight versus Linares where he was dropped he got up and finished Linares with a vicious body shot. Some say he looked sluggish in his last outing and maybe the tread on the tires is starting to show but "LOMA" remains regarded if not the best..the most technical fighter in boxing.
Teofimo Lopez a 23 year old kid from Brooklyn had a solid amateur record of 150-20…many people must not have expected his pro career to catch fire the way it has…he now is a world champ sitting at 15-0 with 12KO's….he's an explosive puncher with size and speed for the division that demolished Richard Comey in his last outing to capture the IBF title….the kid is electric in the ring and has captured the fans imagination…is he the one to KO Lomachenko? Can he pressure LOMA and show the world that there is a new king of the jungle?? We will find out if he can back up the trash talk this Saturday on ESPN…make sure to tune in for one of the biggest fights in boxing….
Thank the Lord for Eddie Hearn getting shit done while the other networks and promoters have been all but crickets. Eddie recently announced and displayed some visuals of "fight camp" which will take in his backyard! He has quite the property so its not really a backyard feel more of a fight on some sort estate fit for Tony Montana….but I cant wait for it to happen. Theres some fights being thrown around but here is my ideal card and winner picks.
Main Event: Dillian Whyte (27-1) vs. Alexander Povetkin (35-2-1)
This matchup is already on the books but got postponed due to the virus. I hope it takes place at fight camp and we get to see the interim WBC title on the line…..Whyte on a 11 fight win streak looks to demand a title shot with an impressive win over Povetkin. I expect Whyte to come out aggressive and look to impress after his lack luster performance in his last outing.
My Pick: Dillian Whyte 7th Round TKO
Co-Main Event: Andy Ruiz (33-2) vs Derek Chisora (32-9)
THIS FIGHT WONT GO THE DISTANCE…….fan friendly matchup with two guys who will be looking to trade. Ruiz has to make a statement that he is not just a one hit wonder and he's taking shit seriously. It seems he is with his move to CaneloTeam. Del Boy is the perfect fighter to welcome Ruiz back….on a 3 fight win streak and known to bring the pressure.
My Pick: Andy Ruiz 6th Round TKO
Ryan Garcia (20-0) vs Jorge Linares (47-5)
Trash talk has already started between the two…Linares calling Garcia the social media champion and Garcia calling Linares old and over the hill. Great matchup between a decorated vet and a young star with everything to prove. Garcia definitely has the social media game on lock but I think the boxing throne is next for him as he continues to improve while being a part of CaneloTeam.
My Pick: Ryan Garcia 8th Round KO
"It may not be over yet. Anything's possible. I feel unstoppable now. The gods of war have reawakened me. Ignited my ego and want me to go to war again…I fell like i'm young again." – Tyson
DAMN………talk about some deep shit from Mike. Everything about that statement and his recent training videos make me want to believe he could be the YOUNGEST and the OLDEST Heavyweight Champion ever…but let me bring myself back to earth for a moment….Tyson's last fight was against Kevin McBride 15 years ago where he was stopped in the 6th round….McBride then went on to lose 6 of his next 8 fights…Recalling this is pretty sobering and makes the prospect of return against top competition seem foolish. But who was Tyson when he was fighting Mcbride? Mike was fighting purely for money and was in a dark mental state that carried years after his career was over. Tyson is in a great mental space now and has overcome much of his adversity and inner demons. Can a focused Tyson even at 53 challenge todays best..?? It goes against all logic but the thing is…in Heavyweight boxing not everything is logical….it only takes one punch….