What to do on your REST Days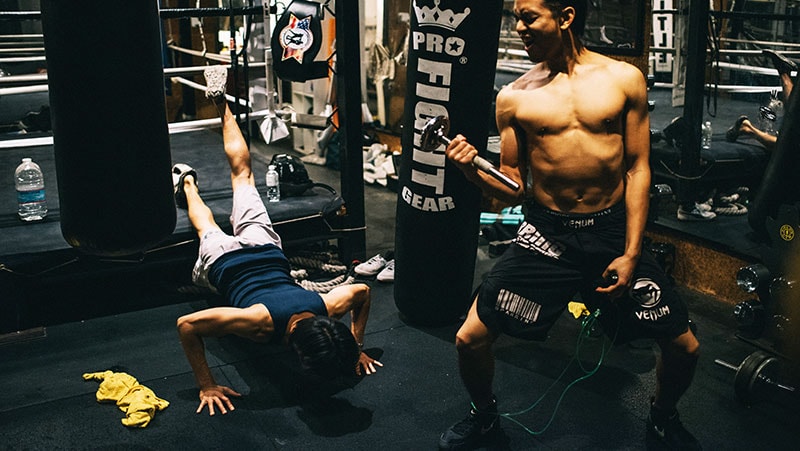 Asking fighters to take an "easy day" can be the hardest thing in the world.
It certainly feels like the best fighters NEVER take an easy day. But I can assure you that they do. In between all the crazy highlight reels of fighters going from one impossible exercise to the next, they are indeed taking breaks. It's the only way to really get stronger AND stay injury-free in the longterm.
But how do we do it?
The average "champion" is wired to squeeze in one more set, one more rep. It's a tough addiction to break once you're already in the gym. This all-or-nothing mentality is will lead you to burnout, injury or over-training faster than it will to success. There's also the other issue that some athletes can't do an easy day because it's just too boring. They need stimulation. I know…I know.
Here are some tips to keep the rest days easy, BUT STILL FUN (and yes, still productive)…
DON'T COME PREPARED
Yes, you heard exactly what I said! I've got some solid tricks to prevent you from going hard core.
Btw, if you're that kind of person that isn't addicted to working out, you might think this guide isn't for you but oh yes, it is. In fact, you probably need it even more than the gymrats. Lazy people are extremely prone to over-training. It's like that person who starves all day and then gorges at dinner time. Lazy people do the same with the gym. They don't go for 3 months and then try to make up for it all in one day. Don't guilt yourself for not working out. But also don't feel guilty for not pushing your max, ok?
Do not bring any of these to the gym (I MEAN IT!):
no boxing gloves
no boxing shoes
no athletic shoes (yes, none of that either)…WEAR FLIP FLOPS! (or if there's strict gym policy, where some street shoes that don't let you move well)
especially no mouthguard or headgear (so you can't get sucked into sparring)
Basically, I don't want you with any of your gear that will allow you to do a max-intensity workout. Because I don't trust your ass. It's always an easy day until someone gets asked to spar. Next thing you know, "rest day" becomes "the day I got injured".
1. Warm-up
Stretch. Move around. Stay warm. It's great for your body to move around and get that blood flowing. Blood heals and rebuilds everything that it touches. Improve that blood circulation throughout your body and you're seriously rebuilding your body.
Have no expectation for yourself.
Think nothing but to relax, and have fun.
2. Slow Skill-work
On easy days like these, you can work on all those micro skills. New combos, new slipping patterns, new footwork movements. All the little tricks and nuances of boxing. Today is the day to take your time, go super slow, super analytical on yourself in the mirror. Ask questions, talk your coach about different things. It's a mental workout day!
If you're breaking a sweat, you're working too hard!
3. Easy Bagwork
Most people don't even know what EASY is. When I say 50%, they do 75%. When I say 75%, they do 90%. Do 10-25%. Seriously, so lazy that it's NOTHING. Go slow but with great technique. Paying attention to every little detail. Here's your chance to practice little tiny movements. Move around, breathe. Micro-coordination work.
Just touch the bag. No hitting sounds!
4. Core & Cooldown
Still want to work? How about some core exercises. But here's the thing. Go SLOW, and do very little. Like 10 super slow crunches. Just breathing. Or 10 super slow push-ups, just breathing. Not quick explosive bursts, ok? Just breathing your way through things. If something aches, stop.
Light core work in long drawn out reps.
5. Stretch session
Stretch, stretch, stretch! Back when I used to do track and field in high school, my stretching routine was easily 2 hours. Stretch every freaken part of your body. Think you've done them all? Ask other people for new stretches. Really lay there and let it hang. No rush. Breathe deep.
Hold stretches for 1-5 minutes at a time if you can. You should feel your body letting go more and more with every passing minute.
6. Watch others
This, my friend, is one of the most underrated benefits of "easy day" for me. It's probably my favorite part (aside from goofing around in the gym). You get to sit there and play fly-on-the-wall for a change. Usually, when we go to the gym, we're only focused on ourselves. Thinking about what WE have to do.
Well not today! Today….we get to watch everybody else. And oh, how much you learn when you're not busy thinking about yourself. You actually have an empty mind for once. You can see what other coaches are teaching their fighters. You can actually see what other fighters are doing. What tricks they're trying to pull off. What things they like to do. What things they like to practice. You get to see it all. Honestly, I always learn so much more at the end of my workouts or on easy days because of this. I just goof around and watch everybody at work.
You learn so much more when you watch others.
Can Lopez Shock the World?
I cannot be more excited for this weekend's matchup between Teofimo Lopez and Lomachenko. A classic tale of the young lion coming up to challenge the seasoned vet. The casual fan may not understand this as they have a similar number of pro fights, however their careers could not be more different….
Lomachenko has an amateur record of 396-1 with two Olympic Gold medals….an absurd amateur career led to a pro career where his second fight was for a world title. His only fight that wasn't for a world title was his first pro fight! Which was still for the WBO international title by the way….Now sitting on the throne of the 135lbs division, holding multiple titles…he has very few doubters….most opponents he has outclassed and in the fight versus Linares where he was dropped he got up and finished Linares with a vicious body shot. Some say he looked sluggish in his last outing and maybe the tread on the tires is starting to show but "LOMA" remains regarded if not the best..the most technical fighter in boxing.
Teofimo Lopez a 23 year old kid from Brooklyn had a solid amateur record of 150-20…many people must not have expected his pro career to catch fire the way it has…he now is a world champ sitting at 15-0 with 12KO's….he's an explosive puncher with size and speed for the division that demolished Richard Comey in his last outing to capture the IBF title….the kid is electric in the ring and has captured the fans imagination…is he the one to KO Lomachenko? Can he pressure LOMA and show the world that there is a new king of the jungle?? We will find out if he can back up the trash talk this Saturday on ESPN…make sure to tune in for one of the biggest fights in boxing….
Thank the Lord for Eddie Hearn getting shit done while the other networks and promoters have been all but crickets. Eddie recently announced and displayed some visuals of "fight camp" which will take in his backyard! He has quite the property so its not really a backyard feel more of a fight on some sort estate fit for Tony Montana….but I cant wait for it to happen. Theres some fights being thrown around but here is my ideal card and winner picks.
Main Event: Dillian Whyte (27-1) vs. Alexander Povetkin (35-2-1)
This matchup is already on the books but got postponed due to the virus. I hope it takes place at fight camp and we get to see the interim WBC title on the line…..Whyte on a 11 fight win streak looks to demand a title shot with an impressive win over Povetkin. I expect Whyte to come out aggressive and look to impress after his lack luster performance in his last outing.
My Pick: Dillian Whyte 7th Round TKO
Co-Main Event: Andy Ruiz (33-2) vs Derek Chisora (32-9)
THIS FIGHT WONT GO THE DISTANCE…….fan friendly matchup with two guys who will be looking to trade. Ruiz has to make a statement that he is not just a one hit wonder and he's taking shit seriously. It seems he is with his move to CaneloTeam. Del Boy is the perfect fighter to welcome Ruiz back….on a 3 fight win streak and known to bring the pressure.
My Pick: Andy Ruiz 6th Round TKO
Ryan Garcia (20-0) vs Jorge Linares (47-5)
Trash talk has already started between the two…Linares calling Garcia the social media champion and Garcia calling Linares old and over the hill. Great matchup between a decorated vet and a young star with everything to prove. Garcia definitely has the social media game on lock but I think the boxing throne is next for him as he continues to improve while being a part of CaneloTeam.
My Pick: Ryan Garcia 8th Round KO
"It may not be over yet. Anything's possible. I feel unstoppable now. The gods of war have reawakened me. Ignited my ego and want me to go to war again…I fell like i'm young again." – Tyson
DAMN………talk about some deep shit from Mike. Everything about that statement and his recent training videos make me want to believe he could be the YOUNGEST and the OLDEST Heavyweight Champion ever…but let me bring myself back to earth for a moment….Tyson's last fight was against Kevin McBride 15 years ago where he was stopped in the 6th round….McBride then went on to lose 6 of his next 8 fights…Recalling this is pretty sobering and makes the prospect of return against top competition seem foolish. But who was Tyson when he was fighting Mcbride? Mike was fighting purely for money and was in a dark mental state that carried years after his career was over. Tyson is in a great mental space now and has overcome much of his adversity and inner demons. Can a focused Tyson even at 53 challenge todays best..?? It goes against all logic but the thing is…in Heavyweight boxing not everything is logical….it only takes one punch….